Rise and Shine, MPTraders! Monday September 9th, 2019
Consequential Economic Data This Week: Monday: 3 & 6 Month T-bill Auctions... Consumer Credit.... Tonight at 9:30 PM ET: China Data on Inflation... Tuesday: JOLTS... 3 Yr T-note Auction... API Oil Inventory Report... Wednesday: China Auto Sales... Weekly Mortgage Applications... PPI... Wholesale Invenories... 10 Yr T-note Auction... Thursday: ECB Meeting and Press Conference... CPI... Jobless Claims... EIA Nat Gas Inventory Report... WASDE (USDA Agriculture) Report... 30 Yr. Bond Auction... Friday: China Data on Yuan Loans, Money Supply... US Retail Sales... Michigan Consumer Sentiment... Business Inventories... Baker-Hughes Oil Rig Count...
-- Earnings This Week: See Attached Table...
-- Congress is back from Labor Day recess... Let the games begin again... Apparently, first order of business: gun control legislation, as a warm up for total polarization heading into 2020...
-- The Tennis U.S. Open finals match between Nadal and Medvedev was a classic 5 hour struggle of two heavyweight boxers. It was therapeutic too. As a New Yorker, after having to endure two disastrous Jets and Giants opening day beat-downs, the tennis finals enabled me to focus my attention away from the inept NY sports teams (with the exception of the Yankees, and once in a while, even the Mets!)...
-- AAPl's Annual Media iPhone Launch Event is tomorrow (9/10)... new products and details about its new streaming services are expected to be unveiled...
-- This Thursday, 9/12, the European Central Bank (ECB) meets again. The expectation is for the ECB (Mario Draghi) to lower rates further into negative territory (currently an -0.40%). China added stimulus last week, and next week, the Fed, BOJ, and Swiss National Bank meet, and all are expected to lower rates...
-- Front Page WSJ Article this AM: China Says Growth is Fine. Private Data Show a Sharper Slowdown... Paragraph 4: "... China's economy isn't tanking, but it is almost certainly weaker than advertised. Some economists who have dissected China's GDP numbers say more accurate figures could be up to 3 percentage points lower, based on their analysis of corporate profits, tax revenue, rail freight, property sales and other measures of activity that they believe are harder for the government to fudge."
MJP Thoughts: What implications might the WSJ article have? For starters, we have to think that POTUS believes the Chinese economy is weakening because of pressure from his policies, which likely will embolden him to squeeze his good friend Xi even more in the weeks and months ahead. As long as POTUS thinks "he is winning this battle," my sense is that he will turn the screws tighter and tighter, meaning NO DEAL until the Chinese scream UNCLE! From my perspective, this is all part of POTUS's Bannon strategy and approach to "the China menace:" It must be rolled back, if not undermined altogether (like the Soviet Union in the late 1980's). Meanwhile, from the Chinese perspective, we have to think that President Xi is not immune to a power-shift in the upper echelon of the Communist Party. What happens if Xi thinks his power base within the party could be jeopardized by economic weakness and the perception that he is not strong enough to effectively challenge POTUS? What then? Something tells me that Xi is not going to allow his position to deteriorate, and if that is an accurate perception, then let's expect some fireworks to develop that confront Trump, either in Hong Kong, or some other international incident that shows Xi is up to the task of battling POTUS. My only other thought, which is much less likely IMHO, is for Xi to appear to cave into US demands, sign an agreement that will never actually be adhered to, especially prior to 2020. After 2020, for better or worse, it is a different ballgame whether or not Trump is reelected.
As for ES at the start of a new week, it is up another 10 points, and earlier in pre-market trading, hit a price high of 2991.50, a full 215.75 points and 7.8% off of the August 5th corrective low, and now, just 1.2% from a full-fledged retest of the all time high of 3029.50 (7/26/19).
Could it be that ES will levitate or grind higher right into next Wednesday's FOMC policy statement and presumed cut in interest rates? How ironic and crazy would it be for the Fed to cut rates possibly 50 bps with the equity markets at all-time highs? In what text book does anyone find negative interest rates globally, economies slowing down if not already in recession, zero ability of the central banks to cultivate inflationary expectations (dissipate deflationary forces) and equity indices at historic all time highs, all of this overlaid by the most political and geopolitical uncertainty in decades?
This is nuts. Something just isn't right. The distortions are in full bloom. Something's gotta give. My sense is that the increasingly crowded FOMO position is long equities , and as such, it is at enormous risk.
That said, until selling comes in, the delirious bulls will remain in directional control. Unless and until weakness inflicts some damage to the most recent upleg in ES off of the 9/02 low at 2889.00 with a breach of 2985 initially, and then confirming the breach with a violation of 2970.00, let's expect "more of the same," grinding higher towards a test of 3029.50... Last is 2991.25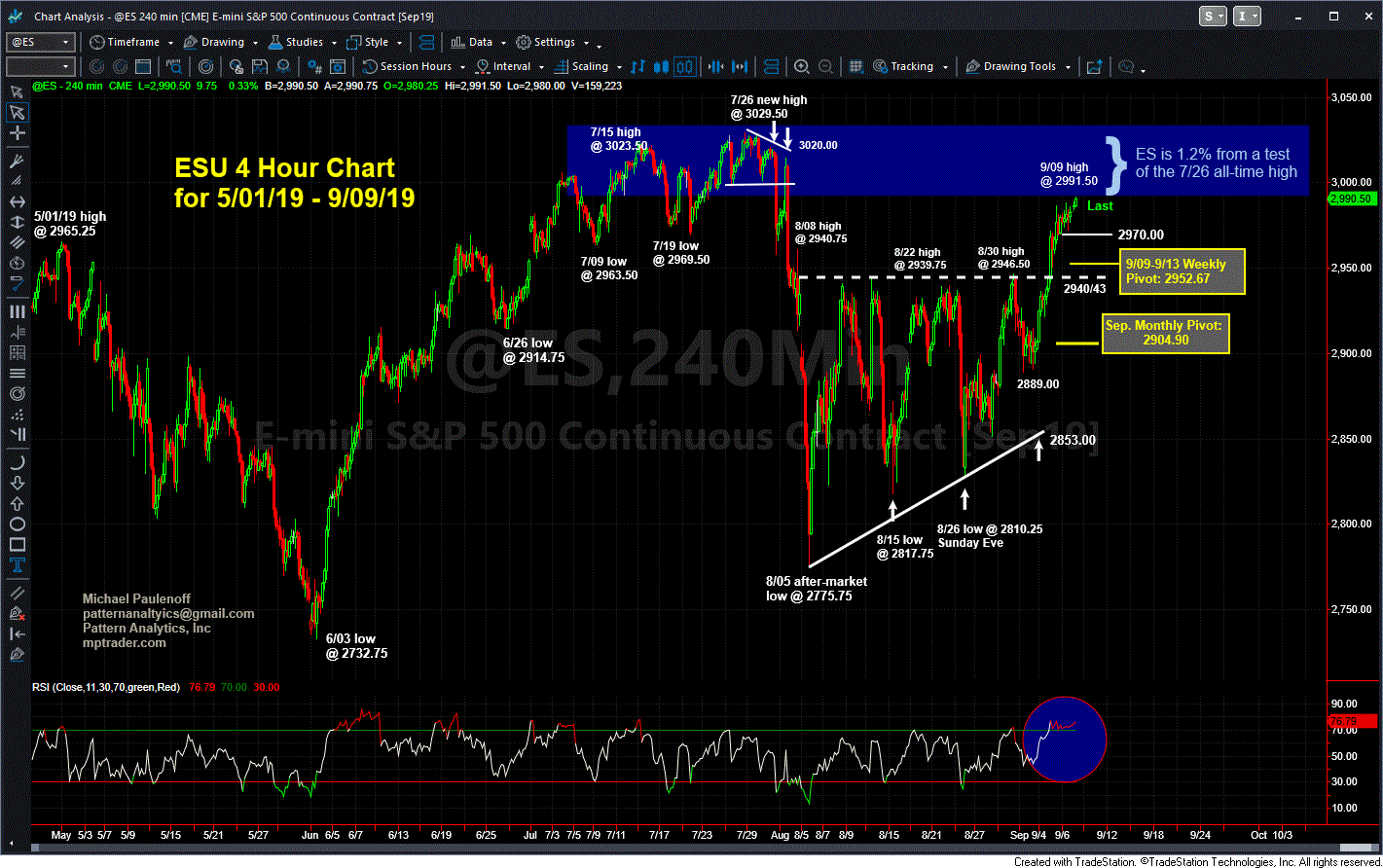 9 09 ES 4 Hr 9 GIF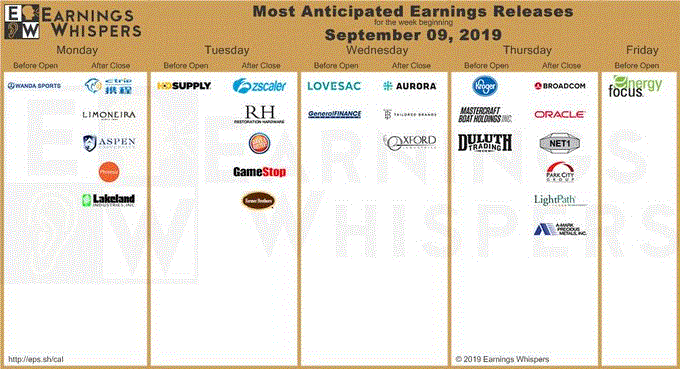 9 09 Earnings Week GIF