Rise and Shine, MPTraders! Tuesday October 8th, 2019
Consequential Economic Data This Week: Tuesday: Small Biz Optimism Index... PPI... 3 Yr T-note Auction... Fed Head Evans Speaks... Fed Chair Powell Speaks... Fed Head Kashkari ... API Oil Inventory Report... Wednesday: Weekly Mortgage Applications... JOLTS... Wholesale Inventories... EIA Crude Oil Inventories... 10 Yr T-note Auction... FOMC Minutes from 9/18 Meeting... Thursday: CPI... Jobless Claims... EIA Nat Gas Inventory Report... 30 Yr T-bond Auction... China Trade Talks Resume... Friday: Import-Export Prices... Consumer Sentiment... Baker-Hughes Oil Rig Count... Fed Rosengren and Kaplan Speeches...
-- The main feature today was supposed to be Fed Chair Powell's speech to the National Association of Business Economics at 2:30 PM ET, implying that perhaps traders and investors might get a reprieve from -- or refocus away from-- the US- China tit-for-tat headline bashing ahead of their anticipated negotiations in D.C. on Friday. Overnight, here is a sampling of what the markets had to analyze and endure:
[RTRS] - U.S. WHITE HOUSE IS LOOKING TO LIMIT CHINESE STOCKS WITHIN GOVERNMENT PENSION FUND - CNBC, CITING BLOOMBERG...bullish news keeps on rolling in
CHINA TONES DOWN EXPECTATIONS AHEAD OF U.S TRADE WAR TALKS AS VICE-PREMIER LIU HE LEADS TEAM TO WASHINGTON - SCMP
[RTRS] - CHINA'S ANTA SPORTS SAYS IT WILL IMMEDIATELY HALT CONTRACT RENEWAL NEGOTIATIONS WITH NBA
SCMP- The 13th round of talks will take place this week, but a source says that the Chinese delegation is already planning to cut short its stay in Washington by one nigh. The US is scheduled to raise tariffs on Chinese imports next week, while the issues surrounding Joe Biden and the Hong Kong protests also hang over the talks
All of the above took place in our overnight markets, after yesterday's "positive headline" laced session highlighted by:
FOX EDITOR:THE CHINESE COMMERCE MINISTRY TELLS US CHINA IS READY TO DO A DEAL ON THE PARTS OF THE NEGOTIATIONS BOTH SIDES AGREE UPON. THE MINISTRY TELLS US THEY ARE PREPARED TO SET OUT A TIMETABLE FOR THE HARDER ISSUES TO BE WORKED OUT NEXT YEAR
* WHITE HOUSE ECONOMIC ADVISER KUDLOW TELLS REPORTERS DELISTING OF CHINESE COMPANIES 'IS NOT ON THE TABLE'
WHITE HOUSE ECONOMIC ADVISER KUDLOW SAYS SEES POSSIBLE PROGRESS MADE THIS WEEK IN U.S.-CHINA TRADE TALKS
So, just a few hours after we learned that the Trump Administration walked back the de-listing of publicly-traded Chinese stocks on US Exchanges, it threatens to limit US capital flow from pensions into publicly traded Chinese companies anywhere, on any exchange. Will one of the Administration cheerleaders, such as Kudlow or Navarro hit the airwaves today to calm frazzled nerves, telling investors talks with China are going very well, and remain promising?
One BIG RISK for investors is the expectation that any positive news about a trade deal will trigger algo buy programs. At what point does Artificial Intelligence (AI) start to doubt-- and tone down, or actually FADE-- its reaction to vacuous headlines? At what point does AI react like humans by responding, SHOW ME! Or, Talk is Cheap! Or To Talk the Talk, the Administration and the Chinese need to Walk the Walk!
After all, these algo programs are attached to real accounts with real capital that is susceptible to whipsaw losses too. Getting "chopped up" will not be a unique fate suffered by a computerized stock program, would it? Let's beware of a change in response from the algos, which morph from an instantaneous, knee-jerk, reactive response function to a response function that is steeped more towards actual, verifiable evidence of progress. How they accomplish that is not in my wheelhouse, but the alternative is to continually accrue whipsaw losses within a shorter and shorter "fake news cycle."
As for the markets (e-Mini Dec. S&P Futures), the overnight festivities triggered a plunge in ES from around 2951 to 2910 so far, which we see on my attached 15 Minute Chart reflects a 50% give-back of the entire advance from last Thurs. (10/03) "ISM low" to yest.'s (10 /07) high at 2959.50. In addition, yest.'s high represented the Fibonacci 62% recovery resistance zone of the prior decline from 3025.75 (9/13) to last week's low at 2855.00 (10/03).
With ES ping-ponging between two key Fibonacci areas at 2960/65 and 2910/15, those zones will be extremely important technically in the hours directly ahead. If ES manages to claw its way back up to and above 2960/65, then ES will morph into a potentially very bullish set up that will project up through 3000 towards new all time highs above 3030.
Conversely, inability of ES to hold above 2910/15 will point the index lower, into the 2895-2900 next lower support zone, which if violated, will leave ES vulnerable to downside continuation that gives back the entire rally last Thurs. and Fri. (2855 to 2959.50), and as such, position the market for another potentially critical test of the 200 DMA.
Each of the above-mentioned scenarios could emerge in reaction to a tweet or a headline, promising vs. discouraging, which triggers program buying or selling. Or, alternatively, Fed Chair Jay Powell could ride to the rescue during today's final two hours of trading, hinting or telegraphing his intention to cuts rates more aggressively at the October and December FOMC meetings... or not!
Such is the wacky, but opportunistic trading and investment world in which we currently (still) find ourselves... Last in ES is 2919.75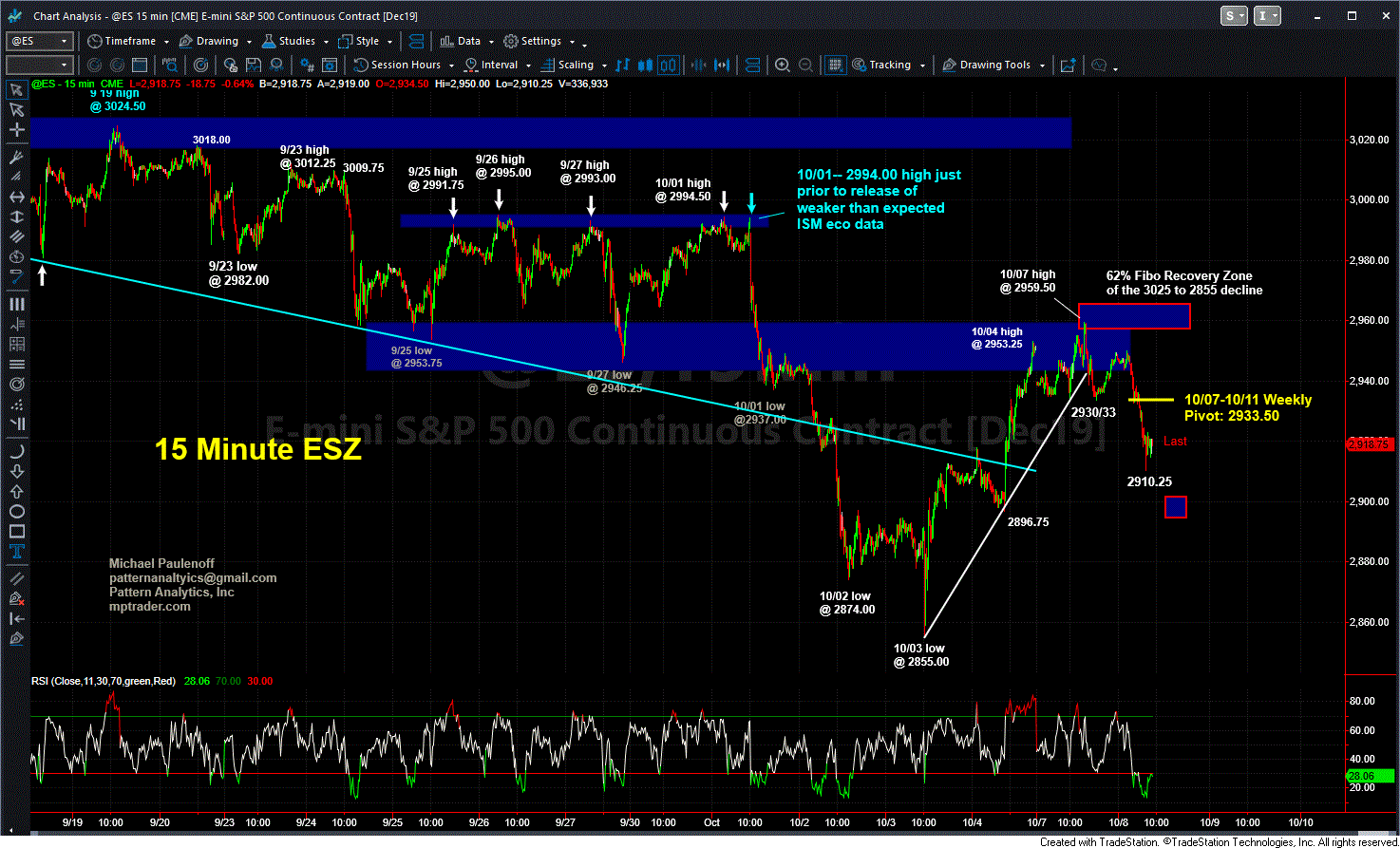 10 08 ES 15 Min 845 GIF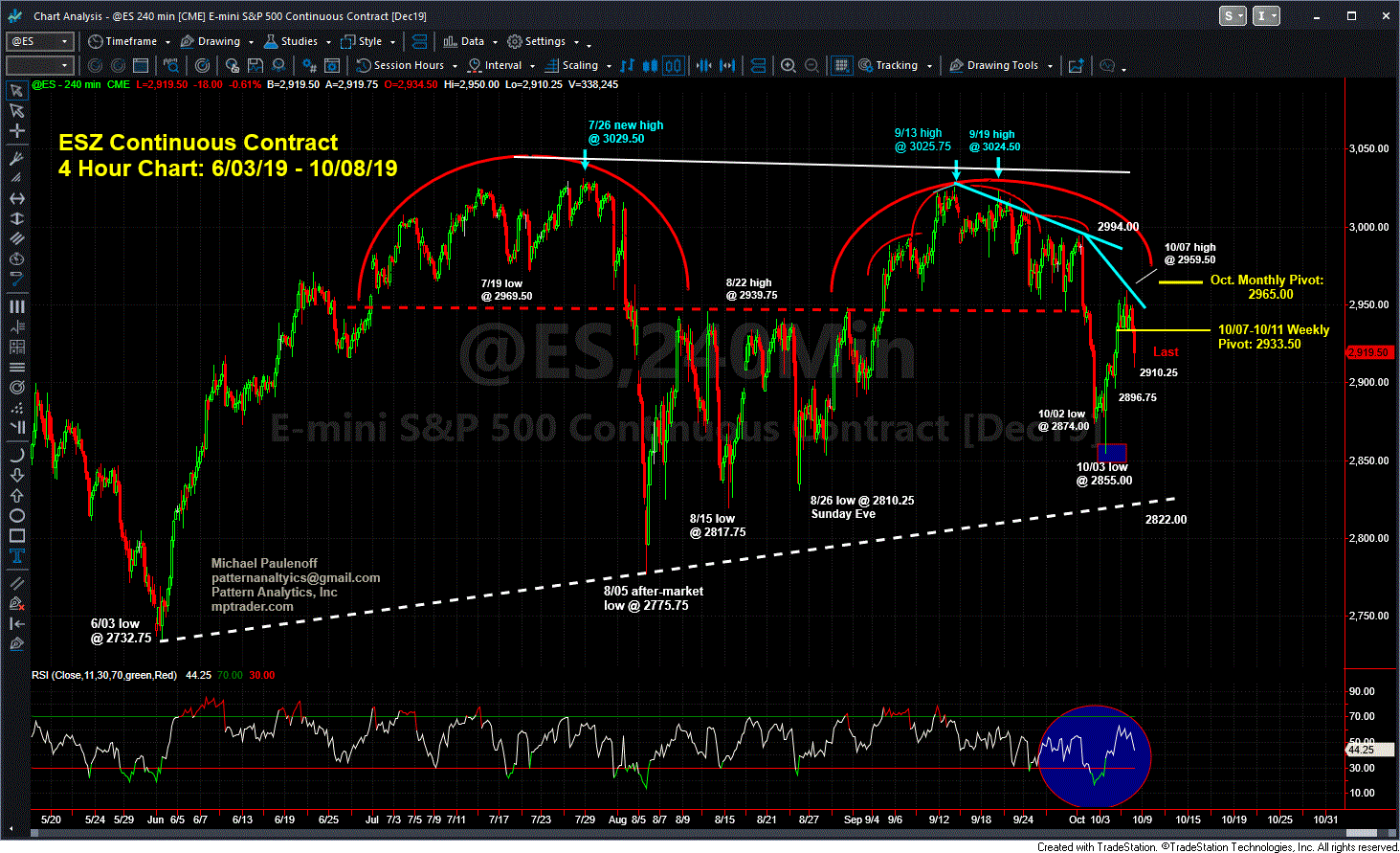 10 08 ES 4 hr 850 GIF