Rise and Shine, MPTraders! Monday December 2nd, 2019
Consequential Economic Data This Week: Monday: Markit Mfg PMI Nov. Final... ISM Mfg PMI Nov... Construction Spending... Tuesday: ISM NY... API Oil Inventory Report... China Caixin Services and Composite PMIs for Nov... Wednesday: Weekly Mortgage Applications... ADP Employment Change for Nov... Markit Composite and Services PMI Final Nov... US Non-Mfg ISM ... EIA Crude Oil Inventories... Thursday: Challenger Job Cuts... Balance of Trade... Jobless Claims... Factory Orders... Nat Gas Inventory Report... Friday: Employment Report for Nov... Non-Farm Payrolls expected at +175,000... Michigan Consumer Sentiment... Baker-Hughes Oil Rig Count... Consumer Credit...
Earnings This Week... See attached Weekly Calendar...
-- Lots of potentially consequential economic data this week, particularly about the Jobs Market.... ADP Payrolls Report... Jobless Claims... Challenger Jobs Cuts... Employment for Nov. from the BLS... Also out of China, with the Caixin PMI data for November...
-- Phase II of the House Impeachment Hearings begin this week... House Intelligence Committee, headed by Jerry Nadler, will deliberate on the constitutionality of impeachment...
-- In Response to POTUS signing the Hong Kong Human Rights Act, China has sanctioned some human rights organizations in Hong Kong, and will refuse visits by US warships to Hong Kong. In other words, China has failed to respond because it has nothing to retaliate with, or has something more significant up its sleeve that is yet to be unveiled.
-- China did make some noise about trade over the weekend through the Global Times, a Chinese Communist Party mouthpiece, stating that ALL US TARIFFS must be rolled back as part of ANY trade deal. Judging from the slightly HIGHER price reaction by the equity futures markets this AM, "moneyflow is shrugging its shoulders" at the newest Chinese "demands" ...
-- After a relatively quiet weekend from a headline perspective, POTUS is on the warpath this morning, tweeting the following around 6 AM ET:
Brazil and Argentina have been presiding over a massive devaluation of their currencies. which is not good for our farmers. Therefore, effective immediately, I will restore the Tariffs on all Steel & Aluminum that is shipped into the U.S. from those countries. The Federal Reserve should likewise act so that countries, of which there are many, no longer take advantage of our strong dollar by further devaluing their currencies. This makes it very hard for our manufactures & farmers to fairly export their goods. Lower Rates & Loosen - Fed!
U.S. Markets are up as much as 21% since the announcement of Tariffs on 3/1/2018 - and the U.S. is taking in massive amounts of money (and giving some to our farmers, who have been targeted by China)!
MJP reaction-- Hmm... Okay then. POTUS has hit the ground in attack mode to start the new month of December (less than 12 months before the next presidential election), identifying two new targets for trade retaliation, Brazil and Argentina, which have enabled their currencies to depreciate "unfairly" versus the US Dollar, according to the President. While those currencies have weakened versus the US Dollar, in their particular case a sharp economist-- even amateur one like me, might point out that the underlying fundamentals indigenous to each nation argue in favor of a stronger US Dollar, and money flows exiting Brazil and Argentina for the relatively safety of the US. Be that as it may, Trump sees just about everything-- rightly or wrongly, through a transactionary lens, and in every instance, his conclusion is that the trade playing field is uneven, and needs to be leveled by using the BIG STICK of tariffs, and through constant criticism of the Powell Fed, which he thinks is keeping US interest rates too high. My sense is that POTUS is moving steadily closer to bashing the US Dollar, first through a jawboning effort, and then by authorizing his Treasury Secretary Mnuchin to direct the Federal Reserve to "offer US Dollars" into the forex markets.
It seems to me, that The Great Disruptor of the Status Quo (my 3 year descriptive label of our Commander and Chief) is coming to the fore again. POTUS appears to be revving up his aggressiveness against entrenched post-WWII political and geopolitical institutions, norms, and customs to undermine them in an effort to reestablish the US as the dominant superpower actor on the global stage. Obviously, China and Russia are not so enamored with the process. Whether or not POTUS proves successful is almost besides the point, because the process in and of itself, by definition will require moving us (and the rest of the world) through a period and state of chaos before arriving at whatever "new world order" emerges thereafter.
My apologies for getting so philosophically heavy this morning, but that is where my mind transported me during the progression of my opening monologue... MJP
As for the markets, when I saw ES gap up at Sunday eve's open, I immediately thought about our final discussion on Friday, about the new higher Weekly Pivot at 3138.50, just a handful of points beneath Friday's close. Once again, the pajama traders immediately put some upside distance between current price action and the new Weekly (and Monthly) Pivot. In fact, at one point overnight, ES was trading at a new all time high at 3158.00, nearly 20 points above the Weekly Pivot.
I guess the algos did not find negative triggers from any of the weekend trade talk, and if anything, were reacting positively to huge online holiday sales, even if brick and mortar shopping turned out to be extremely disappointing.
That said, however, right around 6 AM ET, with ES trading in the vicinity of 3156.00, POTUS tweeted about imposing new tariffs on Brazil and Argentina, and also bashed the Fed, which immediately took ES down towards unchanged. Perhaps those new tariffs are also an indication that POTUS intends to impose another round of tariffs on China on the deadline date of December 15th?
As we speak, ES is circling unchanged, at 3144-3146, a full 11-13 points off of its all time high. What is VERY INTERESTING to me is that the form of the overnight decline from 3158 to 3143.50 exhibits bearish (pattern) form, which if accurate, means that 3158 represents a significant near term high, and that ES is vulnerable to downside continuation that tests and breaks BOTH last Friday's low at 3139.50 and the Weekly Pivot at 3138.50.
If such a scenario unfolds, then my eyes will be focused on ES pressing into the UNFILLED GAP left behind on Sunday eve 11/24/19, from 3111.75 to 3118.50. Last is 3146.25...
Finally, let's notice that 10 year YIELD has popped to 1.84% from 1.78% on Friday, and from 1.73% last Tuesday, which certainly looks like the conclusion of a correction off of the 11/07 high at 1.97%. If that proves to be the case, then YIELD is in the early stages of a new upleg that should take out 2% in route to 2.20%. Why would that be? Hmm... stronger than expected economic data despite the tariffs? A surge in consumer confidence after strong Black Friday-early holiday (online) shopping data? Anticipation of a sudden uptick in inflationary expectations, and or anticipation of a roll over in the US Dollar? A loss of confidence in US debt holders? Who knows at this point, but we do know that YIELD is on the move higher now (The Model Portfolio is long TBT)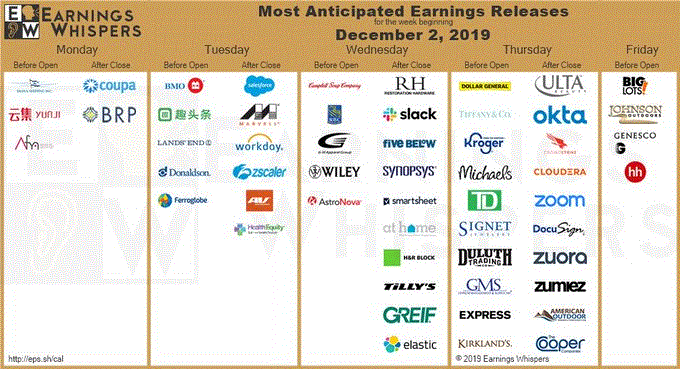 12 02 19 Earnings Week GIF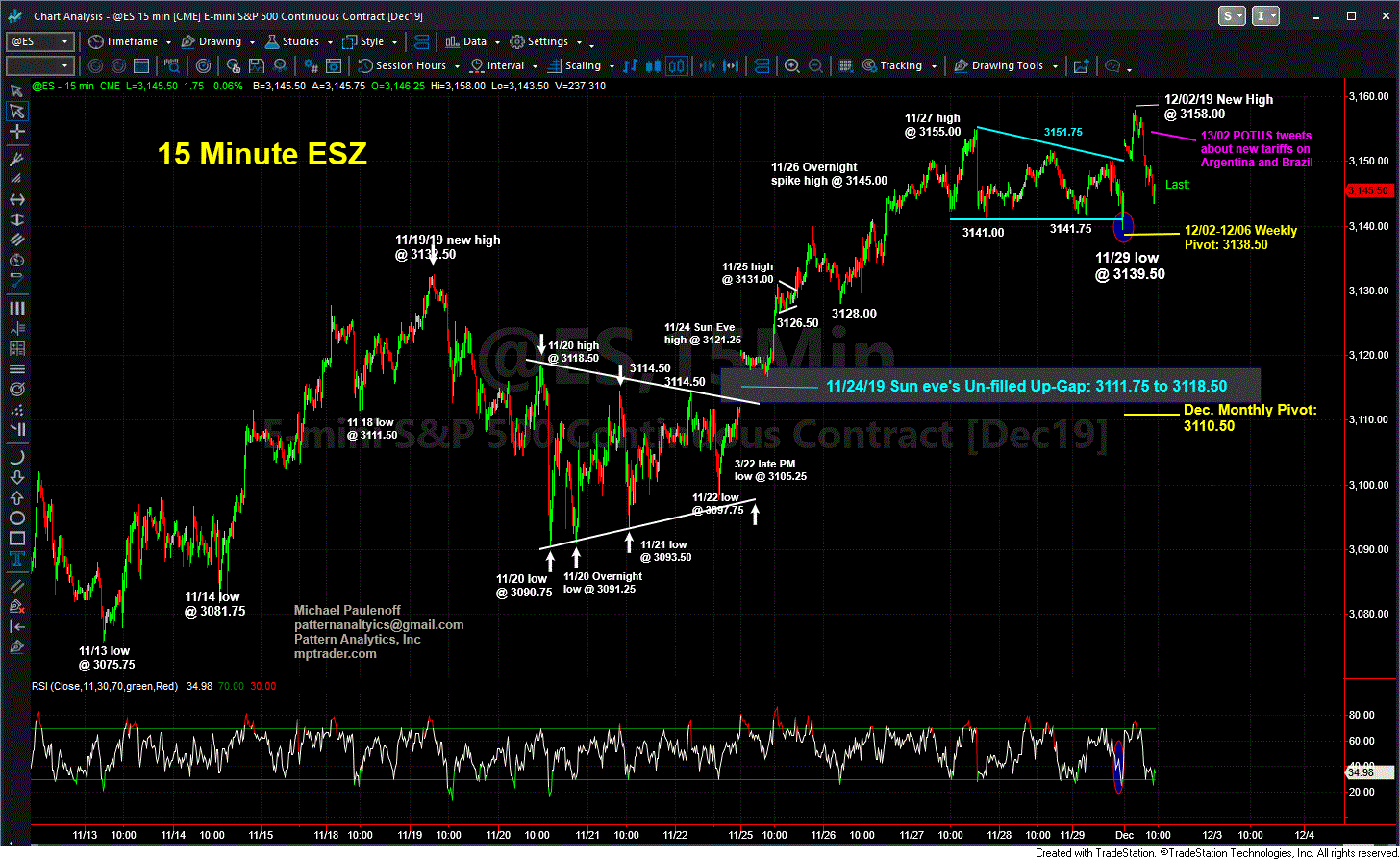 12 02 19 ES 15 Min 9 GIF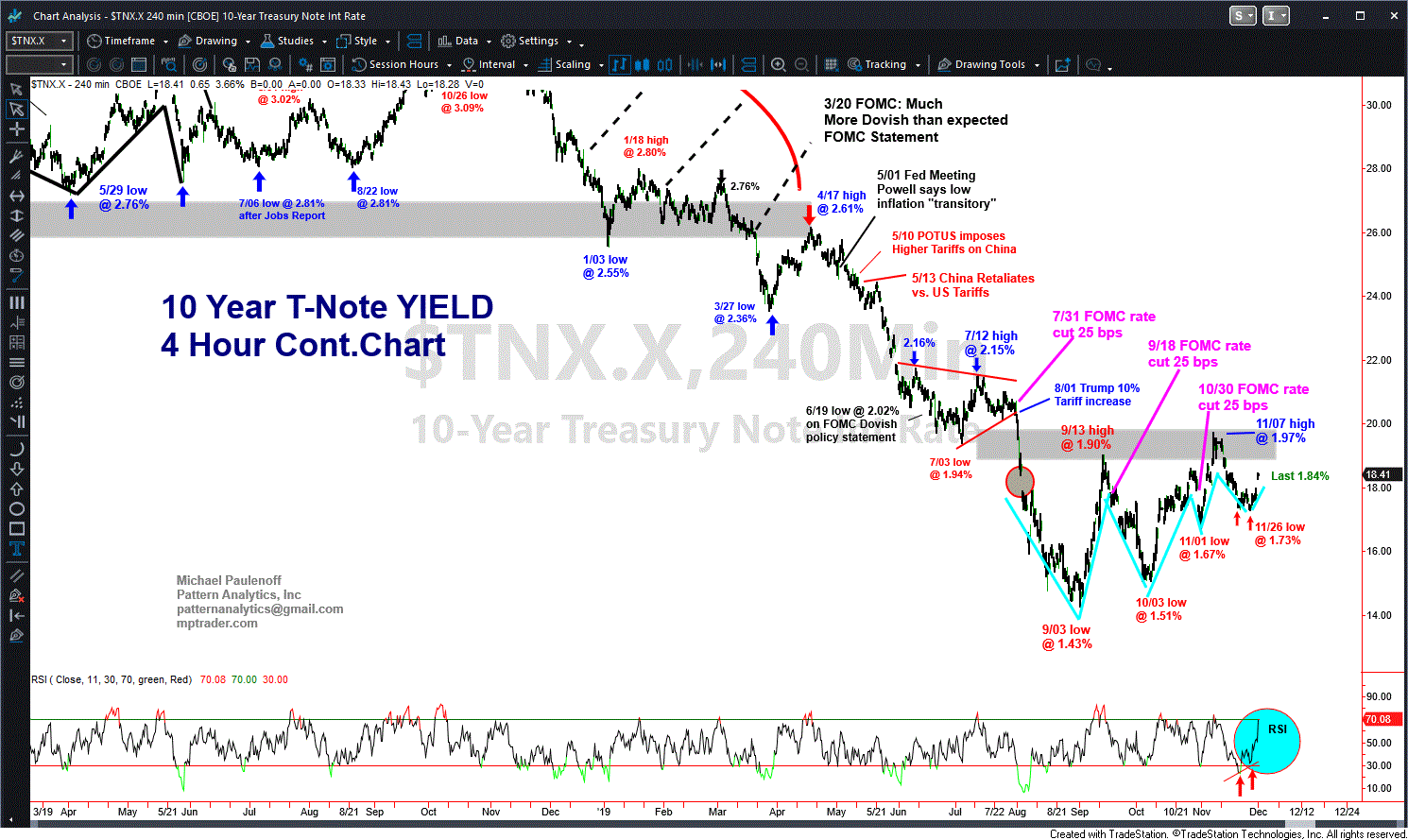 12 02 19 YIELD 9 GIF