Mptrader Out Front: Monday January 13th, 2019
Consequential Economic Data This Week: Monday: 3 & 6 month T-bills... ... Tuesday: Small Business Optimism Index... CPI... Fed Williams Speaks... Federal Budget Monthly Statement... Weekly API Oil Inventory Report... US-China Phase 1 Trade Deal Signature... Wednesday: Weekly Mortgage Applications... PPI... EIA Crude Oil Inventory Report... Fed Harker Speaks... Fed Beige Book... Thursday: Initial Jobless Claims... Retail Sales for Dec... Import-Export Prices... Philly Fed... Business Inventories... Fed Bownan Speaks... EIA Nat Gas Inventory Report... Foreign Bond Investment data... Friday: Housing Starts and Building Permits... Fed Harker Speaks... Industrial Production & Capacity Utilization... Michigan Consumer Sentiment data... Fed Quarles Speaks... Baker-Hughes Oil Rig Count...
Potentially Impactful Market Headlines and Event Risks This Week:
Earnings season begins again: Tuesday with DAL, C,JPM, WFC... (see Earnings Calendar attached below)...
US-China Signing of Phase 1 Trade Deal: Wednesday PM
JPM Healthcare Conference, the largest of the year, from Monday 1/13 through Thursday... Biotech and Pharma presentations, plus a potential M&A component all will be factors for investors...
North American Bitcoin Conference 1/13-1/15
ICR Retailer Conference 1/13-1/15: presentations by more than 200 public and private companies from LULU to ACB to CHS to GME to FRPT
IPO's start the New Year: DNK, VEL, IMAB, LIZI...
Impeachment Articles presumably head to the Senate to start a trial, or to have a quick vote, or to dismiss the charges...
Iranian Protests: Will they mushroom into a full-on revolt (with the support of the United States) that forces the ruthless theocratic, totalitarian regime to implode, or will the Mullahs try to use excessive force on their population to retain control?
----------------------------------------------
Depending on one's investment perspective and vehicle(s) to attain return, the above-mentioned potential directional market catalysts ahead this week either encourage investors to stay 100% long, or to adopt a much more cautious view after a +29% gain in 2019 (basis the SPX). As we enter a new week of analysis and trading, the list above certainly is fraught with both risk and reward. Earnings should be enlightening, especially since comparisons with the year-ago Q4, when the SPX declined 20% represents a low bar to clear. With that in mind, company by company outlook for sales and profits (profit margins) will be paramount, and will provide us with a more granular view of the health of the economy now that China trade per se is not the impediment it once was, actually or psychologically.
That said, geopolitical cross currents remain strong. Will the unveiling of the US-China trade deal reveal surprising verifiable agreements ahead of Phase 2, or represent a very modest arrangement-- the best to be achieved-- ahead of the 2020 election? Meanwhile, Iranian protests are turning more violent, putting increasing pressure on the ruthless regime to quash the uprising while President Trump doubles-down on economic sanctions to squeeze the regime into submission, and warns the Mullahs not to kill their own people for protesting the negligence of downing of a domestic airliner. After last week's "underwhelming Iranian retaliation" for the killing of General Soleimani, did Iran "blink," show that it is a paper tiger (like Saddam's Iraq), and become acutely vulnerable to regime change?
Is this AM's pre-market strength in equities anticipation of POTUS delivering more than promised in his China trade deal, as well as anticipation that Iran is imploding, which will free the Iranian people, enable 3-4 million barrels per day of oil to enter the market, driving energy prices considerably lower, thereby enhancing business prospects going forward? And what about the implications from a potentially significant reduction in terrorism around the globe? In other words, is there a significant peace dividend coming from a major change in the dynamics of the Mid East that no one has expected for decades? Or are we way out in front of our skis on this one? What do YOU think?
Then again, maybe the geopolitical shifts are baked into a market that has relentlessly climbed since early October 2019, and could be vulnerable to impeachment going sideways months ahead of the election, or priced to perfection in an earnings season when one negative surprise could trigger an investor run for the exits? Certainly sentiment is frothy (see attached chart below), which to my mind is warning us that the air up here, and the ice below are both very thin, and liable to crack easily upon the first sudden movement.
So as we begin Monday's session in a new week, the set up in ES that is most sensitive from my technical perspective is the Megaphone Formation that we have been discussing since last Thursday, and which remains intact and viable this AM. As long as 3281 to 3287 remains viable resistance, the potential for a near term market top is intact, and keeps pressure on ES to head lower across the width of the pattern, initially probing this week's new Pivot at 3244.25 in route to 3220, which if violated, will point to a retest of the Iranian retaliation low-zone at 3180/90.
That said, if ES climbs and sustains above 3287.00, the Megaphone Formation will be invalidated in favor of a much more bullish near term scenario that will point to 3325.00 to 3350.00, possibly reflecting more Fed stimulus (liquidity injections), optimism about China trade, better-then-expected earnings, and stronger prospects for economic growth during Q1, 2020.
At the moment, I am taking the view that the market has to continue to "show me" it has additional, new, bullish catalysts to continue to climb... Last in ES is 3274.25/50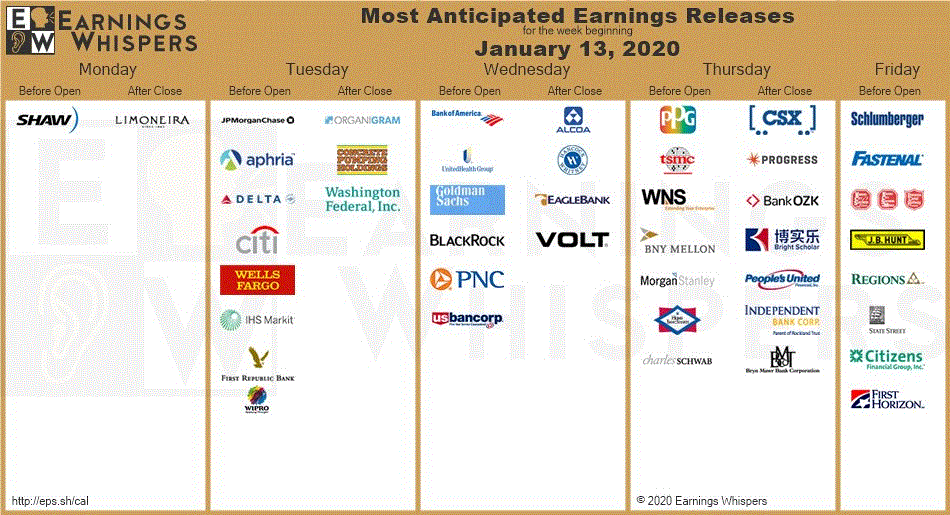 1 13 20 Earnings Week GIF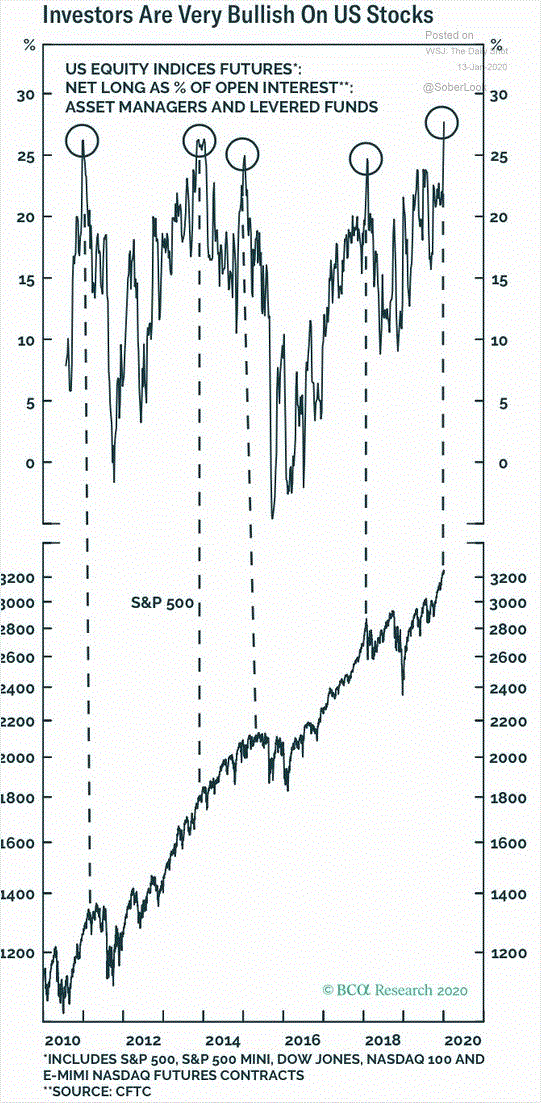 1 13 20 Bullish Sentiment on Equities Chart GIF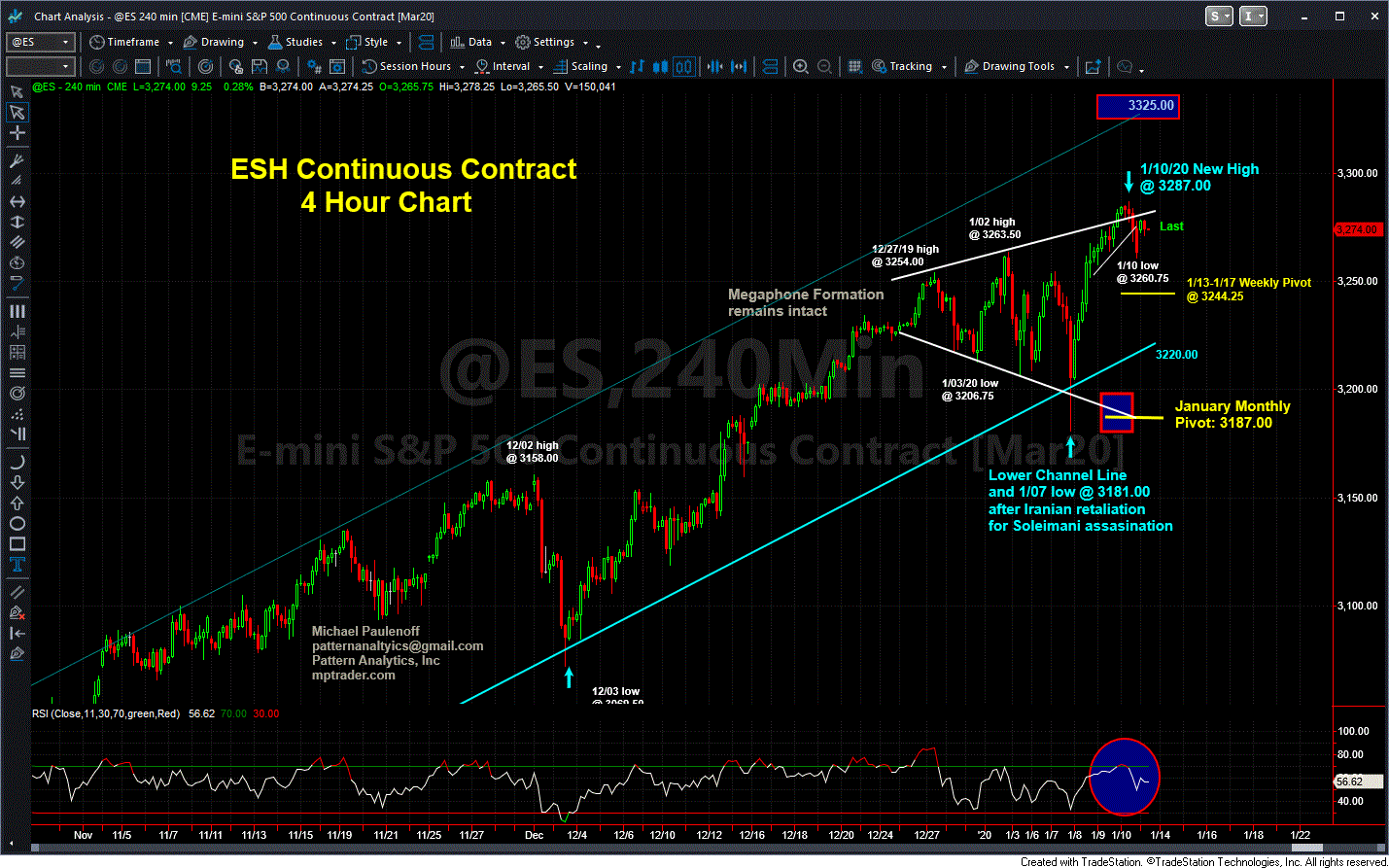 1 13 20 ES 910 GIF