Gold Heading into Powell Time: What to Expect?
Gold-- If Powell under-delivers tomorrow, it is certainly conceivable that the Dollar ratchets still-higher, the equity indices take a bit of a swan dive, and Gold tags along for the ride to the downside. As of last evening's close, DSI recorded a still-stubborn 83%, while we see on my attached Daily Chart that both RSI and MACD have rolled over into a negative position, suggesting that a correction is in progress, albeit a very shallow one so far off of the multi-year high at $1546.10 (to $1502.10).
What if whatever Powell does or doesn't do or say tomorrow results in an exodus from the overbought, possibly near-term over-crowded, long position in Gold? My attached chart points to technical targets in the vicinity of $1450. and possibly all the way down towards a revisit of the multi-year upside breakout plateau from $1380 to $1360, where Gold will be considered a buying opportunity into an extreme sell-off.
As we have discussed on several occasions recently, the reasons to hold a Gold long position despite near term technical conditions are 1) because Powell actually might provide the escape hatch for inflationary expectations (finally), which will represent a new, bullish catalyst for Gold, leading to a much higher level of inflow into the precious metals, and 2) my neurosis about POTUS intervening to sell Dollars against a basket of currencies to drive down its value (in the event Powell disappoints on the rate cut side of the equation).
So, this is a dilemma, to be sure for Gold bulls. Sit tight in long positions and risk a long liquidation event, only to see acute weakness reverse violently upon a POTUS intervention into the FX markets.
Who knows how this will play out in the hours and days ahead? The only thing we can control is the size of our positions, which is exactly what everyone needs to consider during the upcoming hours ahead of Powell's highly anticipated 10 AM ET speech from Jackson Hole.
Whatever you decide to do, maintain a manageable position that will not keep you awake at night.... Last in Dec. Gold is $1509.40... MJP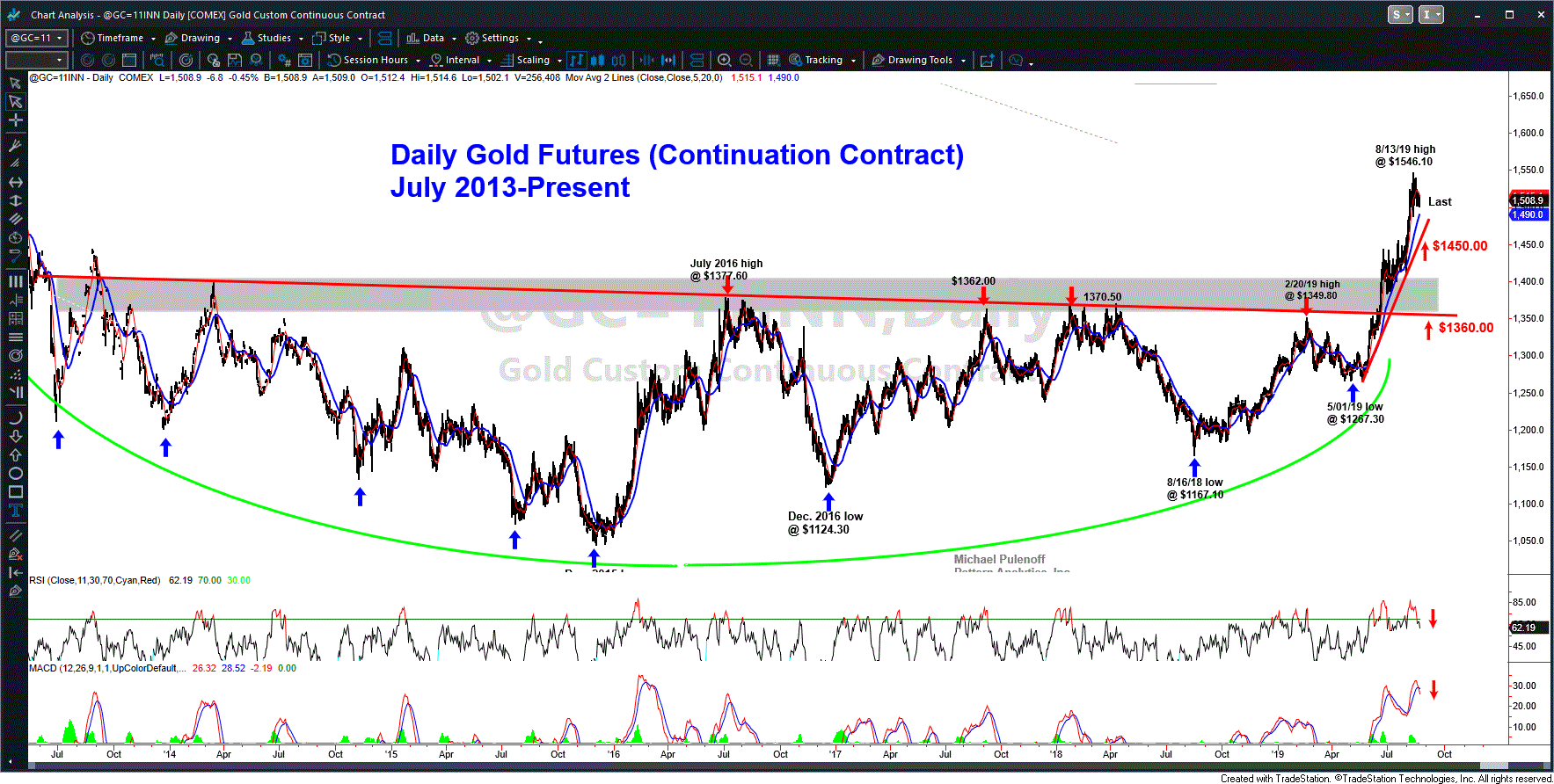 8 22 Dec Gold Day GIF