Identifying Trending Sectors & Markets

...Then Drilling Down to Find the ETF or Stock Whose Chart is Best Poised to Profit!!
•
Index & Sector Analysis
Annotated charts on the eMini S&P, Gold Oil Currencies, international markets and more
Intraday buy/sell (2-day to 2-week horizon) on ETFs and leading sector component stocks.
•
Live Interaction & Trading
Post your questions/comments right alongside Mike's and see his replies thorught the session.
Combine Macro & Technical Analysis For Winning Trades
Everyone wants winning trades -- and the best chance of getting them is when the forces in favor of the trade converge. Identifying these convergences is where Mike Paulenoff is best! Combining macro and technical analysis, Mike will put out a trade only when the macro environment is as attractive as the chart.
For example, he recently traded Guggenheim Solar ETF (TAN) to capitalize on the solar energy sector's "perfect storm": Backing by, and tax credits from, the Obama Administration, solar panel price compression, rising fossil fuel and electricity costs, and constant geopolitical threats to global energy output.
Read More
What's Inside Mike's Trading Room?
MPTrader features Mike Paulenoff's real-time index & sector analysis (eMini S&P, gold/oil, euro/$ and more) plus trade alerts on stocks and ETFs that can benefit from these sector trends. Mike is a 30-plus year Wall Street veteran, previously at Smith Barney, Harris Upham, Drexel Burnham Lambert, and Republic National Bank. Co-author of The Business-One Irwin Guide to the Futures Markets (with Stanley Kroll), he publishes widely on sites such as MarketWatch, WSJ Online, and Minyanville, where he is a contributing "professor."
Read More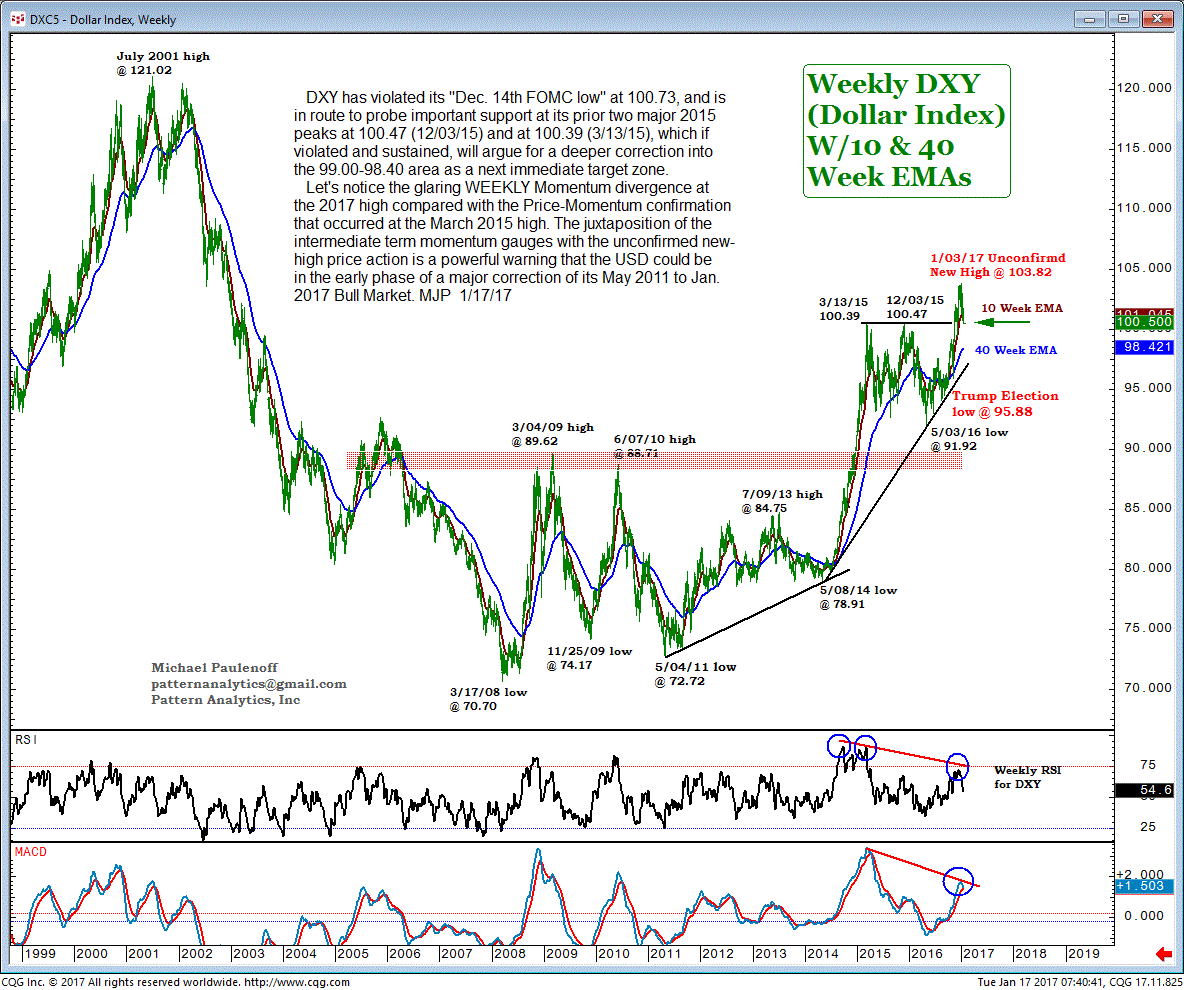 Mike's Mid-Day: Trump "Intervenes" to Throw Cold Water on a Too Hot USD, and Yes, The Dollar is Weakening
U.S. Dollar Index (DXY) has violated its "Dec 14 FOMC low" at 100.73, and is in route to probe important support at its prior two major 2015 peaks at 100.47 (Dec 3, 2015) and at 100.39 (Mar 13, 2015), which, if violated and sustained, will argue for a deeper correction into the 99.00-98.40 area as a next immediate target zone.
Let's notice the glaring weekly-momentum divergence at the 2017 high compared with the price-momentum confirmation that occurred at the March 2015 high.
Read More
"Mike, I just want to say how much I like this new format where our questions are on the same page as your trading information. I suspect it is creating more work for you, since we are now asking more questions, but I'm sure I speak for many when I say that I find it very informative and helpful. And, by the way, I think you're a genius!"

Subscriber JQRESQ

Trading Room post

"I have been with MPTrader going on 5 years and I have always appreciated Mike's insights, thoughtfulness and reasonable price."

Ed Milstein

Sedalia, Colo.

"Since February (three months) trading options in the ETFs along with Mike's analysis, we have about doubled our portfolio in two accounts."

Joe Arrowood

Ashville, N.C.

"Your service is wonderful and making me lots of money!"

Moshe Rabin

Coral Springs, Fla.

"Mike 's superb and timely running comments are invaluable. He tells it like it is, giving reasons for expected near-term ma rket direction and reliable target prices. I especially like the up-to-date history charts with various pivot points, explanations and target prices, th en followed up with frequent intraday notices with the "ca-ching" alarm."

George Wolfe

Rogers, Ark.