Combine Macro & Technical Analysis For Winning Trades
Everyone wants winning trades -- and the best chance of getting them is when the forces in favor of the trade converge. Identifying these convergences is where Mike Paulenoff is best! Combining macro and technical analysis, Mike will put out a trade only when the macro environment is as attractive as the chart.
For example, he recently traded Guggenheim Solar ETF (TAN) to capitalize on the solar energy sector's "perfect storm": Backing by, and tax credits from, the Obama Administration, solar panel price compression, rising fossil fuel and electricity costs, and constant geopolitical threats to global energy output.
Read More
What's Inside Mike's Trading Room?
MPTrader features Mike Paulenoff's real-time index & sector analysis (eMini S&P, gold/oil, euro/$ and more) plus trade alerts on stocks and ETFs that can benefit from these sector trends. Mike is a 30-plus year Wall Street veteran, previously at Smith Barney, Harris Upham, Drexel Burnham Lambert, and Republic National Bank. Co-author of The Business-One Irwin Guide to the Futures Markets (with Stanley Kroll), he publishes widely on sites such as MarketWatch, WSJ Online, and Minyanville, where he is a contributing "professor."
Read More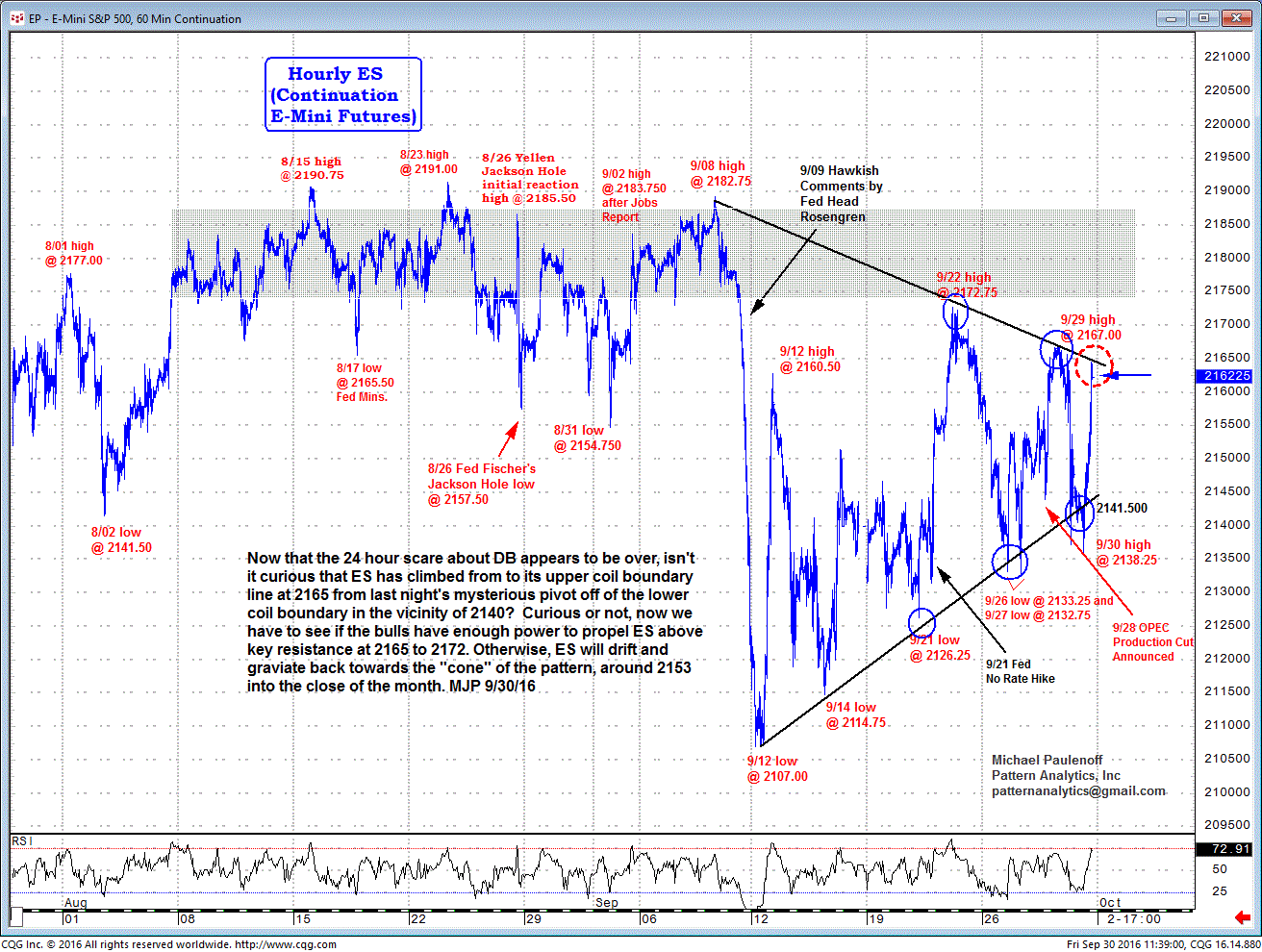 Mike's Mid-Day: With the DB Whipsaw Apparently Behind Us, Now What?
Now that the 24-hour scare about Deutsche Bank AG (DB) appears to be over, isn't it curious that ES (Emini S&P 500) has climbed from to its upper coil boundary line at 2165 from last night's mysterious pivot off of the lower coil boundary in the vicinity of 2140?
Curious or not, now we have to see if the bulls have enough power to propel ES above key resistance at 2165 to 2172.
Read More