FB (Facebook, Inc) We began discussing the technical vulnerability of the FAANG names last week (leading to our long position in SQQQ-- the ultra-inverse QQQ ETF), in particular AMZN and AAPL. Today we turn our attention to FB...
FB is down nearly 13% today after a weekend full of negative news and innuendo that undoubtedly will (already has) cast the company in a very precarious light that will be subject to political attacks and swings in public opinion-- and FB depends on user eyeballs for its advertising revenue!
In any case, what does the technical set up in FB look like? Today's breakdown has thrust FB to the downside out of a Rising Wedge Formation, and as such, has initiated a new downleg off of its initial breakdown from the 2/01 all-time high at 195.82 to the 2/09 low at 167.18.
From a nearer term technical perspective, let's notice that the 5 and 20 Day MA's now are down-sloping, and are nearing a negative crossover. In addition, today's weakness has pressed FB to fully test its up-sloping 200 DMA, now at 172.54, which is a very important closing level for fund managers.
Perhaps more significantly, from an intermediate term perspective, this powerful downleg initiation is pressing into a 6 month support zone lodged between 170 and 167, which if violated, could unleash a waterfall long liquidation event that will project downside target zones at 152-153.50 and 141.00-143.00, which will amount to potential corrections of around 22% and possibly 28% before the correction reaches levels that should bring in new buying interest.
For today, all eyes on the close and its relationship with the 200 DMA (172.54)... Last in FB is 172.32/34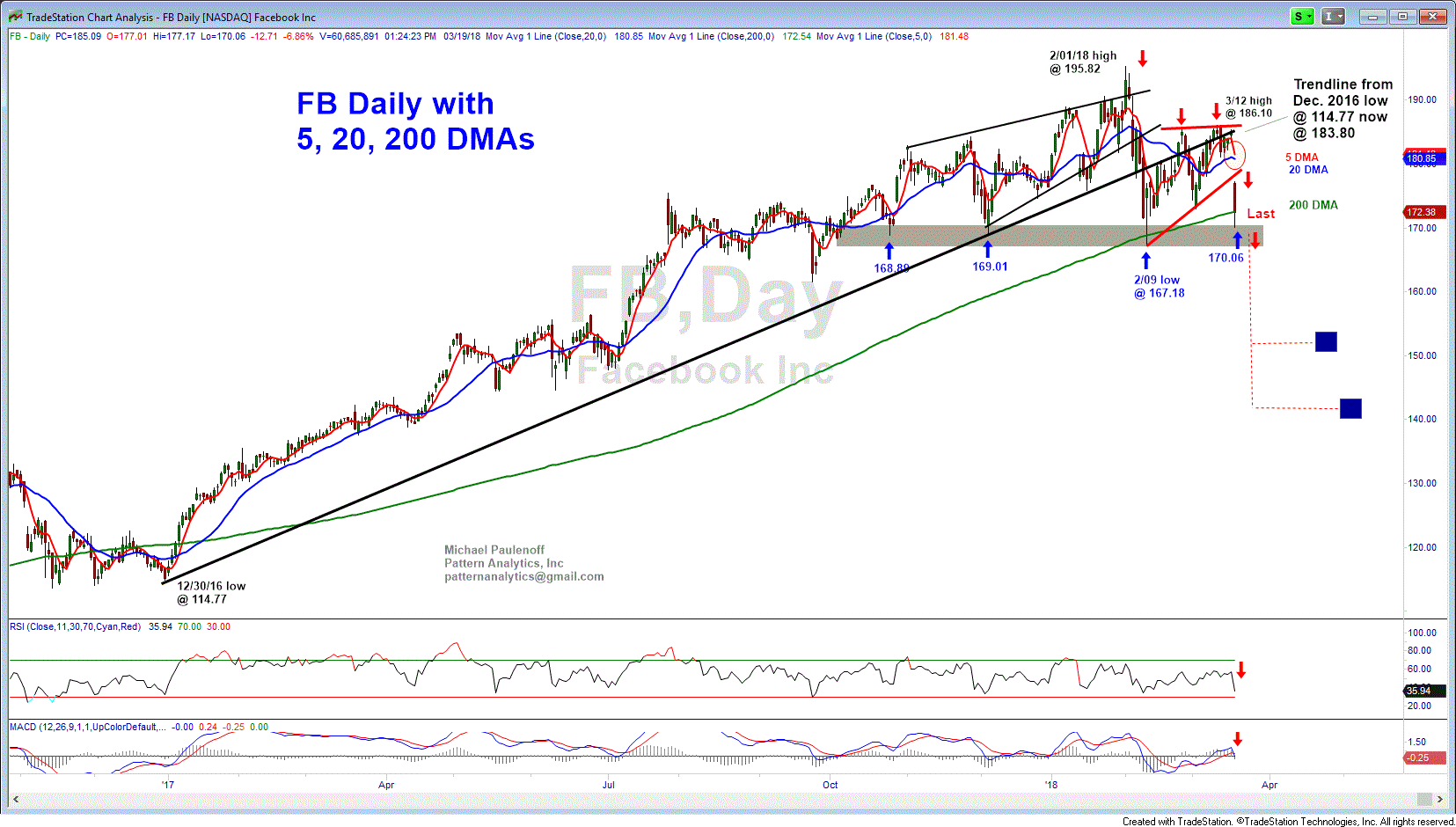 3 19 18 FB Day GIF