A Tricky Weekend Ahead for AAPL Holders
AAPL-- under intense pressure on the day it releases its iPhone 8 to the public, but otherwise, from a technical perspective, at the tail end of a corrective period off of its all time high at 164.94 on 9/01/17 to today's low at 150.56 so far.
This morning's low at 150.56 represents a probe of the 62% retracement support area of the entire prior advance from 141.70 (6/28) to 164.94 (9/01), which must contain further weakness to avert a press to test the 147.30 low from 7/27, and possibly into the larger support zone at 146-142.
My near term work confirms the weakness, which warns us that AAPL is vulnerable to downside continuation.That said, a sustained climb above 152.80-153.20, especially on a closing basis, will neutralize the near term negative set up.
In that anticipated relatively weak demand for the iPhone 8 is being blamed for recent weakness, perhaps over the weekend, AAPL will depart from its more recent closed-lip approach to first weekend sales of its new phones, and announce better-than-expected demand over the weekend, which could trigger a big up-gap open on Monday morning.
Conversely, in the absence of a rally above 152.80-153.20 before today's close, no news on sales from AAPL over the weekend could be construed as "bad news," and as such, lead to a gap down open on Monday that breaches 150.60.
In a nutshell, unless AAPL closes at or above 153.20 at 4 PM ET, my work argues that investors should brace for more weakness Monday morning...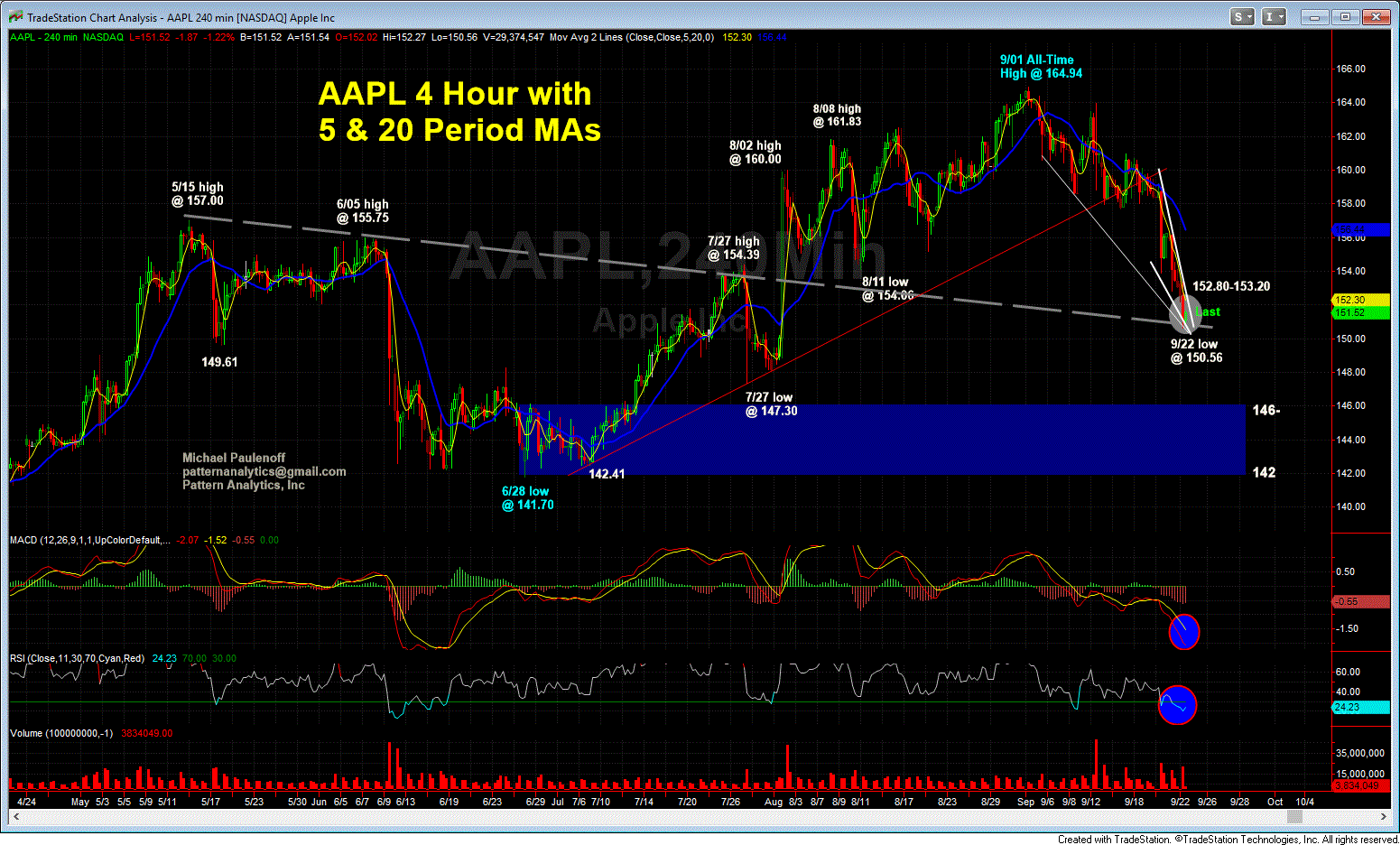 9 22 17 AAPL 4 hr 1250 P GIF