BABA Confirms Entry into a Recovery Rally
BABA-- is up 3% today, and up 10% off of the 10/11/18 low at 135.14, in what is an oversold bounce within a still-dominant downtrend off of the 6/05/18 all time high at 211.70 into last week's low at 135.14. Last week's low neared our measured optimal downside target zone of 135 to 132 off of the massive 14 month top formation (see attached chart) that broke down during the third week of Sep. from the 166 area.
Let's notice that last week, BABA spiked down beneath the lower boundary line of its June-Oct. bearish price channel, which represented a 6.5% negative (downside) overshoot of the lower boundary line. Typically, it takes about a 3% overshoot of a channel boundary line to trigger extreme "elastic reversal signals" that argue for a counter-trend price reaction that in this case, propelled BABA back up into the confines of the down channel.
BABA upside continuation will smack into resistance at 150 initially, which if hurdled and sustained, will point to 153.00-156.50 next, a zone from where my work will be expecting BABA to stall and then to roll over again into another bout of weakness that will be vulnerable to a retest of the 10/11 low at 135.14.
Only a sudden resolution to the US-China trade dispute will provide the necessary power needed by BABA to thrust through heavy resistance from 153 to 170. In that President Trump and President Xi are not expected to meet again (possibly) until next month's G-20 Summit (Nov. 30 to Dec.1) in Buenos Aires, Argentina, we have to consider that if the two leaders actually schedule a meeting, that some agreements will have been ironed-out ahead of time. Whether or not any US-China trade agreements are hammered out earlier, ahead of the Nov. mid-term US elections, also remains to be seen.
In the meantime, current strength is viewed as a recovery rally within an incomplete bearish, top building technical set up. Last is 149.01/02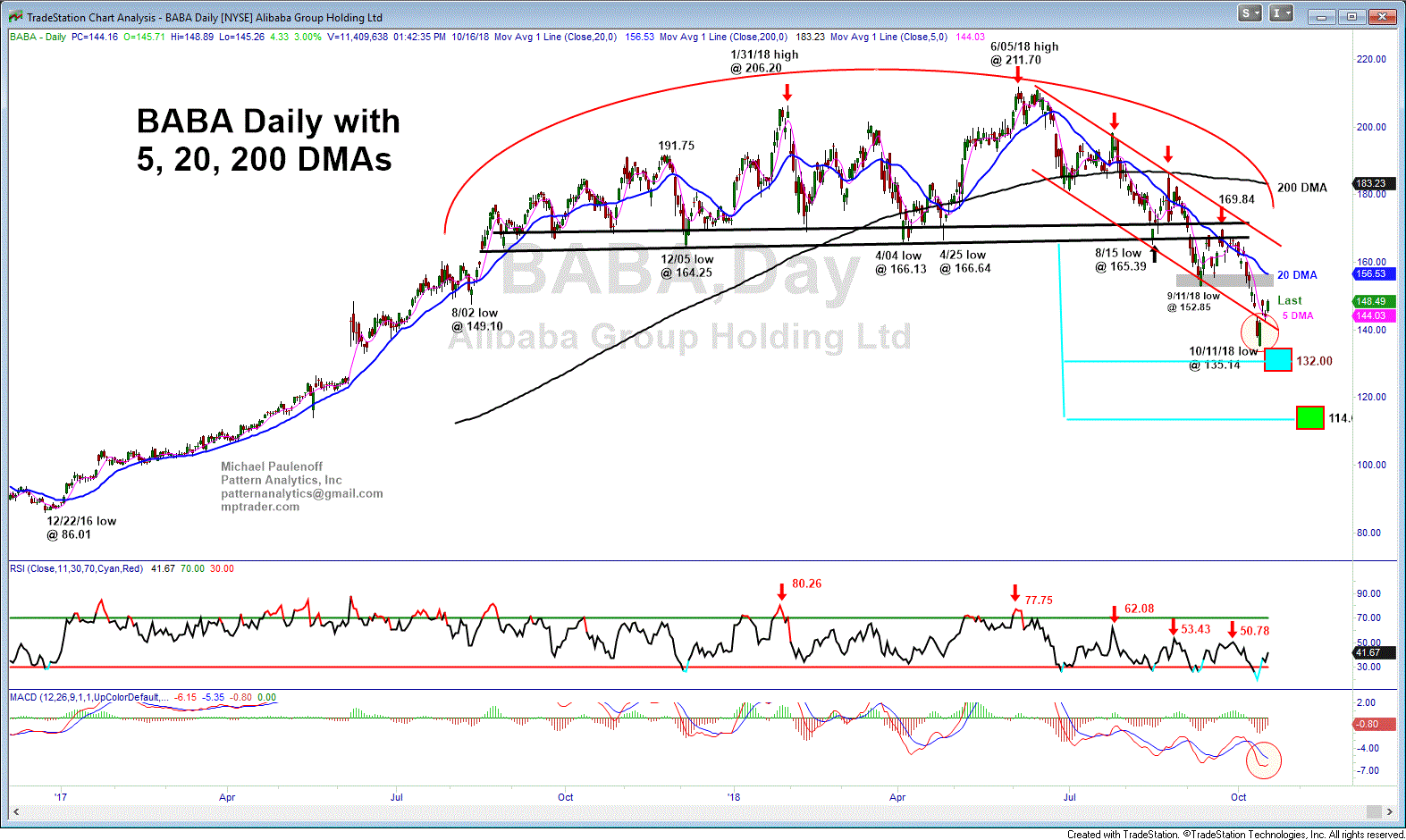 10 16 18 BABA Day GIF