CPI-- Has Most of the Damage Been Done Already (Yesterday)?
Friday, June 10, 2022-- Mptrader.com Out Front: CPI, and the Investor Reaction To It...
Yesterday's last hour plunge in ES from 4112 to 4016 (-2.4%) smelled like the big institutional accounts decided to reduce or hedge exposure to this AM's CPI just in case the Y-o-Y headline figure comes in ABOVE consensus of 8.3%, which more than likely would trigger a confluence of algo, knee-jerk sell programs. 
From a technical perspective, the 100+ point plunged sliced and sustained beneath key pattern support at 4060 to 4073 representing BOTH a week-long support plateau AND the lower boundary of what could have been a developing "Right Shoulder" of an Inverse Head & Shoulders formation in progress since mid-April. 
The plunge well below 4060, to 4016 yesterday, and to 4006.75 in this AM's pre-market certainly obliterated the week-long prospect of a Bull Flag continuation setup, and invalidated the prospect for a big Inverted Head and Shoulders Base formation. 
Instead, the post-May pattern now is searching for a "third significant low" to accompany the 5/12 low at 3857.00 and the 5/20 low at 3809.50. My optimal downside targets for the establishment of a forthcoming "third low" are shown on my attached Hourly Chart at 3970/70, 3950, and close to 3900.
At each of the above-mentioned target levels, I will be looking for signs of momentum non-confirmation, selling exhaustion, followed by a sharp upside reversal that exhibits bullish structure within the initial bounce. 
Why am I looking for a U-Turn from lower levels rather than downside continuation to new post-January corrective lows beneath 3800? Because my bigger picture work argues that the May upmove from 3809.50 (5/20) to 4204.25 (5/30) represents a completed first upleg of a larger-developing counter-trend rally period that is "missing" a secondary rally to complete the counter-trend rally pattern. I am looking for the initiation of the secondary upleg that will propel ES above 4204.25 into the 4300-4400 target zone prior to a resumption of the dominant bear phase... Last in ES ahead of the CPI Report in 22 minutes is 4018, circling unchanged off of an overnight low at 4006.75...
                                                                                                           Actual           Previous         Consensus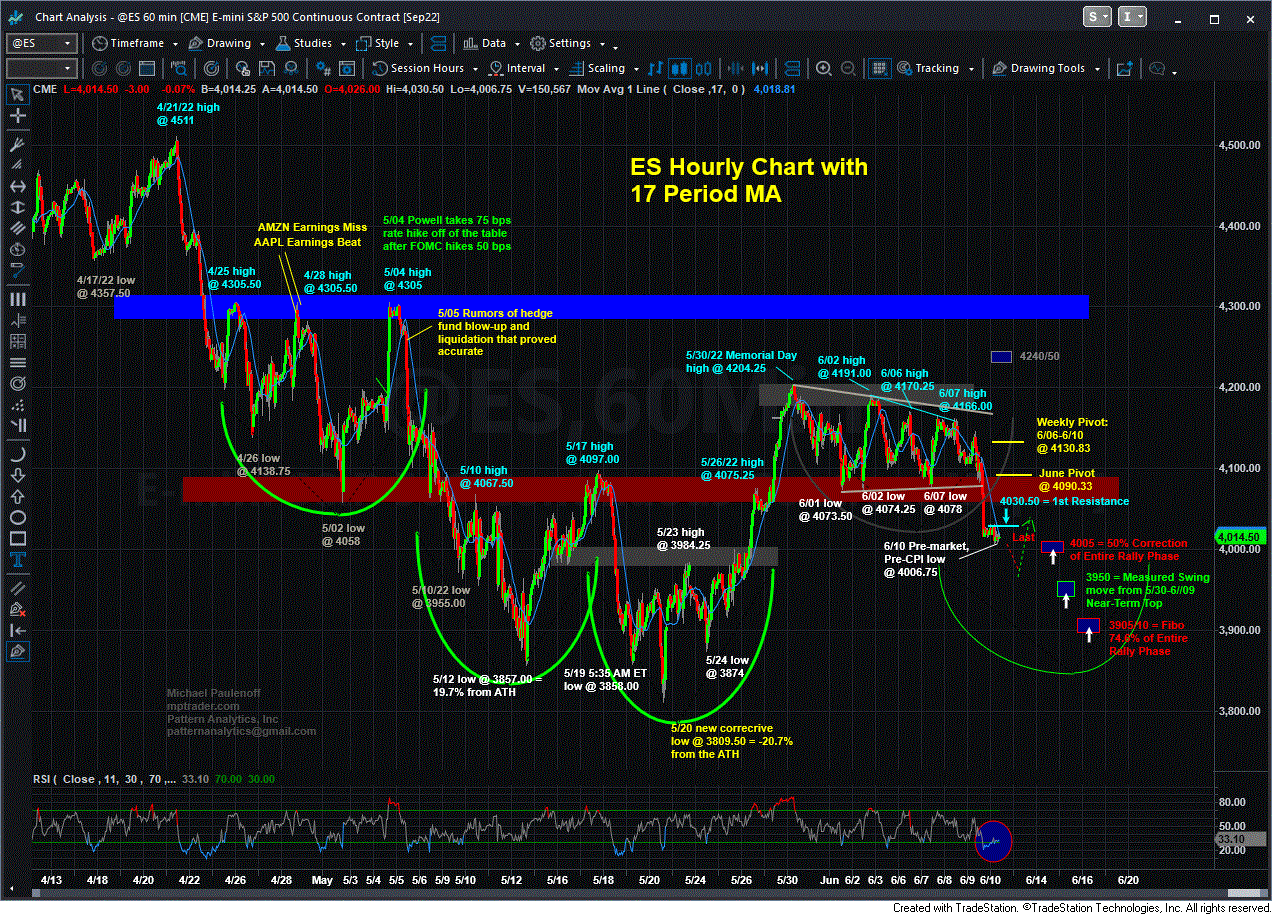 6 10 ES 810 AM GIF