Charts on ES & Yield: Lot Of Instability for Investors to Juggle
Good Tuesday Morning, MPTraders!  August 15, 2023-- Pre-Market Update: Where to begin? US Rating Agency Fitch warns that it might have to downgrade some US banks (bad news), China unexpectedly cut its short-term interest rates to jump-start it's seriously sputtering economy (good news?), HD results elicit a dull reaction (bad news about the Consumer?), and former POTUS Donald Trump was indicted for a 4th time, now in Georgia for trying to overturn his 2020 defeat (news? Perhaps not, but it is another attack on the psyche of the nation). Let's just say that heading into today's session, there is a lot of instability for investors to juggle...
Maybe Retail Sales data for July (8:30 AM ET) will matter? (Continued below the data table)...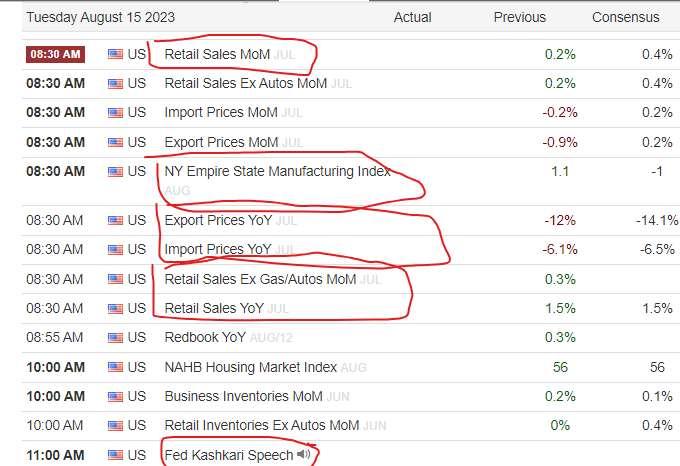 From the perspective of ES, the net result of the overnight crosscurrents is a lower market to the tune of about 30 points and 0.7%, which we see on my attached 4-Hour Chart shows that the weakness has pressed index from its overnight high at 4517.75 toward another test of key support lodged from 4470 to 4460, which MUST contain any additional pressure to avert a violation of the dominant March-August up trendline, now in the vicinity of 4457. A sustained breach of the trendline will point ES to a 4400 target zone, and possibly closer to 4350...
To regain upside traction, ES needs to claw its way back above 4485 to neutralize the overnight weakness, and above 4492 to reverse intraday polarity from down to up... Last is 4477.00... 
Finally, amid all the instability, 10-year YIELD is up another 7 basis points this AM, to 4.24% from 4.17% (see Weekly Chart Below), suggesting that the Fitch downgrade warning-- and the growing budget deficit, national debt, and fiscal spending-- are calling the shots at the moment...  More after the Retail Sales data...