Charts on Yield, ES, SPY & QQQ: Bulls In Directional Control
Good Thursday Morning, MPTraders!  June 15, 2023-- Pre-Market Update: Now that the dust is beginning to settle after yesterday's announcement of the FOMC's wacky monetary policy prescriptions that call for a Fed Pause (Dovish?) accompanied by rhetoric in the statement (but less so from Powell during his press conference) indicating the "need" for at least one and probably two additional rate hikes (hawkish), what should we think?
For me, I think Powell and the Committee attempted to have their cake and eat it (what else is new?). That is to say, they paused to allow the 10 hikes of 525 basis points in 14 months to course through the economy to see if and how extensive a presumed lagged restraint on growth is in the pipeline. On the other hand, they also warned the markets, CEOs, and investors that the Committee thinks it has more work to do to tame inflation... 
Who knows? 
If we turn to the Yield Curve for some insight into the situation, its acutely negative condition is still warning us that the Fed is at risk of overtightening and/or that "pause" will reveal a sharply declining rate of inflation in the upcoming months accompanied by a soft (landing) economy... (Continued Below)...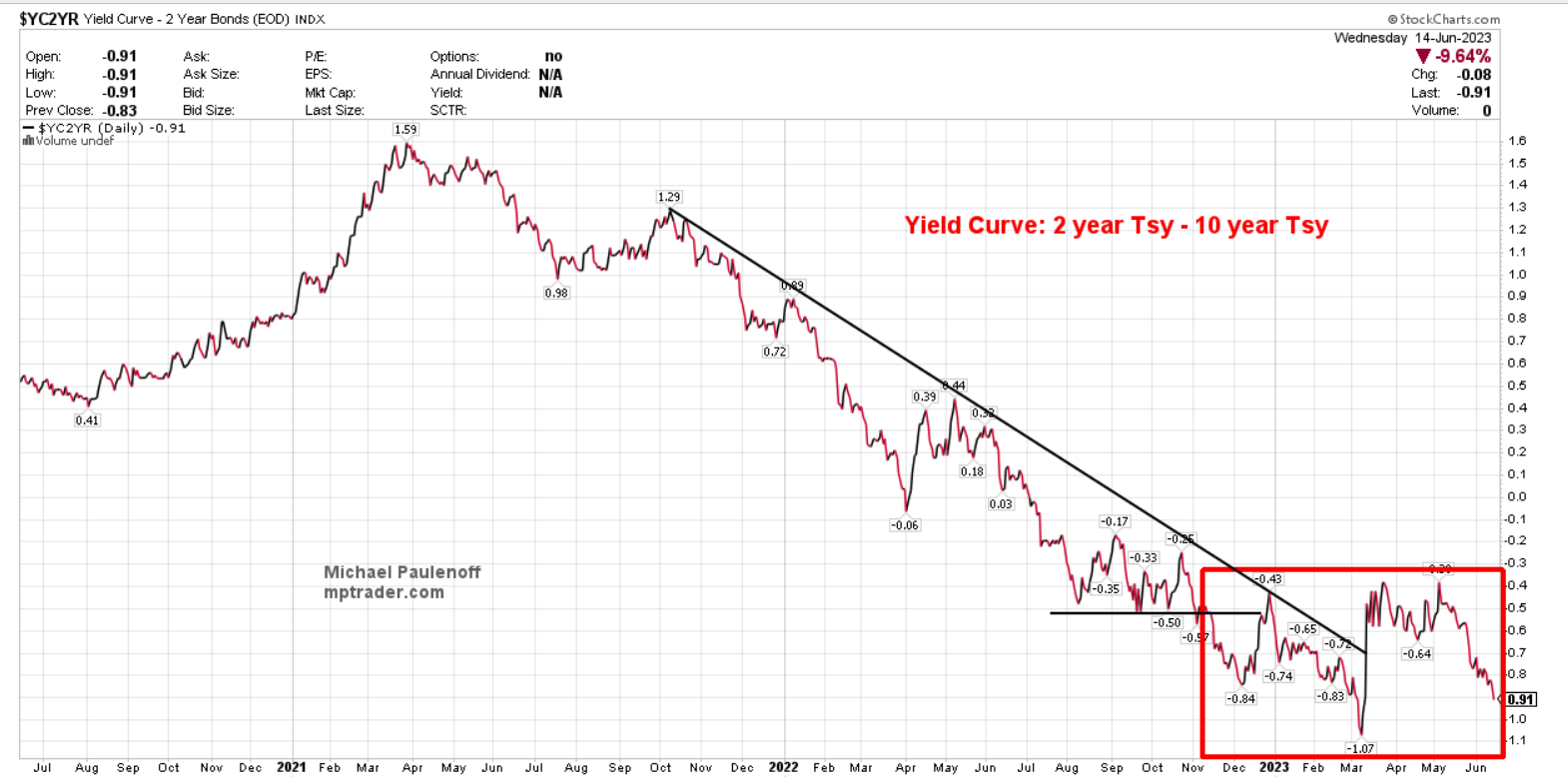 As for ES, in the wake of yesterday afternoon's wild volatility, the dominant near-term uptrend off of the 5/24/23 "NVDA Earnings Pivot Low) remains intact. Both my Hourly and Daily setup work argue that unless and until a bout of weakness presses the index beneath key nearest support from 4392 down through 4382, the bulls will remain in directional control, and as such, I am expecting another loop up to 4460/70 to take out the August 2022 recovery rally high at 4454... Last in ES is 4403.00... 
SPY needs to preserve key support lodged from 434.30 down to 433.00 to keep the dominant upleg from the 5/24/23 NVDA Pivot Low intact, and poised to propel SPY to 440-441 next... Last is 435.91
In terms of the QQQ (Nasdaq 100) setup, as long as nearest support at 356.50 (see attached QQQ Chart) remains intact, so too will the bulls control price direction, aiming next for a challenge of the March 2022 recovery rally high at 371.83... Last in QQQ is 363.51