ES After GDP, Waiting For Larry Kudlow
The first estimate of Q2 GDP came in at 2.1% versus estimates of 1.7%, and final Q1, 2019 growth of 3.1%. Within the data, PCE (Consumption) was stronger than expected, while the PCE Price component was a bit weaker than expected. The lack of inflation in the official data remains a thorn in the side of the Fed (all central banks) and probably is the overriding data point from this report that will encourage the Fed to go ahead with at least a 25 bps cut (even though the fixed income markets are trading as though a 50 bps cut is warranted at this time).
As for ES, immediately after the data were released, it knee-jerked lower from 3016 to 3010, no doubt in reaction to an algo headline sell program trigger, but has since recovered to 3014.00.
For today, if ES climbs above 3016.00-3017.25 (the overnight recovery rally zone off of yesterday's "Draghi Low" at 2998.00), then my work will argue for upside continuation and acceleration (it Friday right?) towards a retest of yesterday AM's new all-time high at 3027.75. If new highs are made late in the session, ES could be in route to 3050/.60 in the ensuing trading hours (Sunday evening into Monday).
In the absence of a sustained climb above 3017.35, however, ES will remain vulnerable to another loop down. If it takes out the post-GDP mini down-spike low at 3010, then I will be expecting ES to retest yest.'s low at 2998.00, where the two day portion (7/24 to present) of the pattern will morph into a near term top.
Let's see what happens in the first two hours of trading on this mid-Summer Friday that should be relatively quiet (although tweets and an interview with Larry Kudlow sometime between 10 and 11 AM ET could certainly upset the calm)... Last is 3014.25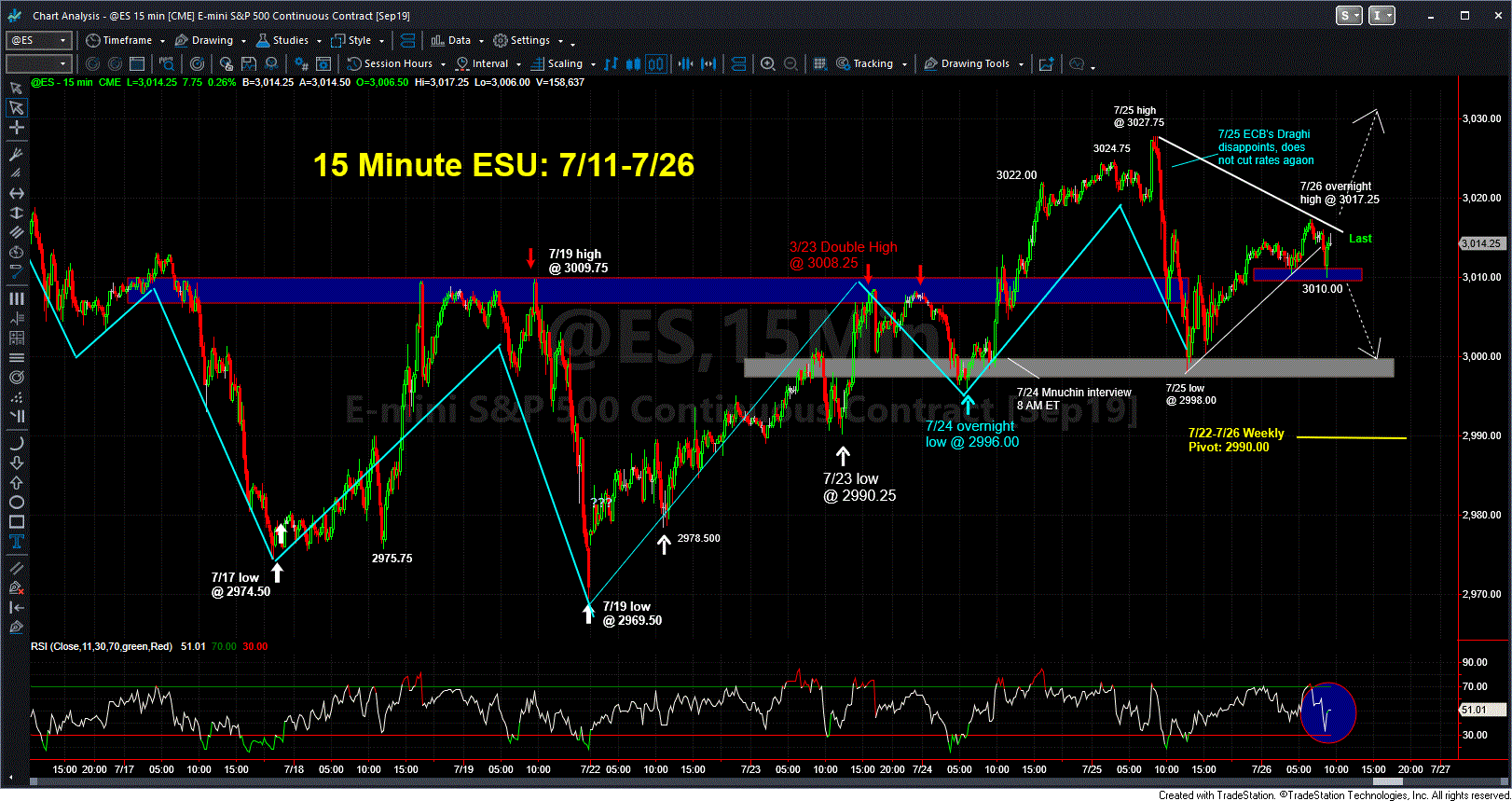 7 25 ES 910 GIF