ES-- All Eyes on the March 8th Up Trendline Ahead of the Fed
ES-- Below is what we discussed this AM before the open. Nothing has changed, except of course, ES managed to bounce off of its March 8th up trendline yet again, bringing in more buyers that propelled it to a new post-Dec. recovery high at 2858.75.
Is it my imagination, or is each successive up-spike off of the up trendline shorter? Nothing that FOMC can't "fix" tomorrow, I guess... In the meantime, all eyes on nearest support lodged from 2845 to 2841 for the PM session... Last is 2852.75
Our pre-open discussion below...
The attached hourly chart shows the relentless uptrend and up trendline off of the March 8th-March to 10th pivot low. More recently EVERY TIME ES slightly weakens, the trendline has contained the decline, and brought in more buying. As we speak, the HOURLY up trendline cuts across the price axis at 2845.00, which must contain any minor weakness to preserve the absolute integrity of the uptrend. If 2845 is violated, then let's watch 2841.254, which represents the prior minor pullback low. If 2841 is taken out, just maybe we will be seeing some sellers ahead of Fed Time at 2 PM ET on Wednesday, suggesting that the March 8th to present 4.6% near-vertical upmove has fully anticipated whatever the (more Dovish) Fed has to offer traders and investors.
That said, as long as 2845-2841 contains any forthcoming weakness, the "Fed-discounting market mechanism" on the upside should be considered in full throttle, with a next target zone of 2870/80... MJP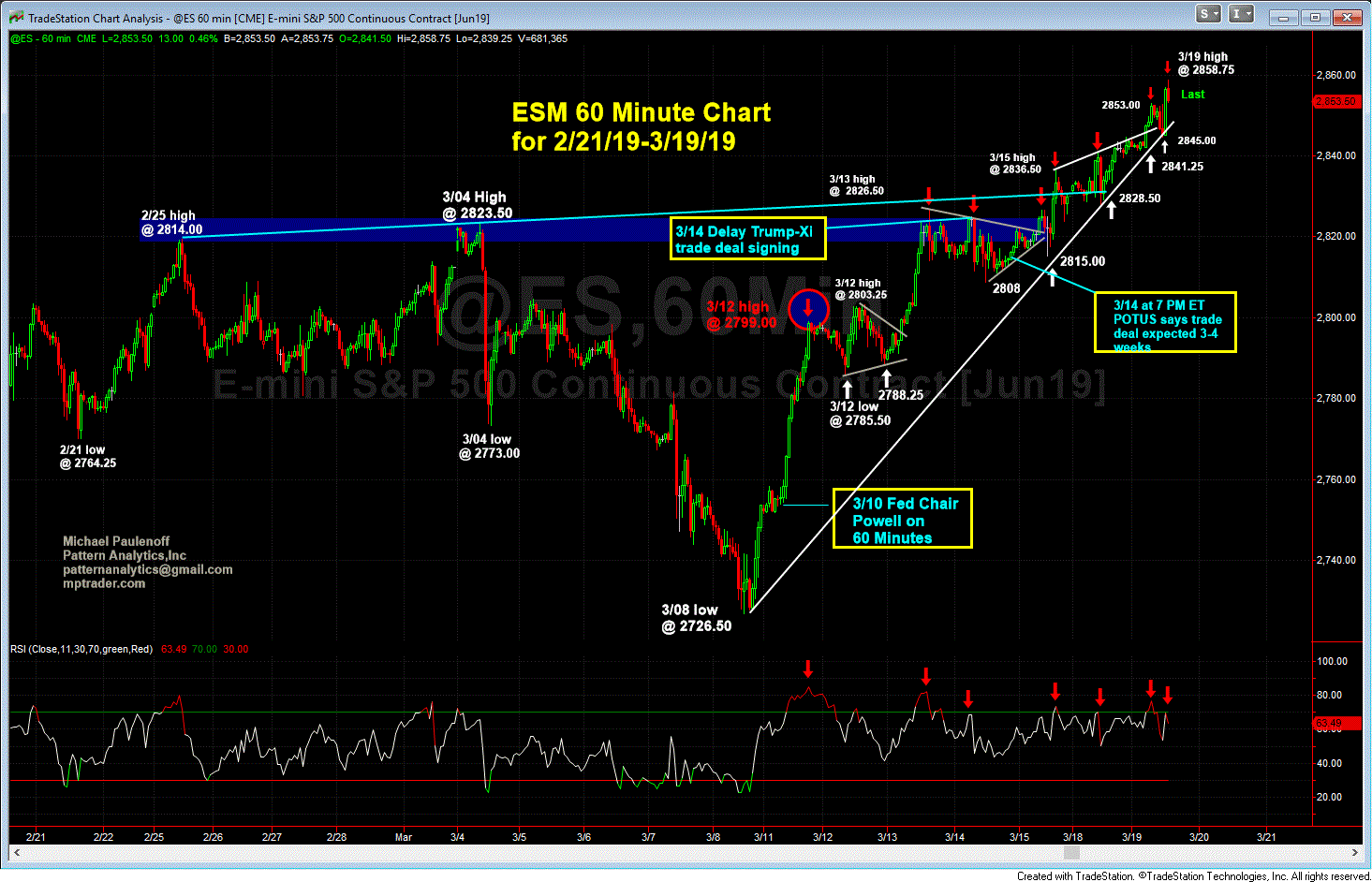 3 19 ES 1240 GIF