ES Continues on its Search and Destroy (the Shorts) Mission
ES-- has rocketed to a new "recovery" rally high at 2624.00 so far this AM, a full 307.25 points above its 12/25/18 Christmas Day low at 2316.76. That is a 13% upmove in 15 trading days!
More to the point though, ES is now within 10 to 25 points from satisfying my outlier upside target zone off of the Inverted Head & Shoulders pattern we were discussing during Xmas week (see attached chart). When ES broke out of the IHS pattern on Jan. 4th, precipitated by Fed Chairman Powell's first televised effort to back pedal from supposedly too restrictive monetary policy heading into 2019, I thought maybe ES could climb to 2580 to 2600 to satisfy the reaction to both its oversold condition and the Fed's newfound "patience policy" about future rate hikes.
I did not think ES could climb to 2645/55, but neither did I think that post-2018 market psychology was still addicted (as much) to the Fed easy money drug.
So far, not only is the market showing signs of its 2009-2018 super easy money addiction, the central bankers keep filling the syringe will intensifying easier money rhetoric (see my blue annotations on the attached chart).
Ironically, while the price action is healthy, the underlying reasons for the relentless upside price action is not, but yeh, I get it, from a trading perspective, I have been twisted from around 2580/85 into 2624...
Be that as it may, let's notice on the attached ES chart that unless and until ES reverses and breaks below 2600, which represents the support line off of the 12/25 low, the bulls will remain in directional control, with a next upside target of 2635, representing a challenge of the exact 50% retracement recovery leve of the entire Sep.-Dec. decline... Last is 2622.75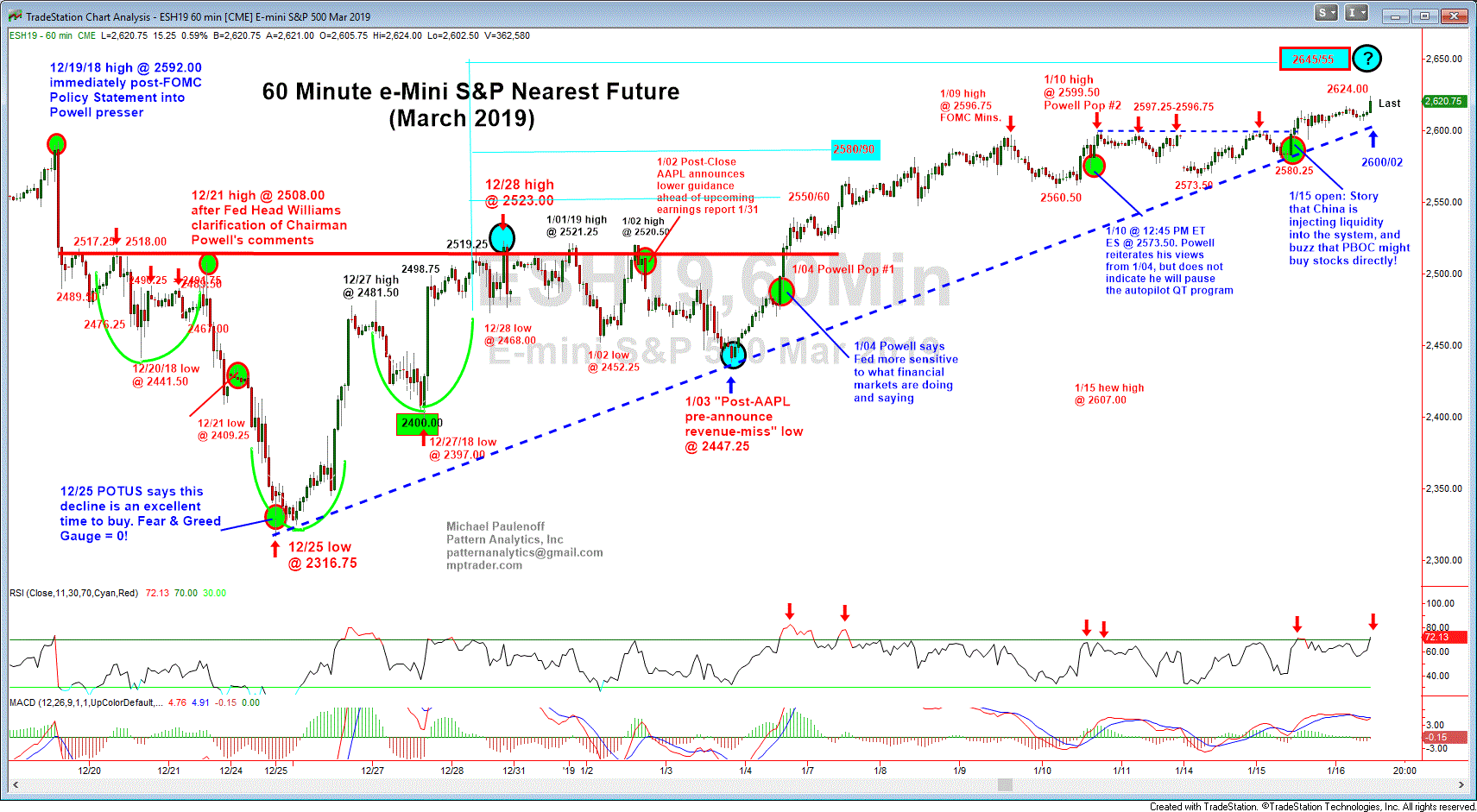 1 16 ES hrly 955 GIF