ES Remains Perched Beneath Key Resistance Ahead of PPI
Good Thursday Morning, MPTraders!  May 11, 2023-- Pre-market Update:  PPI at 8:30 AM ET (See Estimates Below)... ES Remains Perched Beneath Key Resistance Ahead of PPI (see chart set ups below PPI data)... 
PPI-- Based on The Street's expectations, PPI should continue to decline to around 2.5% from above 11% one year ago!  That's progress, right? What more could the Fed want (to hit the pause button)? What more do the equity markets need to see before they blast off through 5-week resistance (basis ES) from 4200 to 4240?  Hmm... I don't have the answers, but I do believe that the Equity indices APPARENTLY ARE WORRIED about SOMETHING OTHER THAN THE DIRECTION of the INFLATION GAUGES... (continued below the data graphics)...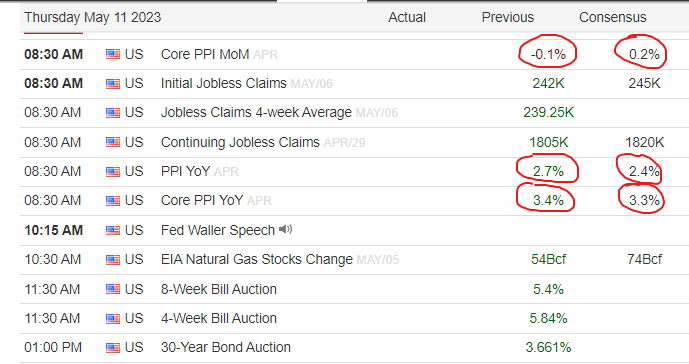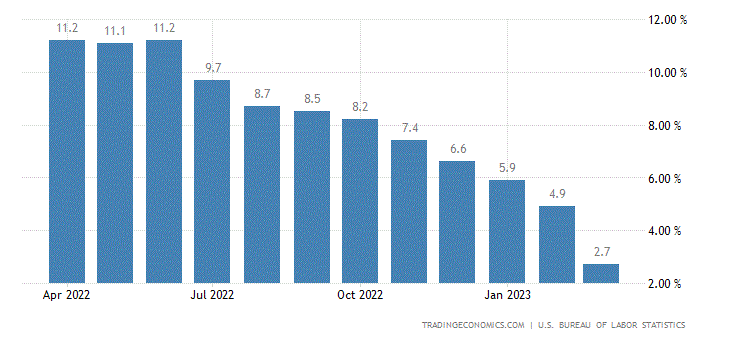 As for ES, my attached 5 Minute Chart shows yesterday's crazy swings between 4170/75 on the high side versus 4110/15 on the low side in the aftermath of yesterday's CPI report. This morning, ahead of PPI. ES was perched above 4163 but suddenly nosedived 22 points in reaction to the Bank of England's 25 basis point rate hike (accompanied by hawkish commentary). Either the algos pounced on the headline even though a 25 basis point hike was expected, or the accompanying commentary was interpreted to be a bit more hawkish than anticipated. In any case, ES heads into the 8:30 AM ET PPI report circling the mid-point of yesterday's wild 60+ point range. 
My attached Hourly ES Chart offers a perspective from mid-March, with an emphasis on the sideways (frustrating) rangebound price action between 4060/70 and 4180-4200. For the Bears, ES will chase them out of their short positions if it climbs above yesterday's CPI high at 4173.25. For The Bulls, they will start to abandon ship on a break below yesterday's low at 4112.25... Last is 4146.50...