ES-- Weak Ahead of A Fed-Inspired Rip, Or a Message to Chair Powell?
ES... Before the open, this is what we discussed...
... As for the ES chart set up, my attached hourly chart has the right look of an initial near term corrective (down) leg from yest.'s high at 2858.75 to last eve's low at 2828.00, followed by what appears to be a weak bounce to 2842.50. As of this moment, my preferred nearest term scenario calls for another loop down from 2842-2848 resistance zone that will project to more important support at 2815-2820... Only a sustained run above 2848 will argue that ES intends to claw its way back the vicinity of the post-Dec. high-zone 2852-2858 ahead of the Fed policy statement... poised for upside continuation towards 2870/80 in reaction to a potentially move dovish than expected FOMC and Powell rate posture... Last is 2835.00
1:15 PM ET, we see on my attached hourly chart "mission accomplished," in that ES rolled over into a bit of a nosedive that hit an intraday low at 2817.25, right in my optimal intraday downside target zone.
For the next hour, into Fed Statement Time, ES likely will bide time and/or drift higher, however, as long as key resistance lodged between 2828 and 2834 contains weakness, the bears will remain in nearest term directional control.
That said, we have to expect that 2 PM ET FOMC headlines will trigger all sorts of algo knee-jerk moves prior to guru analysis of every word of the statement, and dot plots, into Powell's press conference.
The two key levels after Powell finishes his presser (3:15-3:30 PM ET) are: 2842.50 on the upside, which if hurdled, will argue for upside continuation to test 2858/60, possibly in route to 2880 versus 2815 on the downside, which if violated and sustained, will point ES towards 2800-2795, and then to 2770/75... Last is 2824.00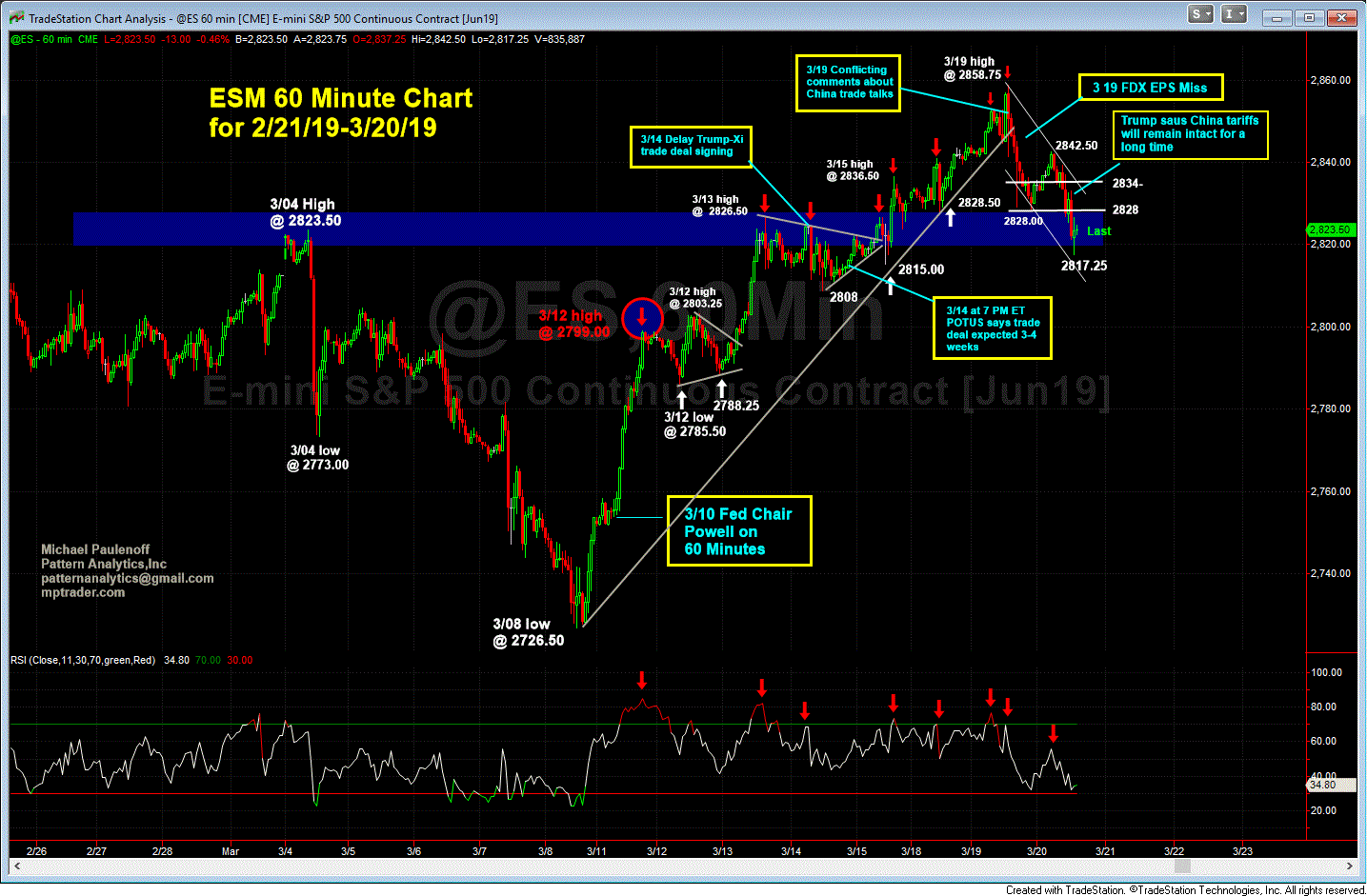 3 20 ESM 115 GIF