ES is Betwix and Between, But Exhibits a Near Term Bullish Bias
ES after the first hour of trading has recovered about half of its overnight decline from 2521.25 to 2452.25. The next important intraday resistance-target zone is 2495.00-25.00... Last is 2485.50... As ES continues to recover earlier losses, let's keep in mind what we discussed before the open:
... As long as 2397-2400 support contains "worst case" weakness from current levels (2464), the overall near term recovery rally pattern will remain intact and viable, and projects another counter-trend upleg that points to 2550/60, and possibly to 2580/90, and thereafter, to 2645/55. In other words, all of the price action off of the 12/25/18 low at 2316.75 continues to unfold as an incomplete recovery rally period prior to the resumption of the dominant downtrend off of the Sep. 2018 all time high at 2947. A sustained break of 2400 will greatly diminish my "technical confidence" in the near term outlook for another recovery upleg.
Let's keep in mind, that Friday morning we get the next round of Jobs Data (for December), and at 10:15 AM ET, Fed Chairman Jay Powell gives a speech that no doubt, will be scrutinized perhaps like no other, and parsed for clues and nuances about the Fed's commitment to raising rates during 2019, and whether or not QT will remain on "auto-pilot." His speech has the potential to knee-jerk the major equity market indices either into a resumption of a recovery rally, or sharply lower, into the next downleg of the post-Sep. bear phase.
For the time being, all eyes on 2480/82 on the high side, which if hurdled and sustained, will neutralize the overnight weakness, versus 2452/50 on the low side, which if violated and sustained, will increase the likelihood of downside continuation towards a test of 2400. Last in pre-market is 2464.50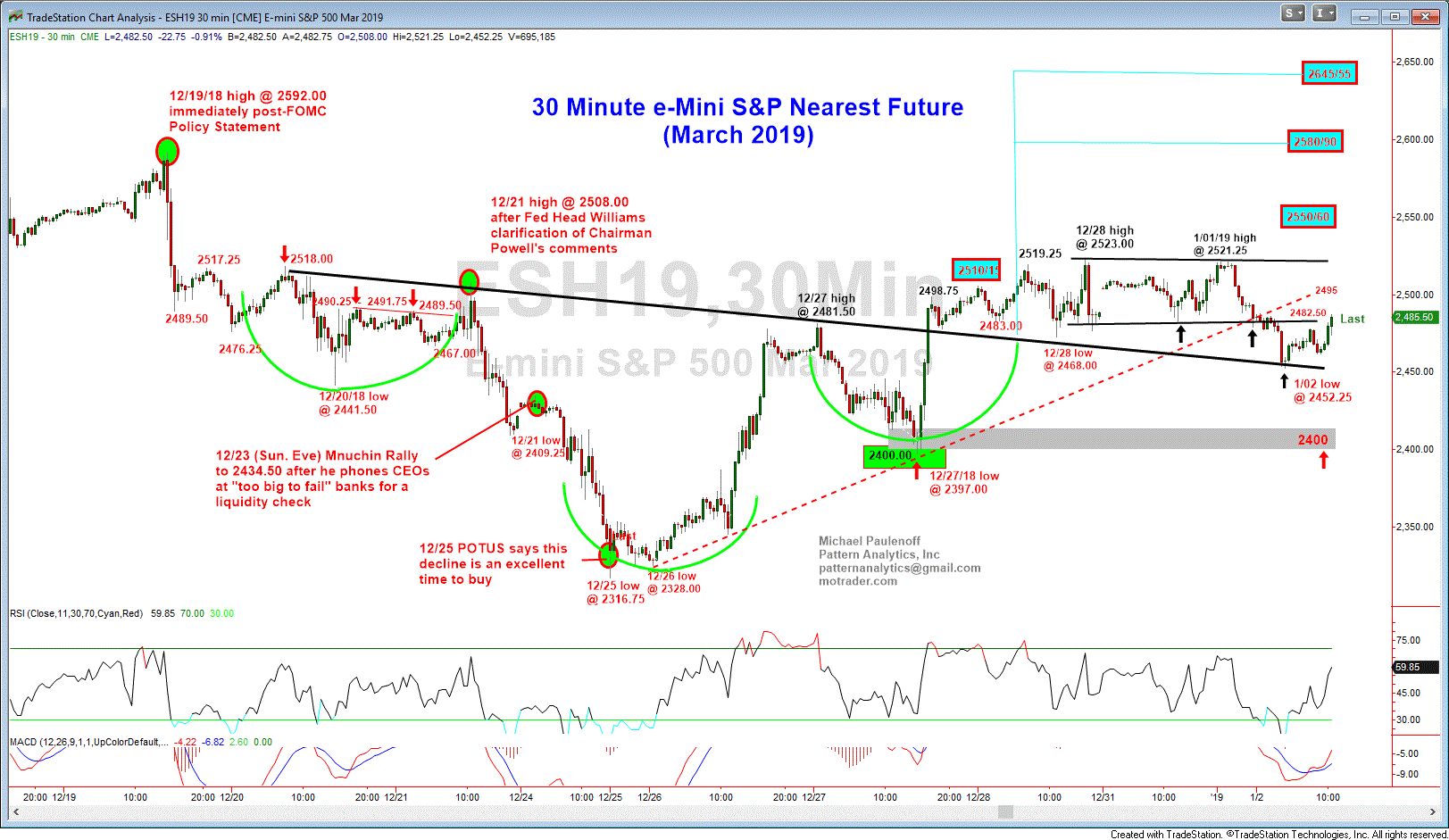 1 02 ES 1035 GIF