Eye On Bank Stocks In Wake Of Earnings Reports
Good Wednesday Morning, MPTraders!  July 19, 2023-- Pre-Market Update: More key earnings out today: GS (AM), TSLA, and NFLX (PM)... 
Let's take a look at GS in reaction to this morning's earnings report, as well as the names of the other big commercial bank stock charts in the wake of their recent earnings reports (JPM, MS, BAC)...
GS investors reacted negatively to earnings. From what I am reading and hearing, Goldman is taking a small hit owing to its potentially troublesome commercial real estate portfolio. That said, however, my attached 4-Hour Chart shows that the price action from the late-June low at 310.56 exhibits bullish form that is putting upward pressure on the dominant intermediate-term resistance line off of the Feb. 2023 high at 379.68 that cuts across the price axis in the vicinity of 340 today. Although GS attempted but failed to take out the resistance line, as long as any forthcoming weakness is contained above 324-326 support, my pattern work argues for another loop up that successfully penetrates resistance at 340-343 in route to a challenge of much more consequential resistance lodged in and around 347.50/75 that if (when?) hurdled will unleash powerful upside price potential thereafter... Last is 336.49
Meanwhile, the other banking stocks JPM. MS, and BAC all have reacted positively to their earnings reports, albeit in a somewhat delayed response from MS and BAC during yesterday's session. 
MS spiked above key resistance at 88.00 and is heading for my next optimal target zone of 94-96. 
BAC spiked above initial key resistance at 30.30 and is poised for upside continuation to challenge its intermediate-term down trendline in the vicinity of 31.40 that if hurdled, will trigger upside potential to 34.20/80 next.
JPM exhibits the most powerful technical setup of all of these banks, and is fulfilling its upside potential derived from a massive Cup & Handle formation that projects next to 160-162 next...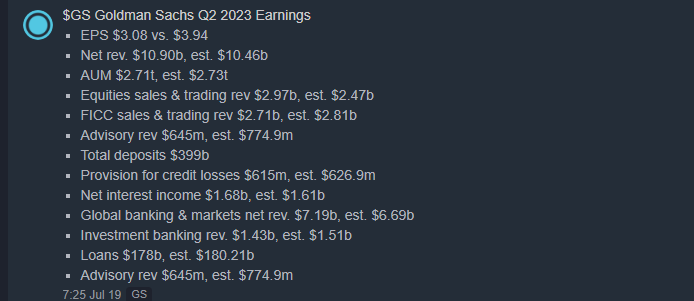 FinancialJuice