Eyeing Brief Correction in Overbought AMZN
Last Thursday, with AMZN trading at 1377.96, this is what we discussed:
My work argues that all of the action off of the Sept. 2017 corrective low at 931.75 through Wed.'s high at 1388.16 (+49% in exactly 4 months!) is a nearly completed upleg.
In a perfect pattern set up, the reaction to the forthcoming earnings report will provide a "sell-the-news" condition. Although AMZN will report very positive results, they will not be able to sustain a positive reaction atop a 49% four month advance. Investors and traders will sell into any initial strength into the 1400 area, which will initiate a 100-120 point correction prior to my expectation of a final upleg that propels AMZN to 1550-1600.
Since that discussion, AMZN has not only crossed above 1400, it hit a new high today (in an otherwise down market) at 1431.39, amounting to a 3.9% upmove in less than three sessions!
Have a great evening everyone. Tomorrow morning we get the first estimate of Q4 GDP, which has the potential to inject significant two-way volatility into the equity indices. MJP
Now what? In that AMZN is the definition of a momentum stock, we can rule out upside continuation from the 1430 area directly towards my higher target zone of 1550-1600 next. That said, however, AMZN's healthy overbought condition does not preclude the pullback I was expecting from 1400 to 1300-1280 prior to the anticipated upleg to 1550-1600. With the price structure currently trading above the upper boundary line of its Oct.- Jan. sharply up-sloping price channel, the prospect for a brief, violent correction is more likely now. Should such a scenario unfold in response to earnings on Thursday afternoon, I will be looking for AMZN to challenge its up-sloping 20 DMA, now at 1288.96 prior to launching into another powerful upleg into new high territory.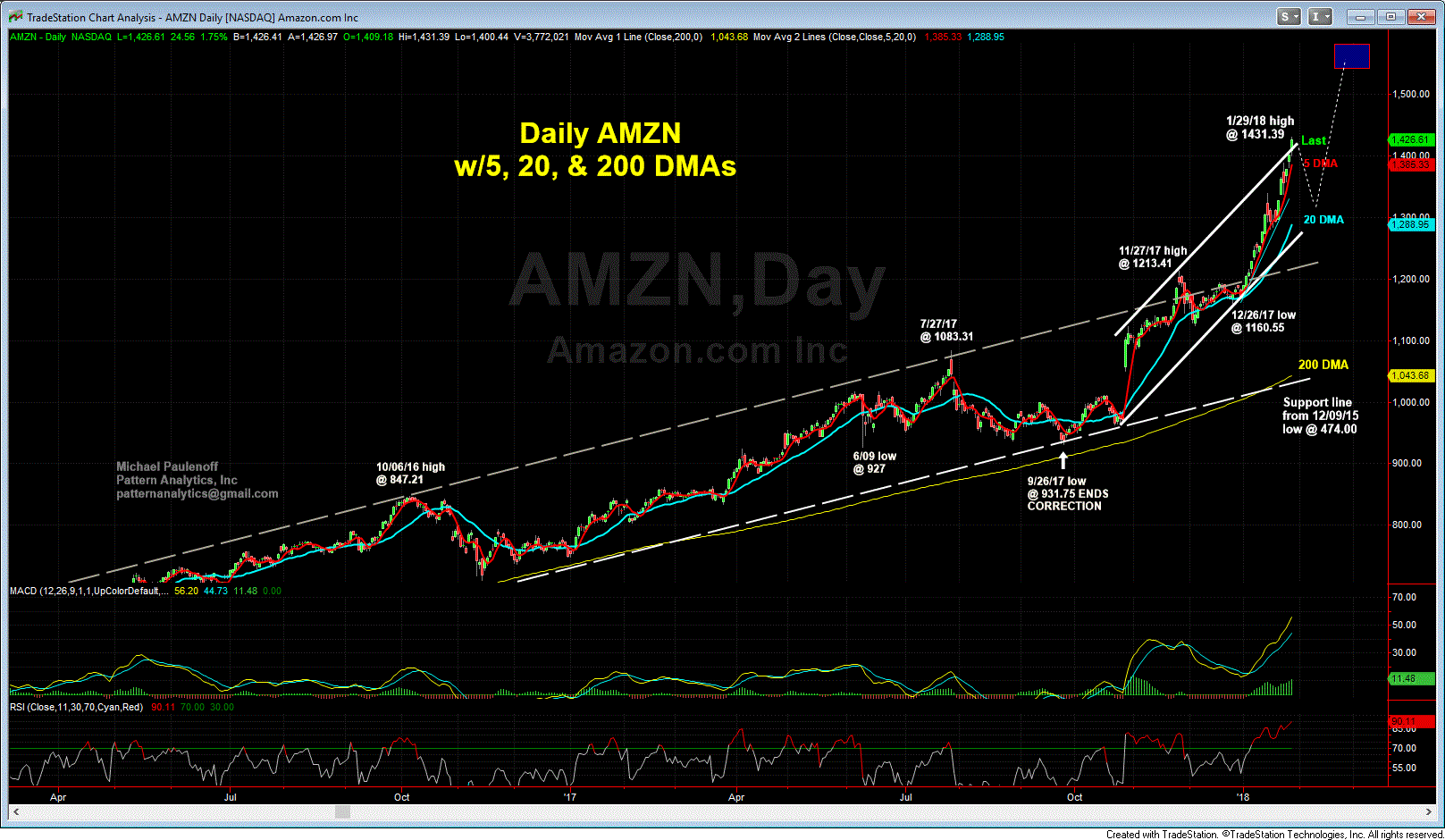 1 29 18 AMZN Day 135 GIF