GOLD Pointing Higher - Market Analysis for Apr 1st, 2020
Barrick GOLD-- Whenever my "trading/investing" moving averages (10, 17, 50, 200 DMAs) find themselves clustered in a relatively tight range, in the current situation between 17.74 and 18.93, it usually means that a big directional move is approaching.
Let's notice on my attached Daily GOLD chart that despite the February-March plunge from 22.57 to 12.65, GOLD preserved its series of higher-lows off of its multi-year low at 9.53 on 9/11/18, which reinforces my contention that the dominant intermediate term trend remains UP, and also suggests strongly that the IF the cluster of MAs is foretelling an approaching big directional price move, then it will be to the upside.
With the foregoing in mind, I am very "friendly" to holding a partial long position HERE at 18.85, as long as GOLD remains above its 200 DMA, now at 17.74, unless it closes beneath the 200 DMA on two consecutive sessions (in which case I will be expecting GOLD to trade down to 15.50).
As long as GOLD remains above its 200 DMA (17.74), the current set up points higher, to a challenger of near term resistance at 19.60-20.20, which if taken out, will trigger upside potential to 22.50/60 to test the highs, in route to 24.00-26.00 thereafter.
Finally, if the economic fundamentals continue to deteriorate, the Fed will have to become even more aggressive to arrest and reverse powerful deflationary forces that will make the gold miners valuable property in the weeks and months ahead... Last in Barrick GOLD is 18.94/95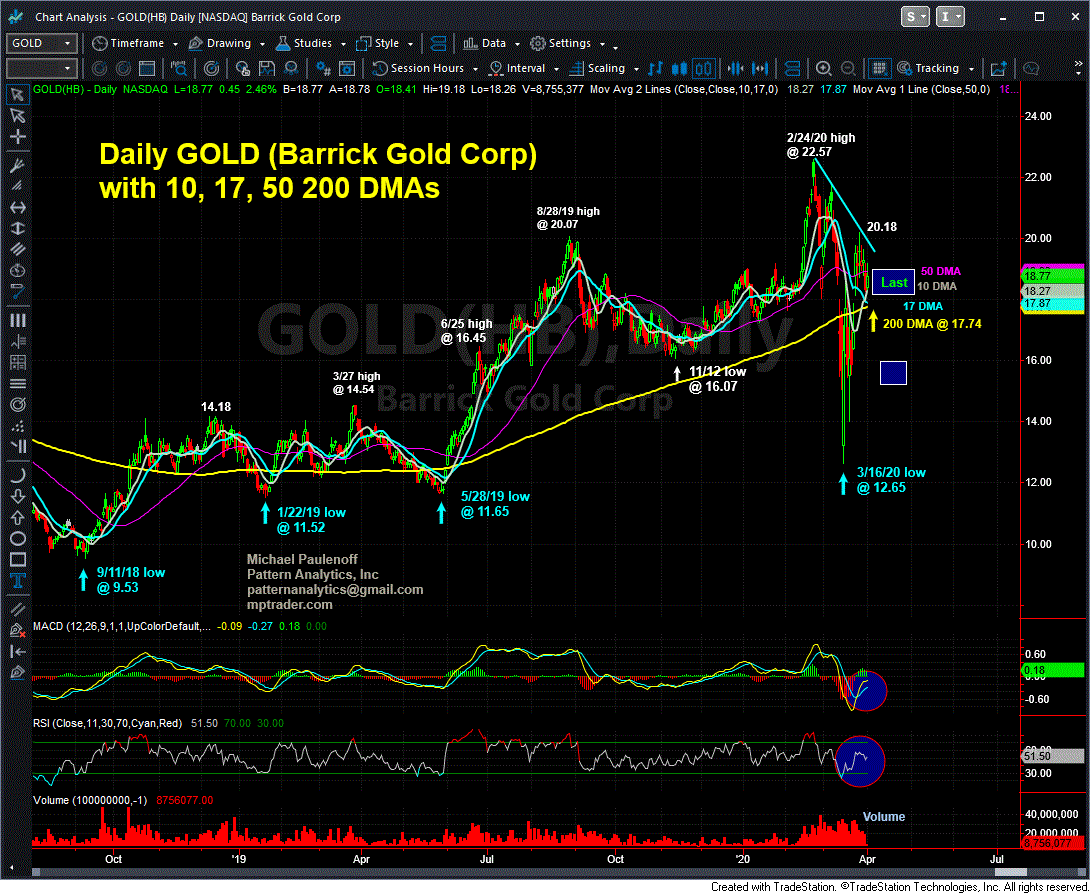 4 01 Barrick GOLD Daily GIF