Home Depot Earnings are Impressive. If Only the Technical Set Up Presented a Similar Picture
Mptrader Out Front: Tuesday May 18th, 2021
Home Depot (HD) released earnings this AM, and Beat-the-Street on most of the important metrics, which has goosed the stock to the 327.25 area (+2.3%) from Monday's close at 320.01. In that HD is a bellwether for retailing, homebuilding, home improvement, and the overall health of the consumer and the economy, it behooves investors to pay attention to the behavior and trajectory of the stock.
My attached 4 Hour Chart shows that heading into this AM's earnings report, HD was trading near the lows of a week-long, near 9% correction off of its ATH of 345.69 (5/10/21). This AM's positive reaction to earnings and the pop in the stock to challenge key nearest resistance at 328.00 argues strongly that HD completed a correction at yest.'s low of 315.31, which now becomes consequential support on any forthcoming weakness, should it develop. A sustained climb and close above 328 will position HD for upside continuation to challenge its ATH-zone at 342.00 to 345.69.
From a Bigger Picture perspective, however, my work presents some less promising prospects for HD's potential upside price path. Let's notice on my attached Daily Chart that the last time HD Price AND Momentum hit confirming new highs was on April 16th. The subsequent new ATH in price at 345.69 on May 10th was NOT CONFIRMED by Daily Momentum, and as such, represents a glaring non-confirmation that serves as a warning signal to anyone who is camped-out in an entrenched long position-- that the power driving HD higher has dissipated, and continues to dissipate as price moves higher.
From my technical perspective, HD needs to move sharply higher over multiple sessions to "motivate" a powerful catch-up move in Momentum that will confirm a new ATH-- if HD manages to climb above 345.69.
Bottom Line: While I would not be surprised to see HD approach its prior ATH-zone at 342 to 345.69-- and perhaps eek out a marginal new ATH, my work is warning me to expect such strength to morph into a Bull Trap that we will look back upon as a significant high in HD that initiates a meaningful corrective period... Last is 327.25/40
Here is what Seeking Alpha posted about HD after earnings this AM:
Home Depot (NYSE:HD) impresses investors and analysts with comparable sales growth of 31% in Q1 off a 19% gain in transactions and 10% jump in average ticket price. Adjusted operating margin surprise by coming in at 15.4% of sales during a noisy quarter.
Bank of America is positive on Home Depot (HD) in its first look at the Q1 earnings report.
The report is noted to build upon a strong foundation and the margin strength is called encouraging given the unfavorable mix.
Even though Home Depot held back on guidance, BofA is confident on the path ahead.
Analyst Elizabeth Suzuki: "We remain encouraged on the medium-term outlook for HD as the dominant retailer in a strong category of retail. We reiterate our Buy rating on HD and price objective of $375."
BofA keeps a Buy rating and price objective of $375.
Readings as of Mon.'s. Close (prior reading): SPX 69 (72)... NDQ 63 (63)... T-Bonds 64 (64)... VIX 26 (22)... DXY 18 (21)... BITCOIN 61 (67)... Crude Oil 83 (80)... Gasoline 84 (79)... Nat Gas 81 (74)... Gold 62 (54)... Silver 71 (62)... Copper 75 (61)... Corn 55 (50)... Wheat 57 (62)... Beans 73 (75)... Coffee 66 (62)... Nikkei 61 (69)...
Consequential Economic Data This Week: Monday: Empire State Mfg Index... NAHB Housing Market Index.... Fed Head Bostic Speech... Tuesday: Housing Starts and Building Permits... API Weekly Oil Inventory Report... Wednesday: MBA Mortgage Applications... EIA Weekly Oil Inventory Report... 20 Year T-bond Auction... FOMC Minutes... Thursday: Initial and Continuing Jobless Claims... Friday: Markit Mfg PMI Flash Survey for May... Existing Home Sales... Baker Hughes Oil Rig Count...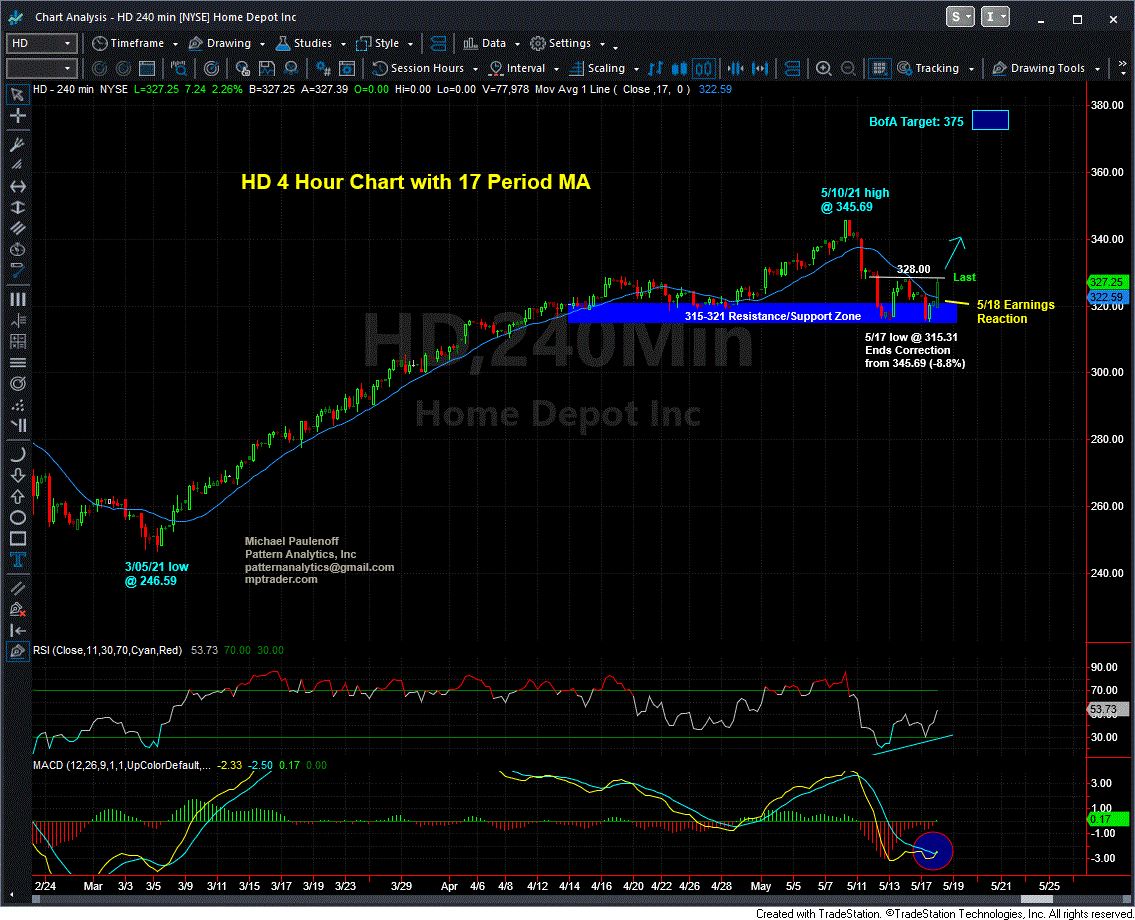 5 18 HD 4 Hr 8 GIF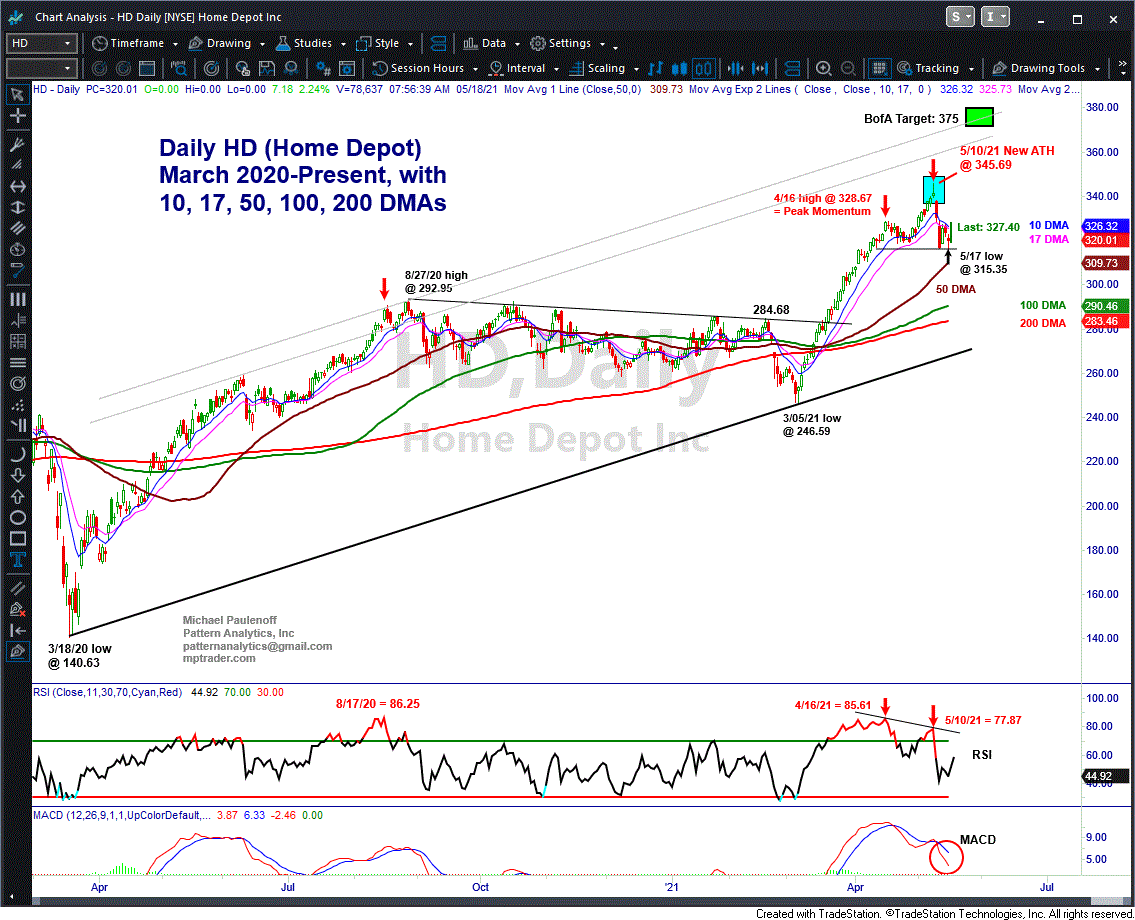 5 18 HD Day 8 GIF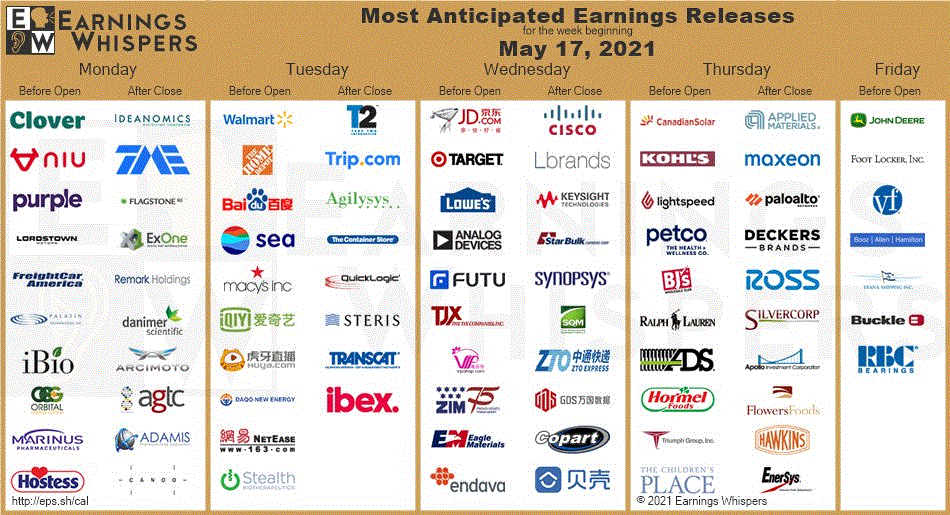 5 17 Weekly Earnings Calendar GIF