How Much Tolerance Does The Fed Have For Rising Long Rates?
Mptrader Out Front: Wednesday February 17th, 2021
Scroll down to the latest Daily Sentiment Index (DSI) readings, and notice how many markets are registering Overbought Conditions, accompanied by a very Oversold reading in the Bond Market! On the surface, there is a lot of "optimism" in the equity and some of the commodity markets, juxtaposed against "increasing fear" in the bond market (longer term rates backing up), and in the "Fear Index" itself, the VIX. These markets are at warning signal levels, so if we haven't raised our collective antennae higher just yet, now would seem to be an appropriate time to do so, which is another way of suggesting that we much more closely and carefully manage RISK and MARKET EXPOSURE in the hours and days directly ahead.
The most intriguing market from the above DSI list is bonds, which we see in various forms on my attached charts of TLT, 10 year YIELD, and TBT.
TLT broke down in mid-January from the 153-155 support plateau, and has stair-stepped down to yesterday's low at 144.45, a roughly 7% decline in the last 5 weeks. Let's notice that yesterday's low in TLT pressed into the low boundary zone of the dominant down-channel that originated at the August rally high at 172.25. TLT is down 16% from the August high.
My Daily Chart of TBT (Inverse UltraShort 2 x Levered, 20+ year T-bond ETF) broke out of a huge multi-month base formation about two weeks ago, and has rocketed to the upside, in route to an intermediate term projected target zone of 21 to 22 in the weeks ahead.
From the perspective of 10 year YIELD. off of its August 2020 low at 0.50%, YIELD has climbed up through its multi-month resistance zone at 0.95% to 1.00%, breaking out, and following-through to today's high at 1.32%! Let's notice that YIELD is approaching a major resistance line off of its June 2019 high at 2.18%, which cuts across the price axis today in the vicinity of 1.40%.
All of these views of longer term YIELD and bonds are telling us a similar story: Interest rates are climbing, and are projected to climb still higher, UNLESS THE FED INTERFERES WITH MOTHER NATURE (again) by capping the upside in long rates, intending to drive them lower through massive bond and mortgage market purchases.
At the moment, my sense is that the 1.40% major trendline shown on my 10 year YIELD Chart is the one we should monitor. If YIELD challenges that line, and pushes up towards 1.50%, instincts tell me the BIG "BAD" Fed will be there to put a lid on the rise in rates.
For the Fed to stay aside will greatly increase risk in the equity markets of a powerful downside reversal that could prove to be very destabilizing economically, financially, and socially.
More in a few minutes...
DSI Readings as of last Tues. Close (prior reading): SPX 77 (85)... NDQ 83 (91)... T-Bonds 15 (25)... VIX 19 (14)... DXY 25 (23)... Crude Oil 88 (88)... Nat Gas 62 (57)... Gold 30 (40)... Silver 75 (83)... Copper 92 (90)... Corn 79 (0)... Beans 70 (0)... Coffee 27 (0)... Nikkei 93 (93)...
Consequential Economic Data This Week: Monday: President's Holiday Markets Closed (Electronic Markets Open)... Tuesday: NYS Mfg Index... Wednesday: Weekly Mortgage Applications... Retail Sales for Jan... PPI... Industrial Production and Capacity Utilization ... Business Inventories... 20 Yr T-bond Auction... FOMC Minutes... API Oil Inventory Report... Thursday: Initial and Continuing Jobless Claims... Export-Import Prices... Housing Starts... Building Permits... Philly Fed Mfg Index... EIA Nat Gas and Crude Oil Inventory Reports... Friday: Market Mfg Index Flash Feb Data..Existing Home Sales... Baker-Hughes Oil Rig Count...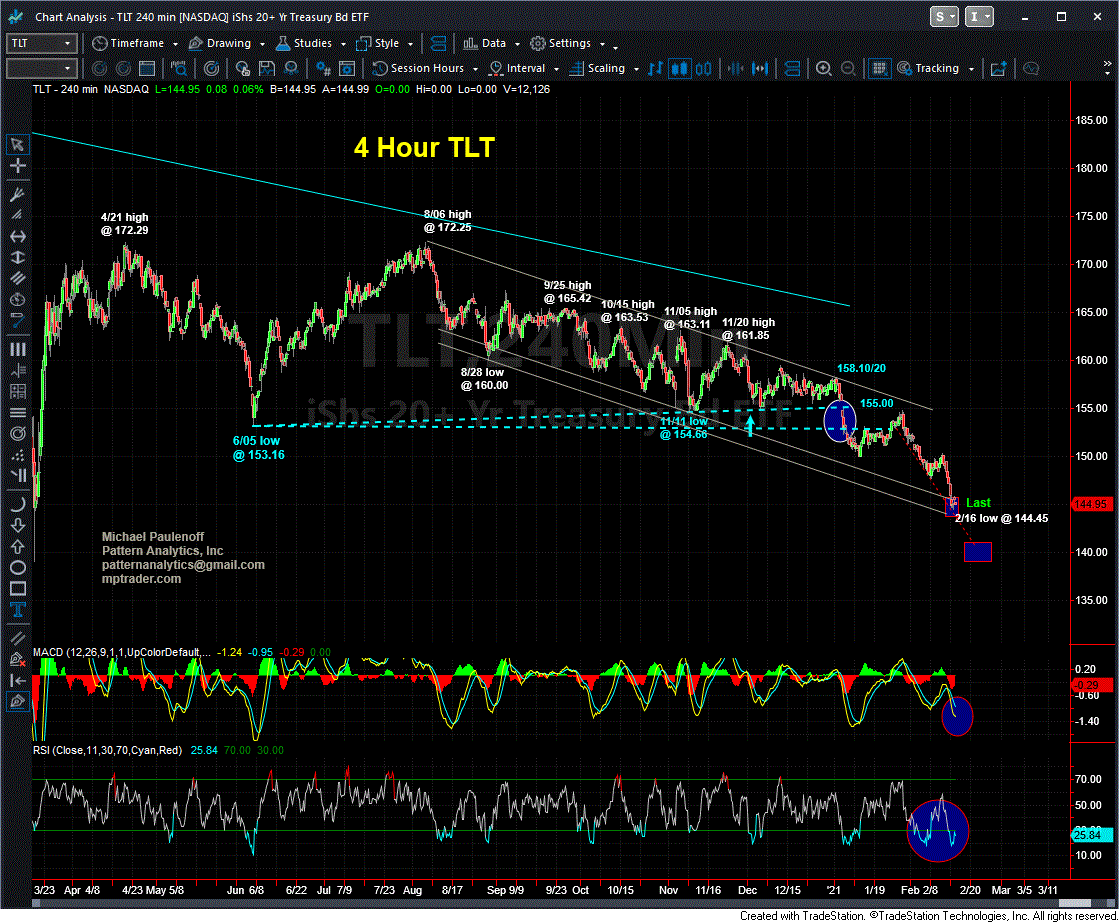 2 17 TLT 815 GIF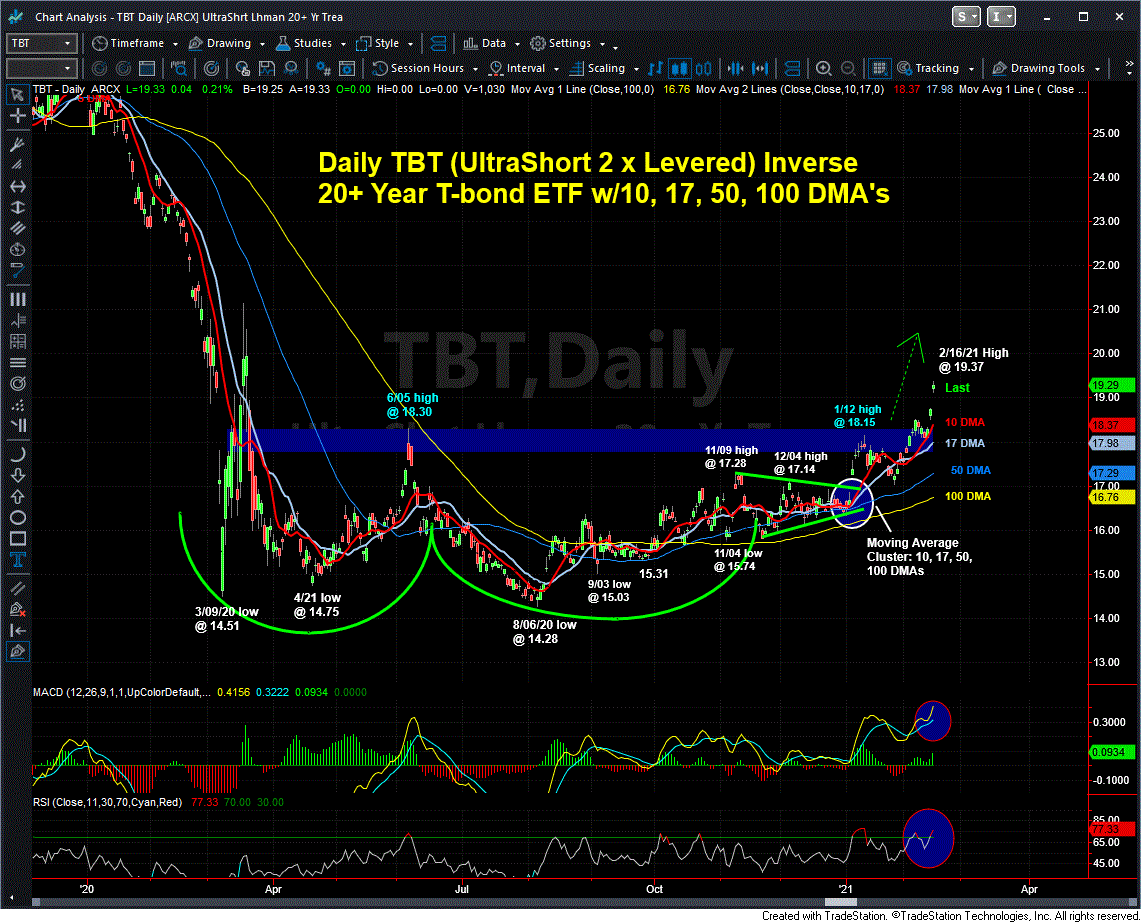 2 17 TBT 815 GIF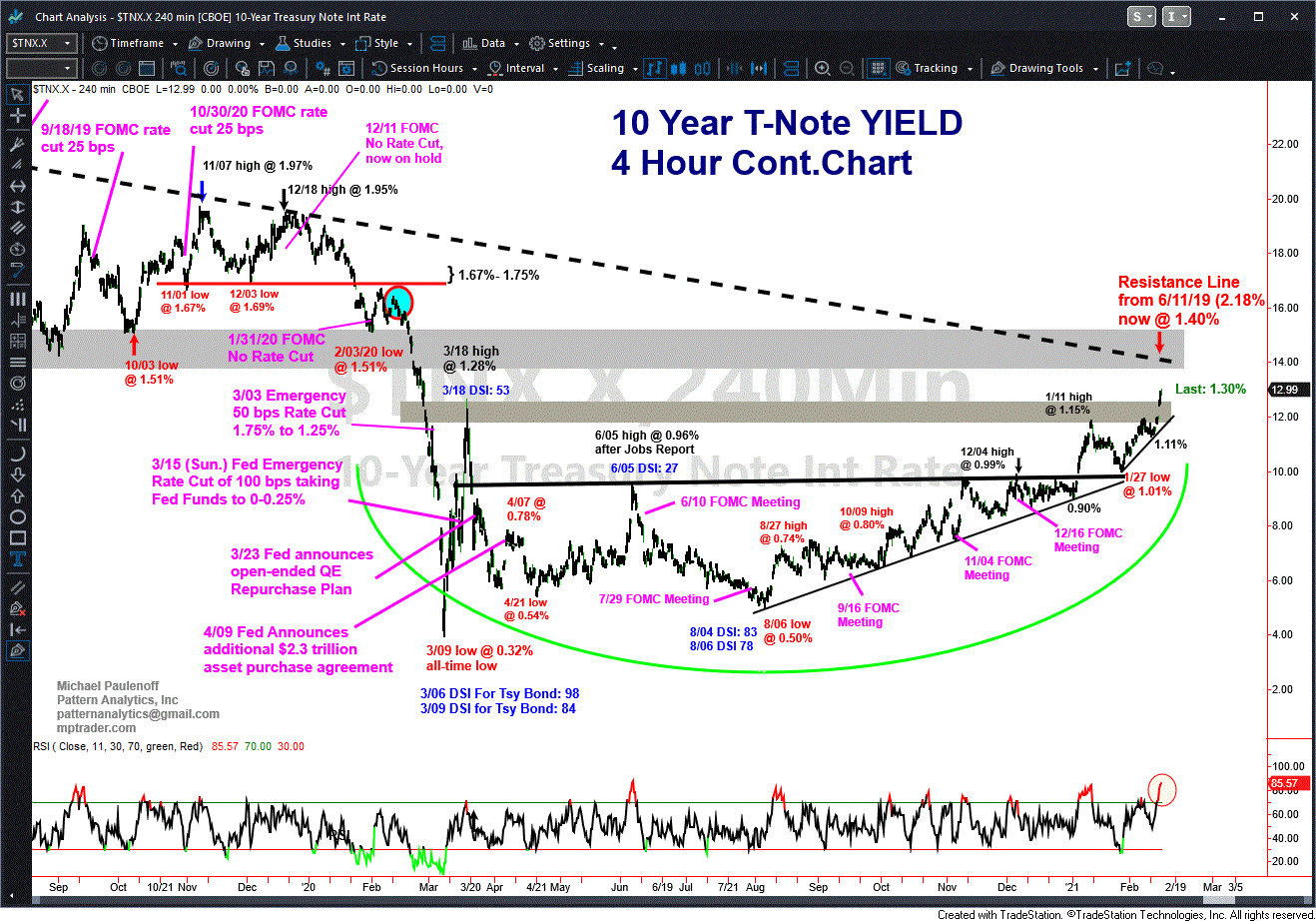 2 17 YIELD 815 GIF