Macro Events & Technicals That Could Impact Market's High-Level "Levitation"
Good Thursday Morning, MPTraders!  November 9, 2023-- Pre-Market Update: Another potential up-day or finally, a pullback? Below we see the macro events that could impact the direction of the equity indices, names Weekly Jobless Claims, and way down the list, at 3 PM ET, another public appearance by Fed Chair Powell, who may (or may not) decide to offer some "guidance" to a market that has experienced a vertical upside explosion since the November 1st FOMC Meeting (and policy pause)... (continued below the data table)...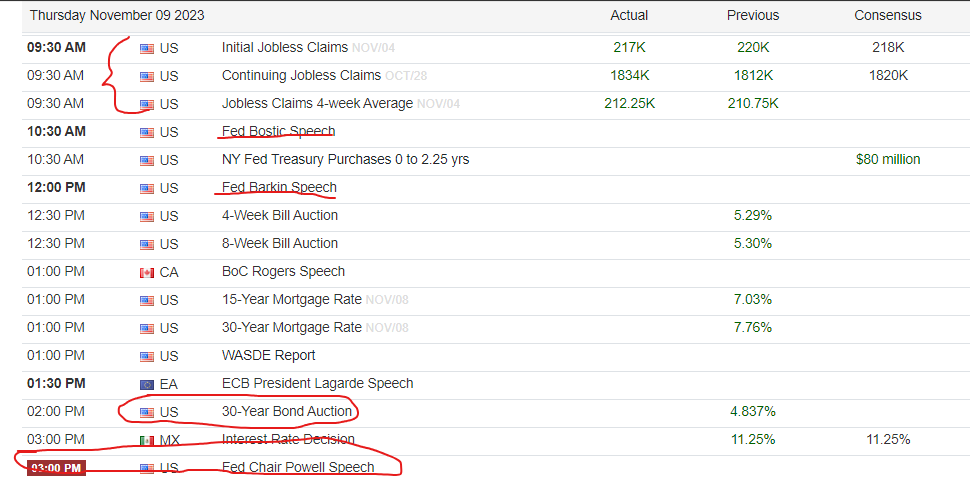 ES climbed to another marginal new recovery high at 4410 in overnight trading, but the high was the third UNCONFIRMED marginal new recovery high since the high at 4391.75 hit on 11/03/23. Nonetheless, from the perspective of my attached Hourly Chart, ES continues to levitate above key resistance at 4375 and at 4364, both of which need to be violated to trigger near-term sell signals in my work. Unless and until weakness begins to slice beneath the above-mentioned support levels, ES points higher, into my next optimal upside target zone of 4415 to 4440.
One interesting aspect of technical setup and the high-level "levitation" of ES is the concurrent setup in the Cash SPX. My attached Hourly Cash SPX Chart shows that the index left behind an as-of-yet UNFILLED down gap from 4401.38 at the close on 9/20/23 to 4375.70 at the open of 9/21/23. So far, SPX has recovered to 4391.20, partially filling the gap, but leaving a "magnet" into the gap area above the market TODAY of about 20 Cash S&P points from yesterday's close at 4382.78.
The down-gap at 4401.38 does not necessarily have to be filled, but my suspicion is that any strength today will have as its target the unfilled 9/20-9/21 down gap, and argues for ES to climb into the 4420-4430 target zone, after which the bulls will have to adopt a much more cautionary near-term outlook... Last in ES is 4409.00...