Mario Rescues Powell, Or Complicates Tomorrow's FOMC Decision?
What Am I Thinking? Market Diagnostics:
-- Focus Today: ECB Head Mario Draghi (you remember back in 2012, in the depths of Euroland despair, he proclaimed, "whatever it takes!" to ensure the survival of the Euro currency and the Eurozone). He's at it again!
Say it ain't so Mario! In a speech in Portugal this morning, he signaled that the ECB could CUT RATES or expand its QE bond buying program as soon as the next policy meeting in July. The European money markets are expecting a 10 bps cut in ECB rates, which currently stand at (-0.4%)!
In reaction to the Draghi news, the Euro declined vs. the USD, long bond yields fell (US 10 year now at 2.02%, while German 10 year YIELD fell 6 bps to (-0.31%)...
Meanwhile, the algos immediately goosed ES futures, now up 18 points at 2913.50, as the price structure thrusts out of a 3 day sideways digestion period into an upside squeeze that is testing last week's recovery high at 2915.50 (basis the September ES contract). Let's notice on my attached charts that ES appears to have launched into a new upleg that has initial upside targets at 2927/30 and then at 2945/50, BUT we could make the case that the May-June period represents an accumulation pattern that points to 3000. At this juncture, only a sudden downside reversal that slices beneath key support that resides from 2884 to 2871 will wreck the emerging bullish potential.
August Gold is reacting appropriately, +$11 at $1353.80, about $9 from retesting Friday's rally high at $1362.20, despite the stronger USD. Why? The Central Banks want, need, and "demand" more inflation.
Did Mario complicate Fed Head Powell's job at tomorrow's FOMC policy meeting? Or did he make it easier to justify a Fed funds Rate CUT tomorrow afternoon? MJP Reaction: Powell must follow the lead of the interest rate markets to avert triggering a potentially ugly and destabilizing bout of long liquidation. My sense is that Draghi likely tipped Powell from possibly attempting to adopt dovish language to pave the way for a cut in 6 weeks, to a rate cut tomorrow. If that is the case, then Powell's tightrope has become a thread on which he must tiptoe lightly at tomorrow's meeting and press conference.
Finally, the Draghi speech, and weak reaction of the Euro did not go unnoticed by President Trump, who immediately reacted with what else, a tweet at 7 AM ET:
Mario Draghi just announced more stimulus could come, which immediately dropped the Euro against the Dollar, making it unfairly easier for them to compete against the USA. They have been getting away with this for years, along with China and others.
Will Trump's anger translate into new retaliatory tariffs on European luxury cars coming into the US? Who knows, but anything can happen these days, no?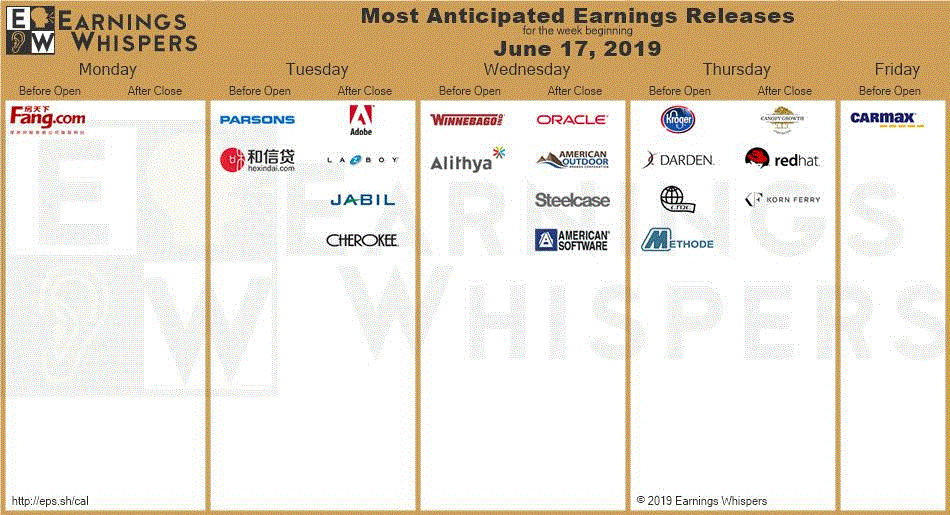 6 17 19 Earnings Week GIF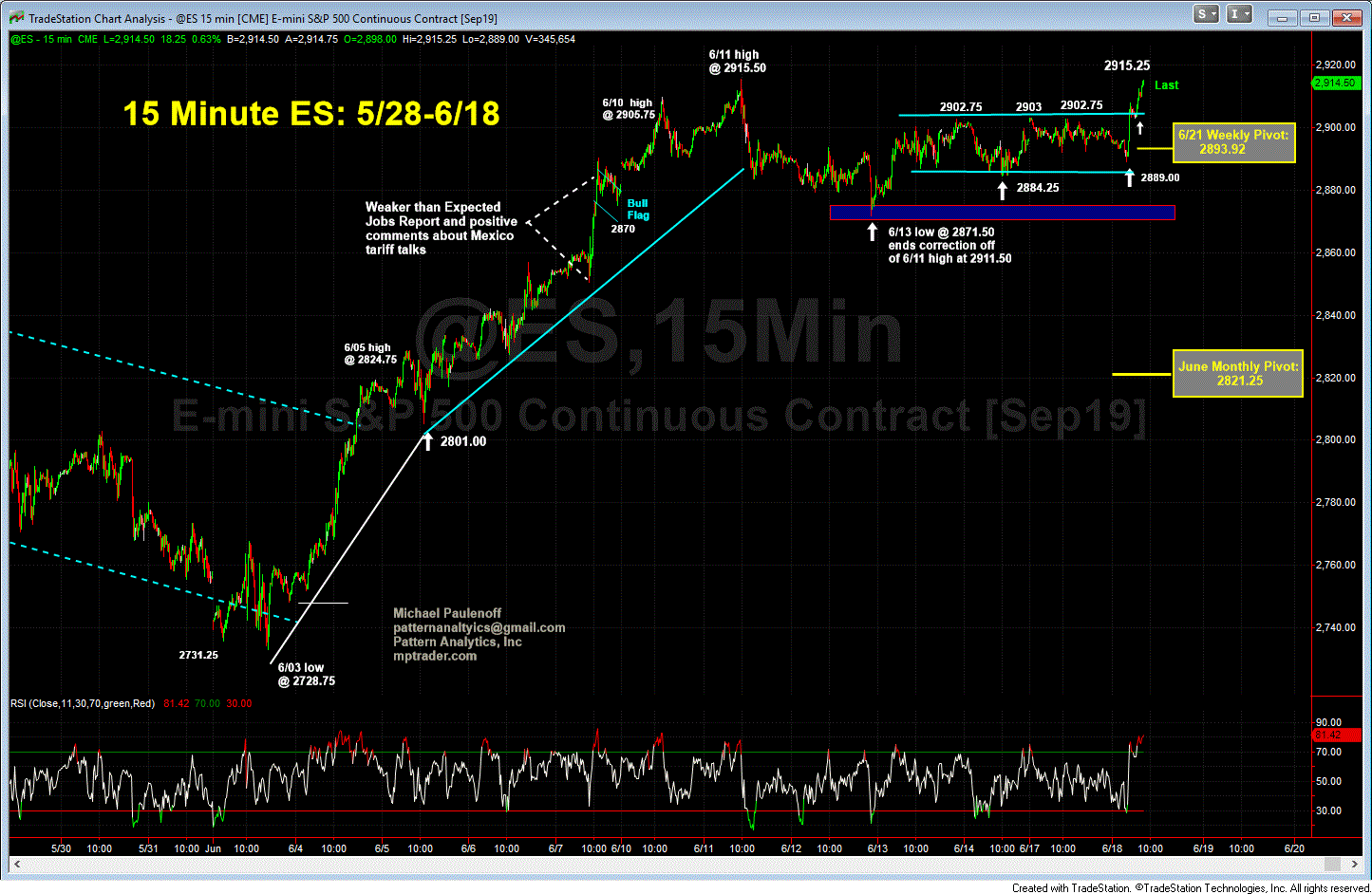 6 18 19 ES 15 Min 805 GIF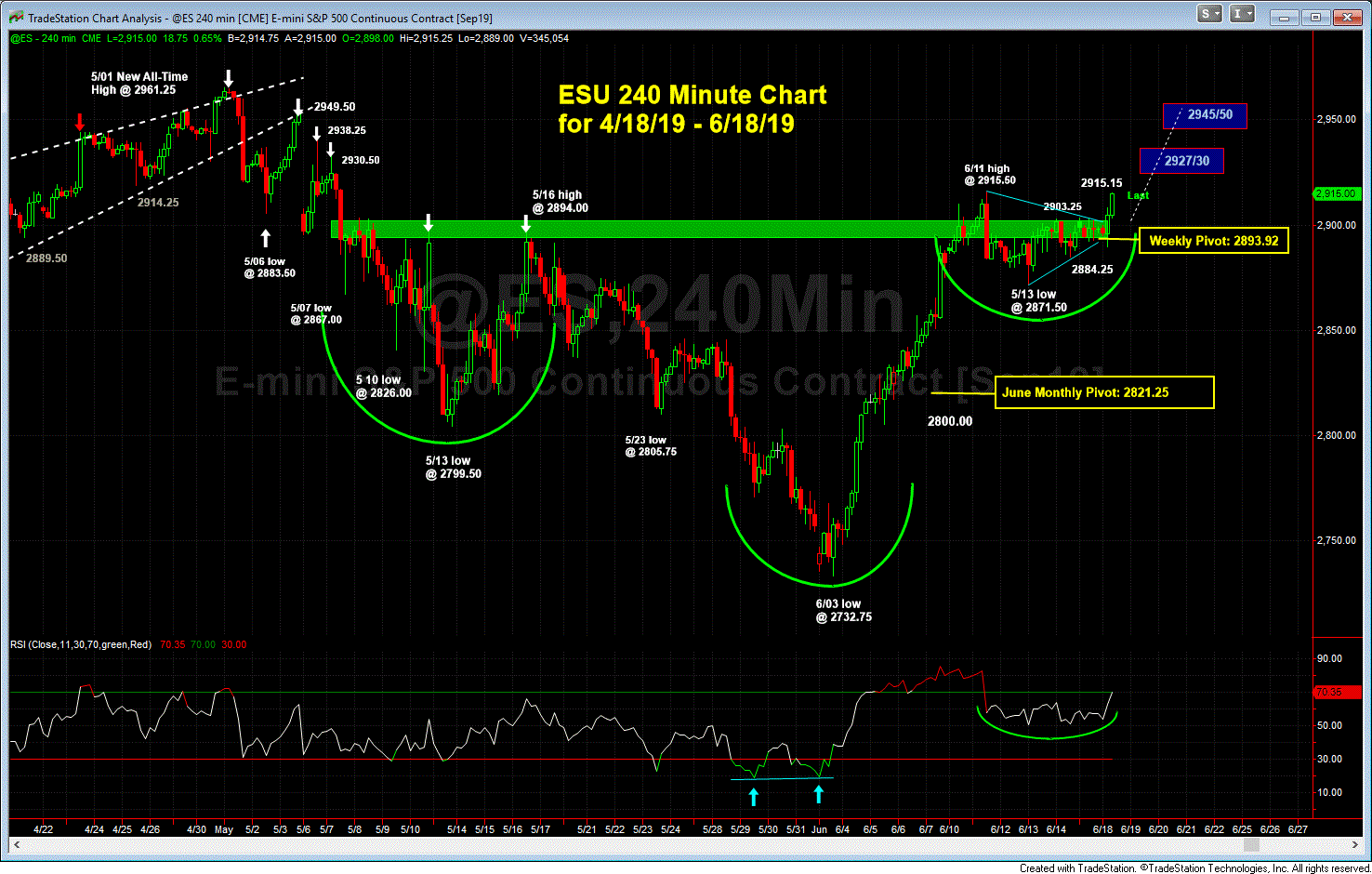 6 18 19 ES 805 GIF