NFLX Set-Up Ahead of Earnings: Sell-the-News or Thrust Above 400 Again?
NFLX-- about 5 hours prior to its earnings report, NFLX is in an interesting technical position approximately 4% above very important near term support in the vicinity of 342.00 versus 6.4% beneath its March "recovery" rally high at 379.80, which represented a whopping 65% upmove off of its 12/24/18 low at 230.00. As we speak, NFLX is trading at 357.50, only 55% above the low just four months ago.
On one hand, all of the action in NFLX since late January could be construed as a rolling top formation that has found support in the vicinity of 342 on multiple occasions, but if violated, will trigger long liquidation that will point the price structure to 290-300. On the other hand, as long as 342.00 contains any forthcoming weakness, NFLX looks poised to probe key nearer term resistance lodged between 370 and 380, which if taken out will point towards a run at multiple and multi-month prior peaks from 400 to 423.50.
We have to give the benefit of the doubt to a positive reaction to tonight's earnings report, especially in a market that rarely displays or sustains weakness for longer than a few hours. That said, however, the BIG QUESTION for me is just that-- whether or not a positive reaction to NFLX earnings can thrust the stock above 380 for longer than a few trading hours? If not, then expect NFLX to orchestrate a painful head fake before seeking 300 to 280, a 15% to 20% haircut from current levels.
The "head fake" or "sell-the-news" scenario is certainly prevalent in NFLX DNA from past earnings reactions... Last is 357.82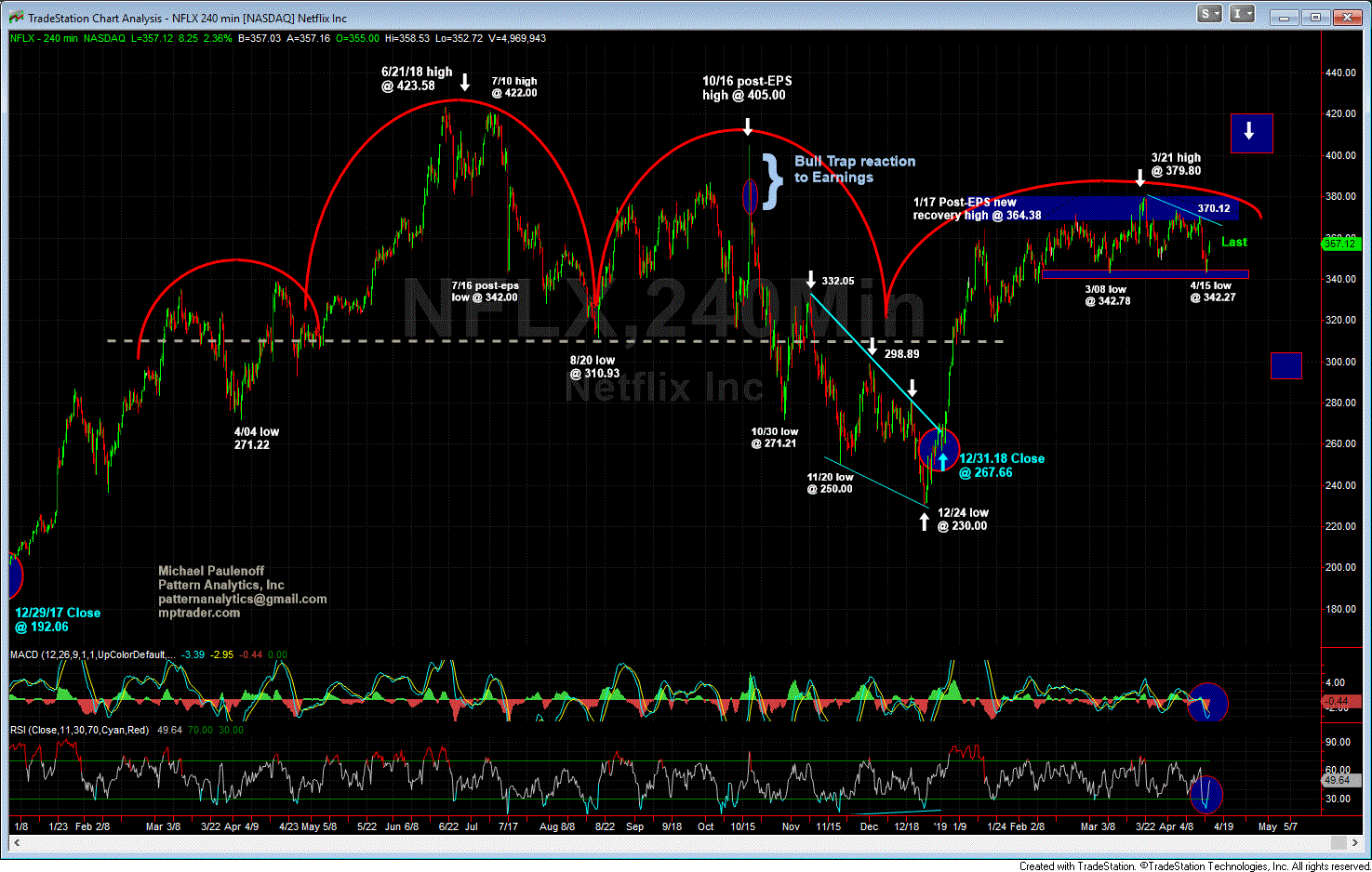 4 16 19 NFLX Day GIF