NLY-- Big Dividend-Paying Mortgage REIT
Mptrader Out Front: Wednesday August 25th, 2021
Here is the way the conversation about NLY (Annaly Capital Mgt-- Mortgage REIT) started yesterday afternoon:
From mptrader Member Dude: Some lazy summer day could revisit NLY? Thanks. An opinion from Mary on the economic side would be most welcome, too because that dividend looks sooooo sweet...
Reply from Member Mary: my quick two cents: Most of the mortgage backed stuff they own is govt guaranteed, nice. Risk is when rates rise/Fed tapers. NLY does a lot of "hedging" for that. So, you're betting they know how to hedge (ie: shorting Treasuries, I guess). They've done a good job on that in the past....and Feds will be like molasses on tapering. I don't own NLY but own similar ones. I like the monthly payers, can get out quick & not lose div...
MJP Technical Overlay on Mary's valuable input on NLY: First off, let's realize that as of yesterday's close at 8.70, NLY's Dividend YIELD was 10.1%-- very "juicy" in the words of the "Dude," and extremely attractive from a comparative perspective.
That said, however, my attached Daily Chart of NLY shows that the stock has recovered from its Pandemic Low at 3.51 (a 72.5% devaluation from its June 2017 high at 12.73) to 9.64 on 6/09/21, which we see stalled and pulled back from the dominant resistance line originating from the June 2017 high. That resistance line cuts across the price axis in the vicinity of 9.50 today, and represents a major barrier to further stock appreciation in the weeks and months ahead.
Recognition that heavy, consequential resistance hovers from 9.50 to 9.64 (June 2021 high) up to 10.50 (Feb. 2021 high) is important because it helps investors gauge potential stock appreciation (or limited upside) that will cushion and supplement the current 10% annual dividend.
More importantly, however, is potential downside stock risk that will eat into the "juicy" YIELD. Let's notice on the Daily Chart that ALL of my relevant near and intermediate term Moving Averages are clustered in narrow range between 8.51 and 8.70, with the 100 DMA at 8.89. NLY's price position will remain Neutral to Bullish as long as it is trading above 8.45.
Should NLY press and sustain below 8.45, then investors need to be more concerned about the ability of NLY to remain above key 2021 support from 8.20 to 8.00, which if violated, will trigger technical sell signals that will project potential weakness to 6.30-6.00.
Such a breakdown will mean loss of principal that will chew into the dividend yield. For someone long NLY in and around 8.70, a decline beneath 9.60 will represent a 10% loss in the stock against the dividend yield of 10%. If NLY triggers sell signals upon a break of 8.00 that has potential to press towards 6.00, then you should be aware of your simple breakeven point, and what could be in store thereafter.
Bottom Line: anyone entering NLY here should consider stock upside capped at and above 9.50 (anything above 9.50 is pure gravy), and a floor under the stock at 8.20 to 8.00 (below which, the technical set up argues for additional weakness).
Finally, let's take a brief look at the set up in 10 year YIELD, which we see on my Daily Chart has recovered from its July-August Double Bottom at 1.13% to as high as 1.38% on 8/12. As we speak, YIELD is at 1.29%, with BOTH its 200 DMA and 50 DMA at 1.33% and 1.34% representing key resistance heading into this Friday's Jackson Hole speech by Fed Chair Powell.
If YIELD backs-up in reaction whatever the Chairman says or fails to say, then ratchets higher, climbing through 1.34% and thereafter challenging very consequential resistance lodged between 1.38% and 1.44%, companies (mortgage REITS) like NLY will-- as Mary states above-- have to hedge their exposure to rising mortgage rates, which could (likely will) pressure NLY's stock price.
From the perspective of 10 year YIELD, as long as YIELD remains below 1.38%, it is unlikely to have a negative impact on NLY. Above 1.38% is when the flashing warning lights begin. My suspicion is a climb above 1.38% will coincide with NLY stock weakness that approaches key support at 8.20 to 8.00...
Thanks to the Dude and to Mary for initiation an interesting discussion of NLY and benchmark interest rates (just ahead of Jay Powell's potentially consequential Jackson Hole speech this Friday AM)...
Next up: ES...
Consequential Economic Data This Week: Monday: Markit Mfg PMI Flash Indication for August... Existing Home Sales... ... Tuesday: New Home Sales... Richmond Fed Mfg Index... 2 Yr T-note Auction... API Crude Oil Inventory Report... Wednesday: Durable Goods Orders... EIA Oil Inventory Report... 5 Year T-note Auction... Thursday: Initial and Continuing Jobless Claims... GDP Est. for Q2, 2021... EIA Nat Gas Inventory Report... 7 Yr T-note Auction... Jackson Hole Economic Conference Begins (Virtually)... Friday: Personal Income and Spending... Balance of Trade... Michigan Sentiment Indices... Fed Chair Powell Speech (10 AM ET) ... Baker-Hughes Oil Rig Count...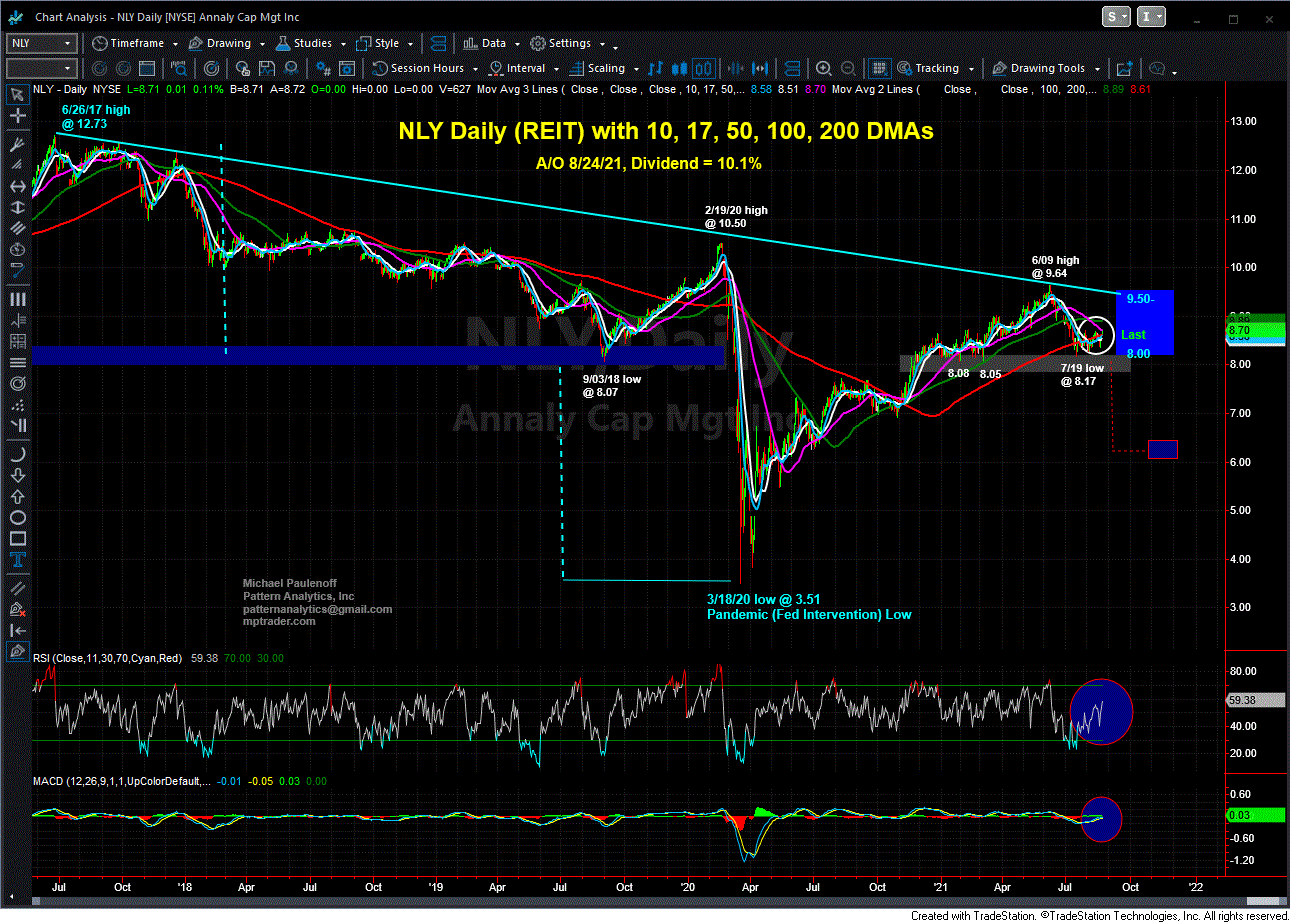 8 25 NLY Daily GIF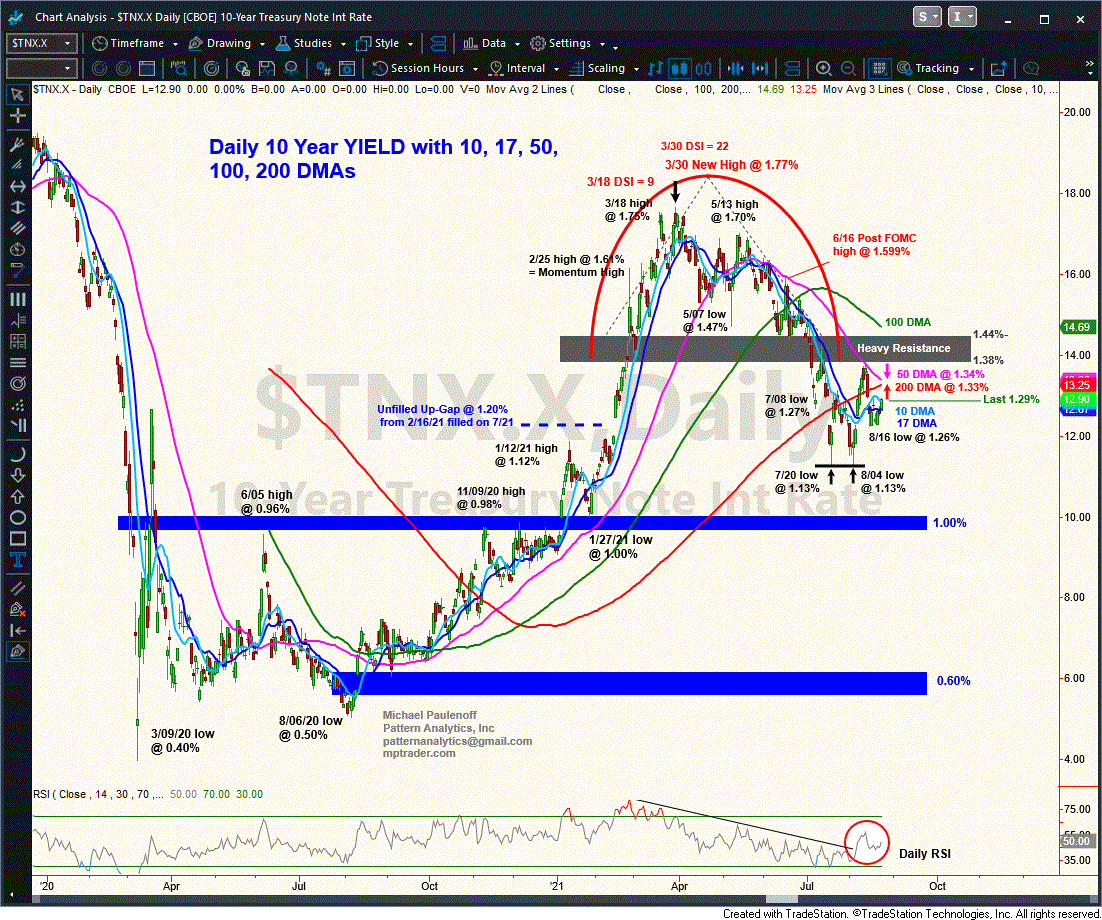 8 25 YIELD 755 GIF