Oil Testing Multi-Year High
Crude Oil-- Certainly the elephant in the room this AM is Crude Oil, which is higher by another 1% overnight in reaction to a huge inventory draw of 9 million barrels reported in the API weekly data.
This news comes right on the heels of yesterday's 3% upmove in reaction to news that the Trump Administration is "demanding" that all countries stop buying (importing) Iranian oil by November 4th, which will take supply off of the market-- and Saudi Arabia apparently will not be able to make up all of the potential shortfall.
The market clearly has whipped itself into a post-OPEC bullish frenzy, and later this AM, the API Inventory report will be released. Even if it shows a big draw similar to the EIA data, it is difficult for me to imagine that more buyers will pile into Oil "up here" at +13% off of its June 17th corrective low at 63.40. That said, however, who knows what the algos are capable of after a bullish headline!
From a chart perspective, let's notice that Oil is quickly approaching a full-fledged test of its 5/22/18 multi-year high at 72.90, which must contain the strength to preserve my "top formation" big picture pattern interpretation.
With that in mind, I am thinking that today Oil either will leave no doubt that the post-Feb. 2016 advance from 26.05 still has room on the upside, or it will reverse to the downside in a significant way, leaving behind a major Double Top in the vicinity of 73.00.
My inverse long position in SCO hangs in the balance... Last in SCO is 16.01/02... my stop is at 15.70 Intraday...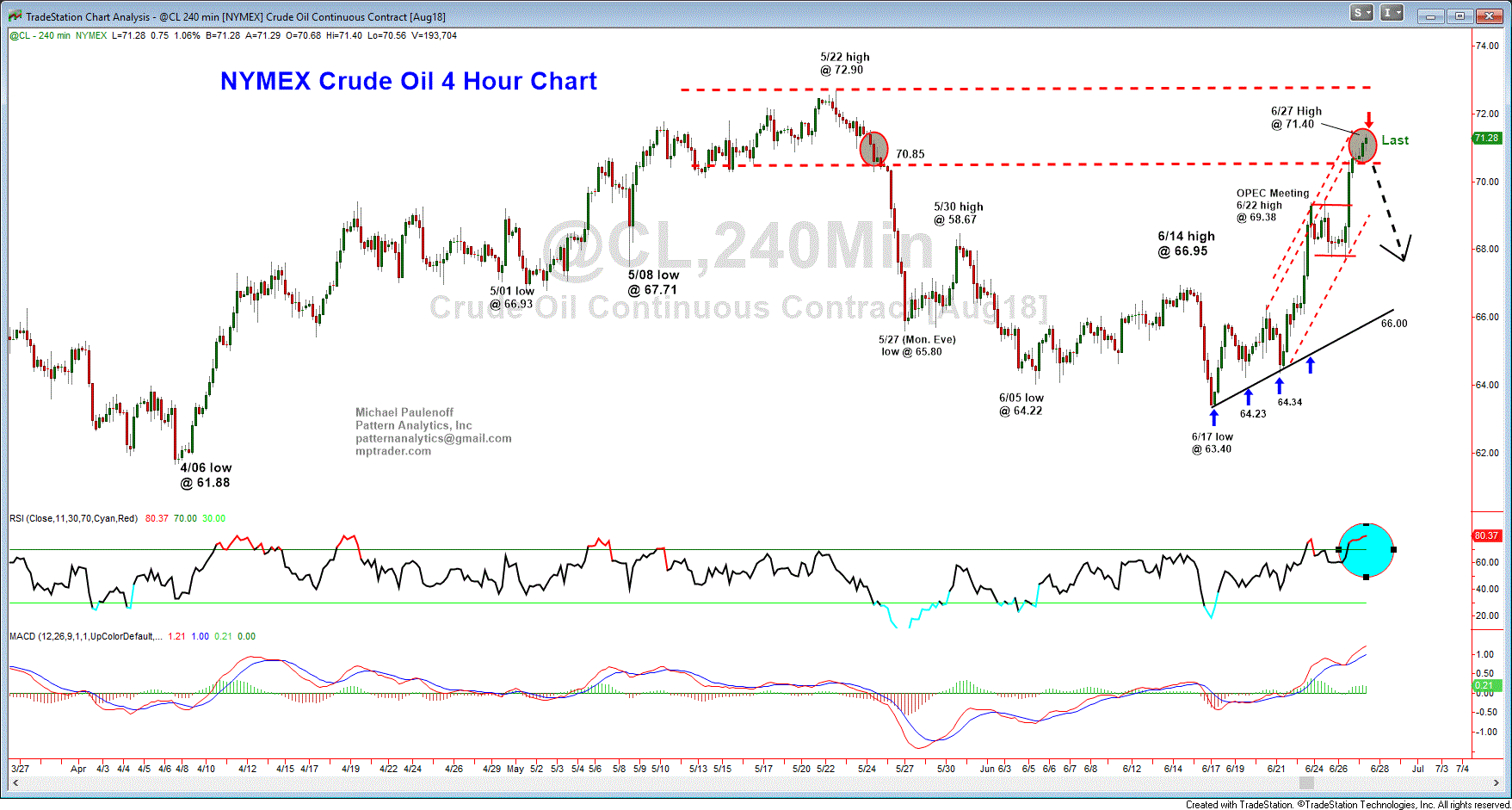 6 27 18 Crude 9 GIF