Powell In The Hot Seat Again... Bitcoin Probes Its May Low
Mptrader Out Front: Tuesday June 22nd, 2021

For all intents and purposes, today is another Fed Day. Fed Chair Jay Powell testifies before Congress at 2 Pm ET today (about the health of the post-pandemic economy), which will be what everyone is listening to and watching, parsing his every word, every nuanced inflection of his voice and his body language for signals that he is NOW thinking about raising rates sooner than expected (2023).

What are the markets anticipating about Powell's testimony? Based on the setup exhibited by my Daily 10-year YIELD Chart (below), YIELD has carved out a substantial 4-month Rounded or Crown Top Formation in the aftermath of the powerful upmove from the August 2020 low at 0.50% into the March 2021 high at 1.77%. The 4-month distribution pattern is bearing down on key support at 1.40%-1.45%, which if violated, will point to a challenge of the dominant intermediate term support line, now in the vicinity of 1.32%.

Only a sudden, sharp upmove in YIELD -- a reaction to something Powell might deliberately or inadvertently say later today -- that propels YIELD above 1.60% will significantly reverse current downward pressure on the long end of the curve.

As for the equity indices (ES), yesterday's powerful upside reversal right in the window for a June Seasonal Bottom suggests strongly that the Seasonal window-of-risk is behind us, as is a 3% correction that from the 6/15 ATH at 4258.25 to yesterday's (6/21) early AM low at 4126.75 (see my 4-hour ES chart below).

In that the form of the rally off of 4126.25 to last eve's high at 4226.25 (exactly 100 points) exhibits bullish form, and during a bout of weakness off of the 4226.25 high, held support at 4205 -- right in the vicinity of the 20 DMA (4206.40) -- the current setup remains extremely constructive, poised for upside continuation that challenges the ATH-zone from 4242 to 4258, if hurdled, will project to 4265/70 and then to 4300-4320.

Only a bout of weakness that breaks beneath 4205/07 support will argue for a deeper give-back of the 24 hour rally off of yesterday's low. Key lower near term support resides at the Weekly Pivot of 4185.

Finally, Bitcoin (see chart below) remains on the defensive this AM, trading down to a new corrective low at 30,135, taking out the May reaction low at 30,205. From my pattern perspective, I have been expecting BTC to roll over into one more downleg that breaks 30,000, and possibly washes-out to the 25,000 target zone prior to the emergence of another major upleg. My sense is that BTC could reverse into a vicious advance from ANYWHERE below 30,000 (down to 25,000).

Consequential Economic Data This Week:

Monday: Chicago Fed National Activity Index... 2 PM ET Fed Head Williams Speech.
Tuesday: Existing Home sales... Richmond Fed Mfg Index.... 10 AM ET Fed Head Daly Speech... 2 Yr T-note Auction... API Weekly Oil Inventory Report... Powell Congressional Testimony 2 PM ET.
Wednesday: MBA Mortgage Applications… Markit June Flash PMI... New Home Sales... EIA Oil Weekly Inventory Report... 10 AM ET Fed Head Bostic Speech.
Thursday: Durable Goods Orders... Initial and Continuing Jobless Claims... Weekly Nat Gas Inventory Report... 7 Yr T-note Auction... Fed Bank Stress Test Results.
Friday: Personal Income and Spending... Michigan Consumer Sentiment Surveys... Baker Hughes Oil Rig Count.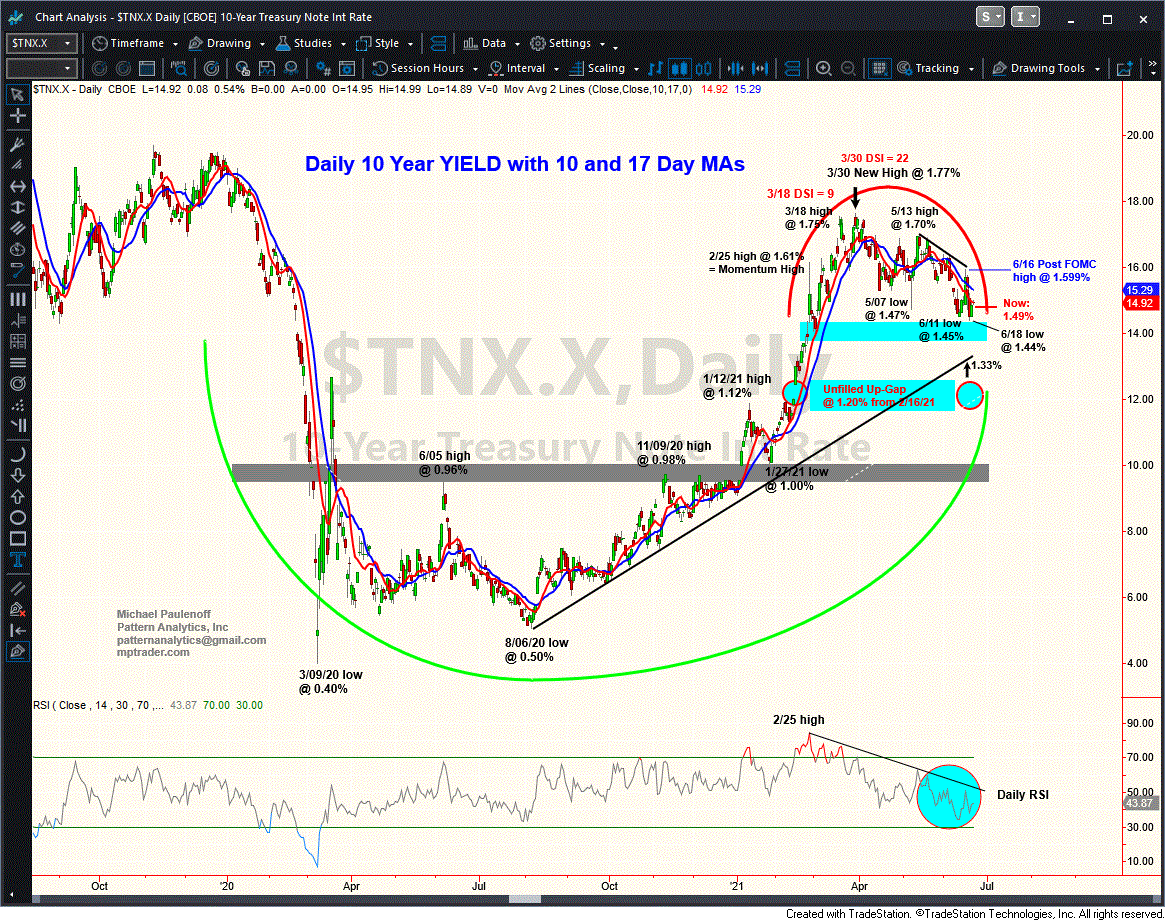 6 22 YIELD 830 GIF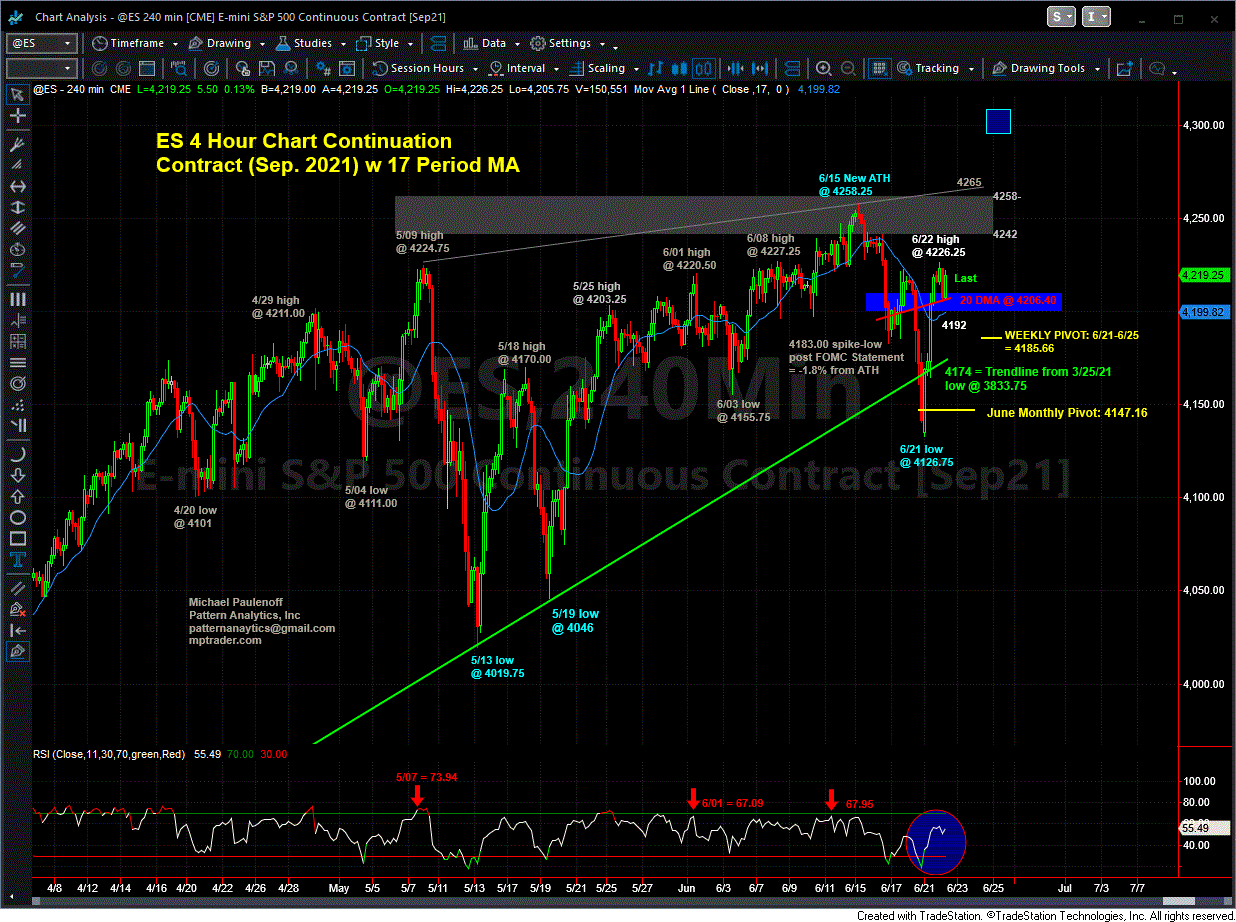 6 22 ES 4 hr 830 GIF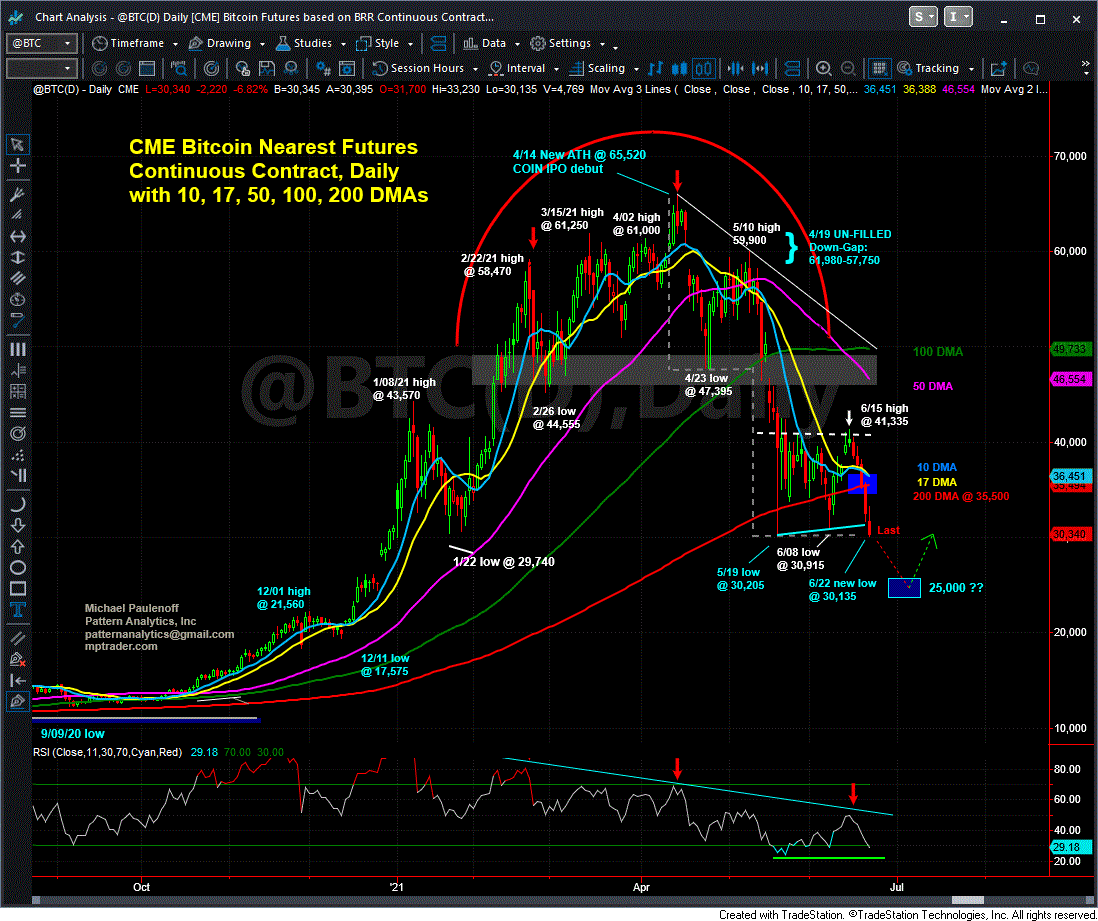 6 22 BTC Day 830 GIF