SPY: Jay Powell's Town Hall Meeting and Q & A Tonight Stops Early-Session Selling Pressure in its Tracks
Heading into mid-session, my SPY Point and Figure pattern work shows that the price structure continues to act well ABOVE 270, and is currently levitating within the up-column of Green X's from 270.00 to 273.00.
As long as SPY remains above a 271.50 print, the up-column of Green X's will be the dominant influence on price, and as such, will argue for still-higher levels, the next immediate target being a 274.00 print that challenges the 200 DMA.
Conversely, should SPY decline to a 271.50 print, a new down-column of Red O's will emerge that at the very least will indicate that SPY has entered a period of vulnerability atop the larger advance from 233.00 to 273.00. In that regard, a decline that prints 269.00 will trigger a significant near term Point and Figure sell signal.
Finally, let's keep in mind that Fed Chairman Jay Powell is scheduled to hold a Town Hall Meeting and Q&A this evening, which could serve as the next directional catalyst for the equity indices in general, and SPY in particular. Needless to say, that all of Chairman Powell's televised commentaries during the month of January certainly were perceived as roll-backs of his prior hawkish interest rate perspective, and as such, were emphatically embraced by the bulls. Whether or not he will provide the bulls with even more fuel for higher prices remains to be seen, but the remarkable resiliency of the market atop an 18% upmove in 5 weeks certainly argues for still higher prices. Last is 272.72/73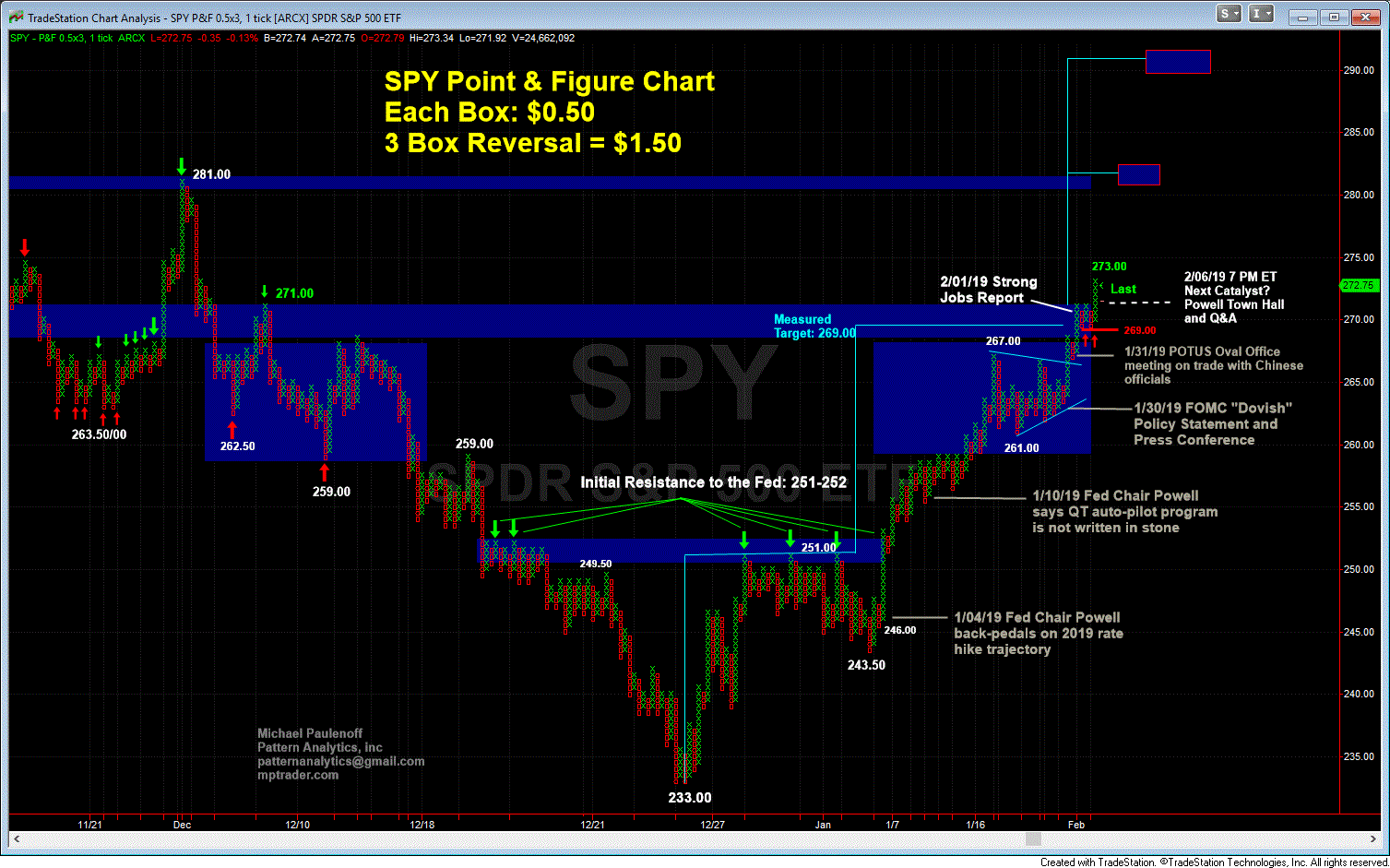 2 06 SPY PF 1240 GIF