TLT Setting Up for Next Swing Down?
TLT-- for the last 6 months-- during the period that the economy has exhibited accelerating growth from 2% to 3.3%-- TLT has traversed a wide range roughly between 129 on the high side and 123 on the low side.
What is so odd to me is that since late-Oct. 2017, despite the roll-back of regulations by the Trump Administration, despite faster domestic and global growth, despite the increasing likelihood of passage of tax reform legislation (more economic stimulus), and despite continued strengthening of the jobs market, TLT's have climbed from 122.42 to 128.15 (+4.5%). Yes, TLT's have carved out a stair-step rally period for the past 7 weeks, amid a flattening yield curve. The Fed is pushing rates higher on the short end, while rates on the long end decline, thus flattening the curve.
Also very perplexing is the divergence of thought between the equity market and the bond market. Analysts of the stock market cant wait to tell us how strong earnings are, how much tax saving and repatriation capital will be shoveled into plant and equipment, R&D, and employing new workers, all of which will boom the economy to 4% or possibly 5% growth within a the unleashing of a US economy that has been held back by anti-business policies.
That said, however, judging by the long end of the rate curve, the bond market definitely has its doubt about the efficacy of any or all of the above-mentioned economic stimulants!
Could it be that the utter lack of inflation after 10 years of monetary experimentation and expansion is all the bond market cares about?
In any case, all of the action shown on the attached daily TLT chart argues that above 128.25 up to 129.60, traders should be reversing direction into a long Put position to participate in another swing to the downside across the 6 month range.
Should TLT take out and sustain above 129.60, I suspect the perception of the fundamentals will look quite a bit different-- that the flat yield curve likely has inverted, suggesting strongly that Mr. Bond Market is expecting a recession. Although the bond market never traded as though it expected a boom, all of a sudden it will be trading as though it expects a recession! MJP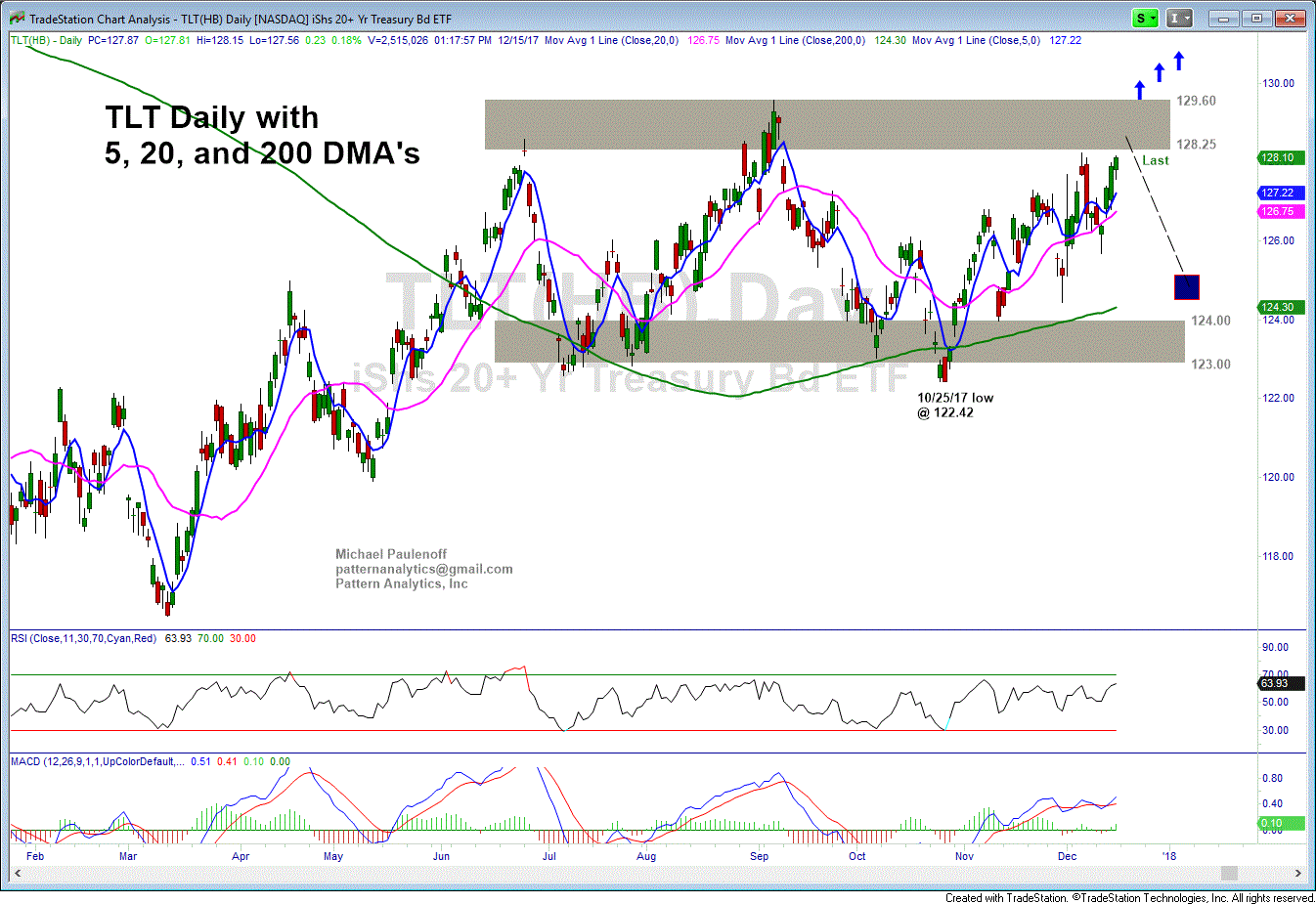 12 15 17 TLT Day GIF