T-Minus 24 Hours Until Fed Time
ES at mid-session-- Ahead of AAPL earnings later today, and the FOMC policy statement tomorrow afternoon, we should not be surprised that ES is ping-ponging across a narrowing range between (roughly) 2625 and 2650 prior to getting some clarity (if in fact that IS what AAPL's earnings and Chairman Powell will provide in the next 30 hours).
My attached hourly chart of ES shows the advance from the 12/25 low at 2316.75 to the 1/18 high at 2677.75, followed by a sideways period that has spanned the last 6 trading days. The sideways period represents EITHER a pause within an incomplete advance off of the Dec. low, OR a exhaustion period that will roll over, and in so doing, establish a meaningful top to the Dec.- Jan. upmove.

The black-boxed annotations on the chart show "Powell Interventions" that have promoted or supported higher equity prices.
The two most recent boxes reflect what might be offsetting WSJ articles about QT. The 1/25 article floated the idea that Powell was considering halting his "auto-pilot" program, which The Market considers removal of monetary tightening. Then on 1/28, the WSJ ran a story indicating that Fed officials were suspicious that QT was the reason for increased (downside) volatility, largely because the program has been ongoing since October 2017.
I wonder if we can take away from those articles that Powell likely will leave the auto-pilot QT program in place, especially now, after the market has recovered half of its Sep.- Dec. loss? If there is a hint of truth to that thought, then the next question is whether or not the market will be disappointed if Powell continues to implement the auto-pilot QT program regardless of his reiteration that the Fed will be more deliberate, data dependent, and market sensitive?
To my mind, that is where the risk is tomorrow afternoon. It seems (to me) that this market requires a back-pedaling Fed not just in words, but also in actions-- and right now, action must come in the form of halting or curtailing auto-pilot QT.
Meanwhile, as for the ES set up, if whatever the FOMC and Powell do and say triggers a positive reaction, then a climb above 2672/77 resistance will point to 2700/15, while a disappointing Fed result that breaks support at 2616-2605 will trigger a downside target of 2550-2540... Last is 2641.00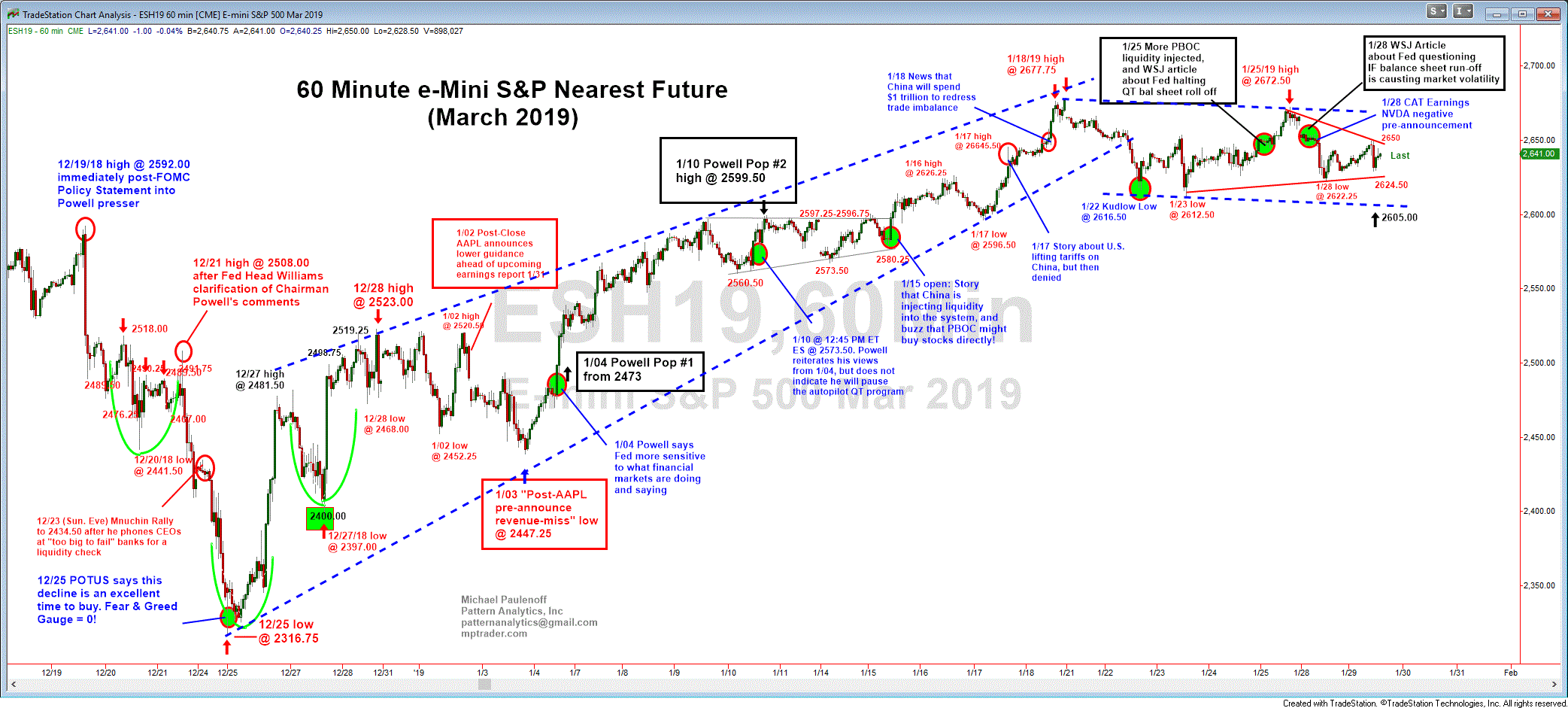 1 29 ES hr 130 GIF