TSLA at Technical Crossroads?
TSLA-- It should not surprise any of us that as convoluted as the fundamentals have been and still are in TSLA, the technical set up is equally as uncertain.
That said, however, the bottom line for me is that I am giving the benefit of the doubt to a constructive, bullish nearer term outlook PROVIDED the July 5th pivot low at 296.22 remains unbroken going forward. As long as 296.22 remains intact, my perception of the big picture is that all of the action off of the all-time high at 389.61 (9/18/18) is carving out a huge triangle-coil-type bullish digestion period that when complete will usher-in another upleg that projects to the 450 area.
The above-delineated bullish scenario extends and supports a bet on the efficacy and brilliance of Elon Musk.
If the July 5th low at 296.22 is violated and sustained, then the big picture chart set up will morph into something much less bullish, and possibly considerably more bearish because the big triangle pattern will lose its classic integrity (high-lows vs. lower-highs), and as such, will significantly weaken the prospect of a bullish resolution to the post-September 2017 price action.
Again, if 296.22 is violated and sustained, then TSLA's post-Sep. 2017 pattern will bend into a major, major top formation that will put increasing multi-month downside pressure on critical support lodged from 275 down to 245, which must contain weakness to avert confirmation of the establishment of an intermediate term top on TSLA... Last is 321.12/36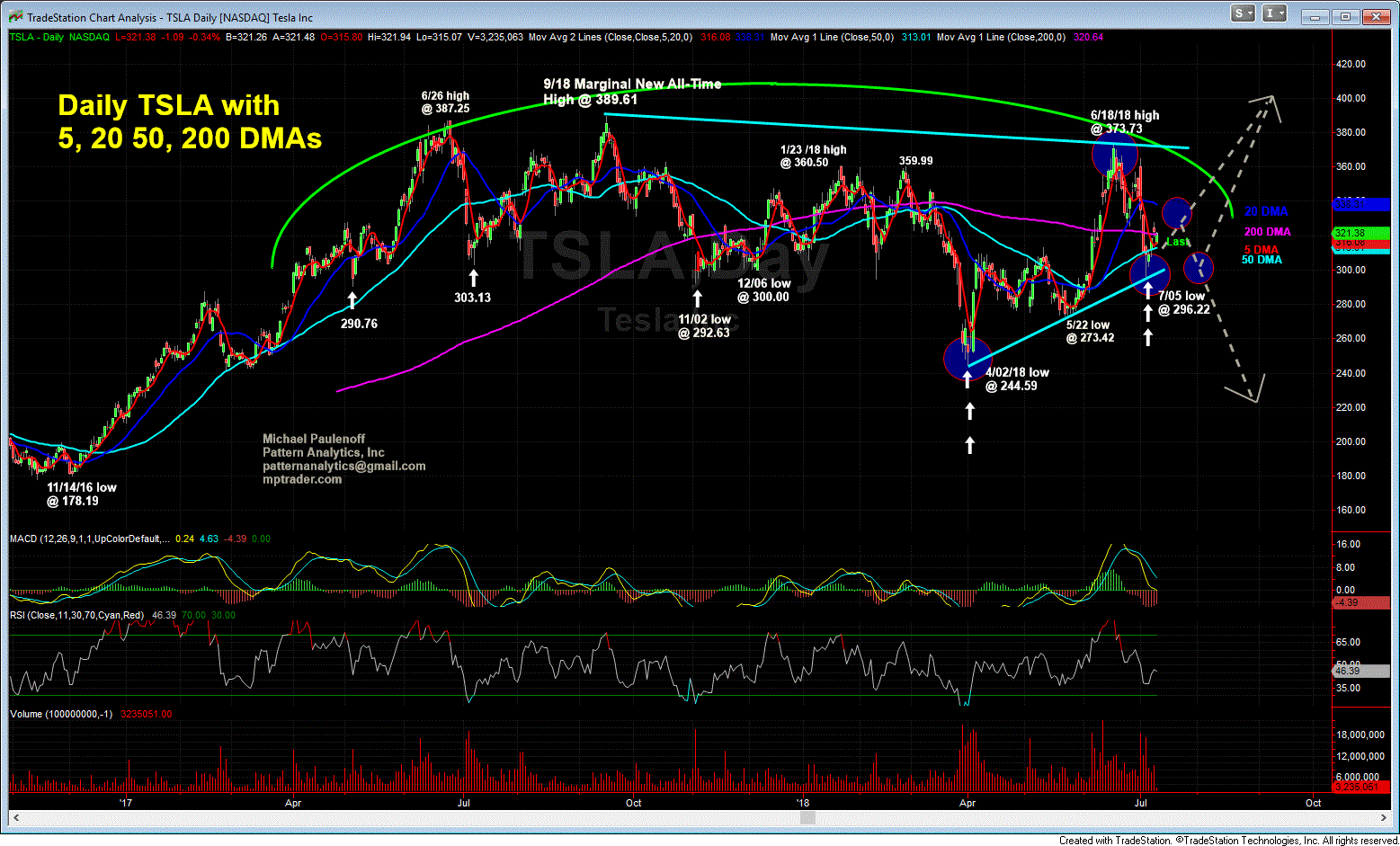 7 11 18 TSLA Day GIF