Tweets, Algos, or Charts: Which One Will Rule Today's Trading?
Rise and Shine, MPTraders! Tuesday May 7th, 2019
Consequential Economic Data This Week: Tuesday: Fed Head Kaplan Speech... JOLTS... Fed Head Quarles Speech... 3 Yr T-note Auction... Consumer Credit... China Bal of Trade... API Crude Oil Inventories... Wednesday: Mortgage Applications... Fed Head Brainard Speech...EIA Oil Inventory Report... 10 Yr T-note Auction... China Inflation data... Thursday: Jobless Claims...PPI... Balance of Trade... Wholesale Inventories... Fed Head Evans Speech... EIA Nat Gas Inventory Report... Friday: CPI... Fed Head Brainard Speech... Fed Head Bostic Speech... Fed Head Williams Speech... Dept. of Agr. Crop Report... Baker-Hughes Oil Rig Count... Monthly Federal Budget......
-- Earnings This Week (See attached Calendar)... After the close tonight, LYFT (should be interesting after its recent "failed IPO," and just two days prior to UBER's IPO
-- Today will be all about tweets, innuendos, and leaks about progress or lack of progress in the China trade negotiations. none of which might matter in the slightest until Friday's US-imposed deadline for China to cave into a deal.
Unless Xi needs a deal as much as POTUS, I have a hard time believing that there is any great incentive for China to appear to acquiesce to a US President's deadline (Red Line). From my geopolitically biased perspective, I figure that Xi forces Trump to imposed higher tariffs on Friday, delaying deal gratification for POTUS for another 4-8 weeks to see what the US economic data look like, the path of US equity indices, and Trump's political trajectory before coming back to the table.
But that is just me. If such a scenario unfolds, the benchmark S&P index (SPX) will be vulnerable to a decline into the 2830 to 2780 target zone.
Maybe Xi has a good reason to put this "conflict" behind him. If he does, then some sort of face-saving deal will be consummated, and the algos will rip the market higher, perhaps towards 3000 (from 2900-2920) in S&P terms.
Whether or not the S&P can sustain 3000 is another matter. A China trade deal could be a sell-the-news event after over a year of waiting.
As for the ES set up this morning, all of the action since Sunday eve's weak reopen in reaction to Trump's Sunday afternoon tariff tweet has carved out a range that at its widest point was 66 points or about 2.2%, but let's notice on my attached 15 Minute Chart that all of the action since yesterday's low at 2883.50 has taken the form of a violent, but contracting Coil formation that is gyrating around the mid-point (50%) of the range at 1920, suggesting indecision (for good reason).
That said, let's also notice on the 15 Minute Chart that yesterday's post-closing (Lighthizer) comments about the imposition of higher tariffs on Friday, ES nosedived once again beneath BOTH its Weekly Pivot at 2936.50 and its Monthly Pivot of 2919, which remains intraday resistance levels to watch.
Finally, take a look at my attached 4 Hour Chart of ES. Notice the white arrows that identify a series of lower-lows and lower-highs from the 5/01/19 New All-Time High at 2981.25. Strictly or loosely defined, the price swings since the 5/01/19 high has carved out a budding downtrend that supersedes the Coil Formation that has developed on my 15 Minute Chart.
If the dominant near term trend is DOWN by virtue of the post-5/01 price pattern, then let's keep our eyes on the prior rally high at 2930.50, which if taken out will neutralize the near term downtrend pattern. As long as 2930.50 remains a viable prior failed rally high, the bears will be in directional control of ES on an intraday basis.
Juxtaposed against the near term importance of 2930.50 on the upside is yesterday's low at 2883.50 on the downside, which if violated will confirm and extend the lower-high-lower-low near term pattern to the downside, and will point ES towards the unfilled gap left behind on 4/02/19 at 2839.50 to 2853.75...
Last is 2913.00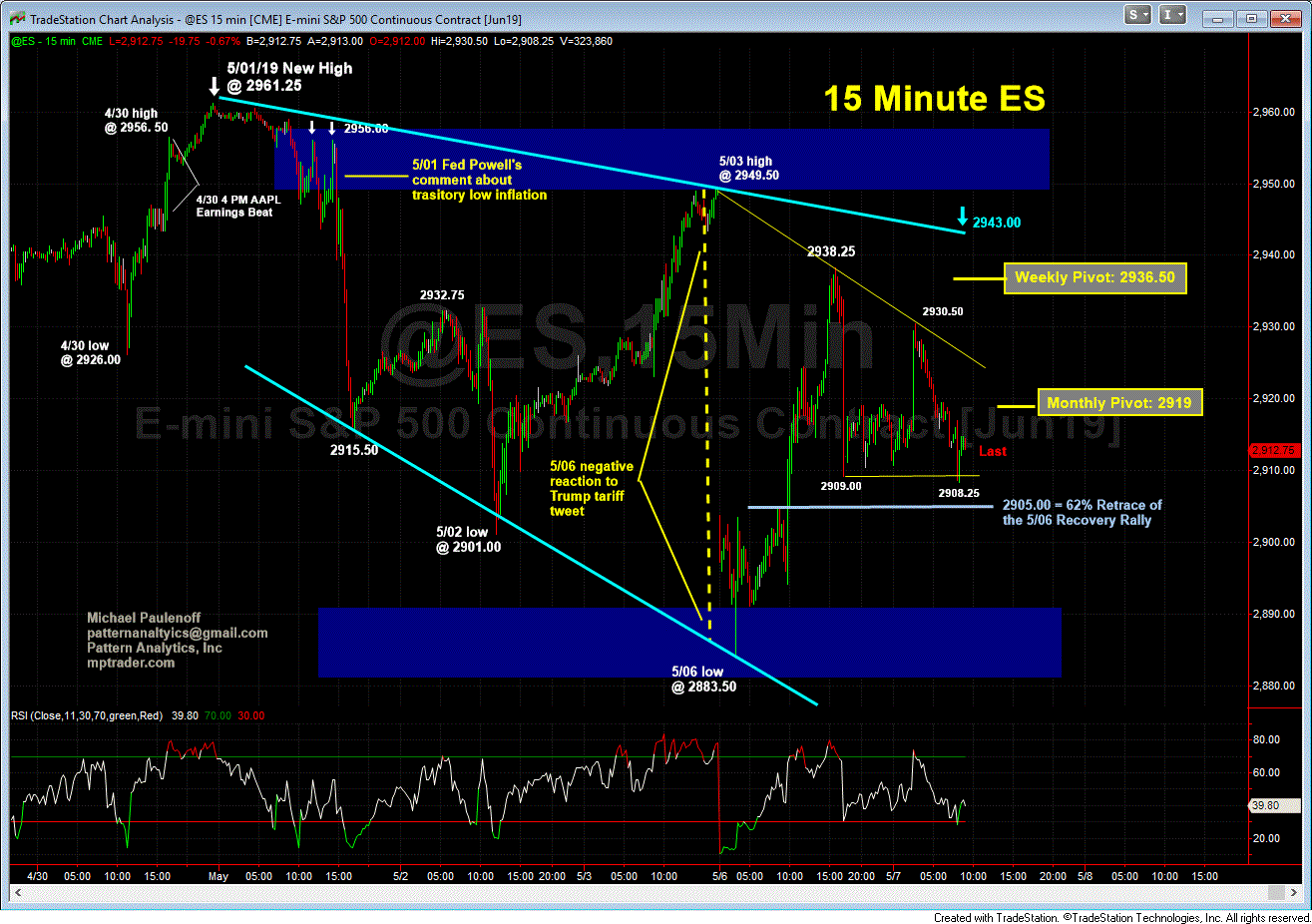 5 07 19 ES 15 Min 855 GIF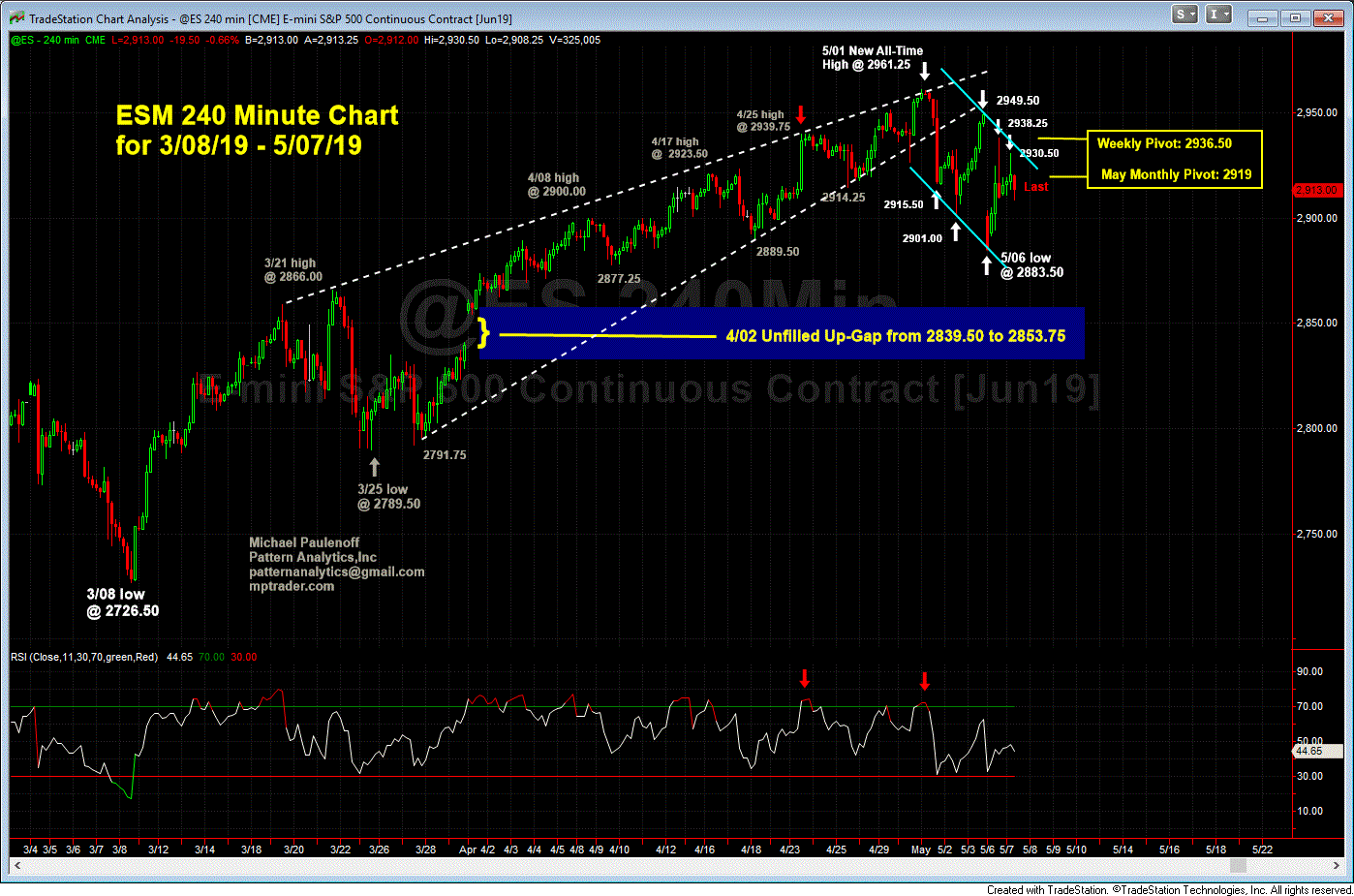 5 07 19 4 hr ES 855 GIF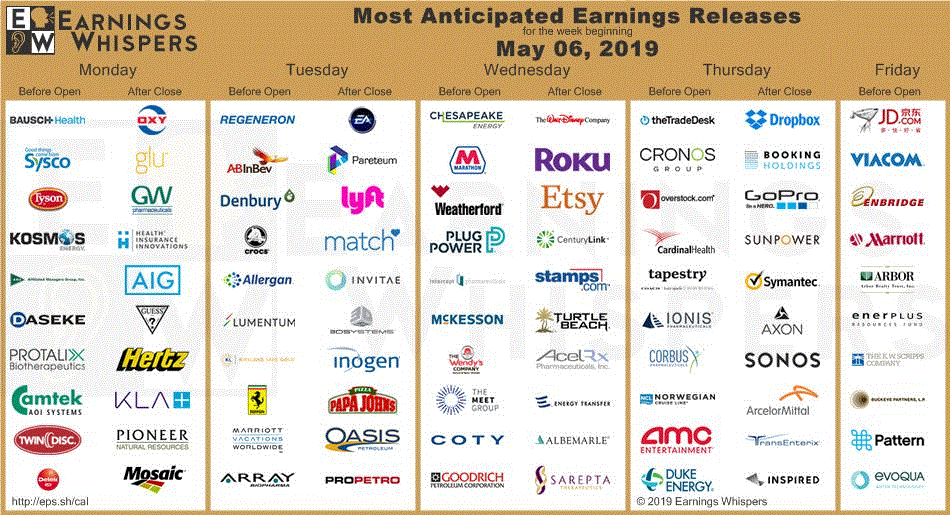 Weekly Earnings 5 06-5 09 GIF