WMT (Wal Mart) Earnings Reaction
Tuesday, May 17, 2022-- Mptrader Pre-Market Update: WMT (Wal Mart) Earnings Reaction...
This is what we discussed yesterday AM about WMT's technical setup:
The $64,000 technical question concerning WMT is whether or not any forthcoming negative reaction will fully test BOTH the very modestly up-sloping 100 AND 200 DMAs, now clustered at 144.70/80? My near and intermediate-term pattern and momentum work argue that a positive reaction to earnings MUST climb and close above 151.00 to trigger nearest-term upside reversal signals off of last Friday's low at 146.14 (9% off of the 4/21/22 ATH at 160.77). In the absence of a close above 151.00 (just a 1.1% rally from current levels), WMT will remain vulnerable to another loop down that tests critical MA support in and around 144.75 the must contain the weakness to avert considerably more downside potential that projects into multi-month support from 132 to 135. Last is 148.05...
After this AM's report that unveiled a miss on EPS, and a beat on Revenues, BUT accompanied by lower guidance "in a high-expense environment," WMT shares algo-spiked much lower, to 137.21 so far, a full 7.5% beneath Monday's close, so far.
More importantly, is that the weakness has inflicted SERIOUS technical damage to my attached Daily Chart, largely because WMT has plunged beneath its clustered 100 and 200 DMAs, now at just beneath 145, with the price structure heading towards a challenge of year-long support from 132 to 135, which MUST contain any additional weakness to avert "locking-in" a MAJOR Distribution Top Formation that will project much lower prices for WMT in the ensuing weeks.
My sense from the new, deteriorating technical setup is that WMT is reflecting a squeezed consumer, reeling from higher inflation, especially in the form of higher food and gasoline prices that threaten to send the economy into recession. If WMT breaks year-long support from 132 to 135, then the behavior of the stock will be telling us the US economy IS IN RECESSION... Last is 137.55
What might the Fed be thinking about WMT's results? Hmm, that is a discussion for later today... MJP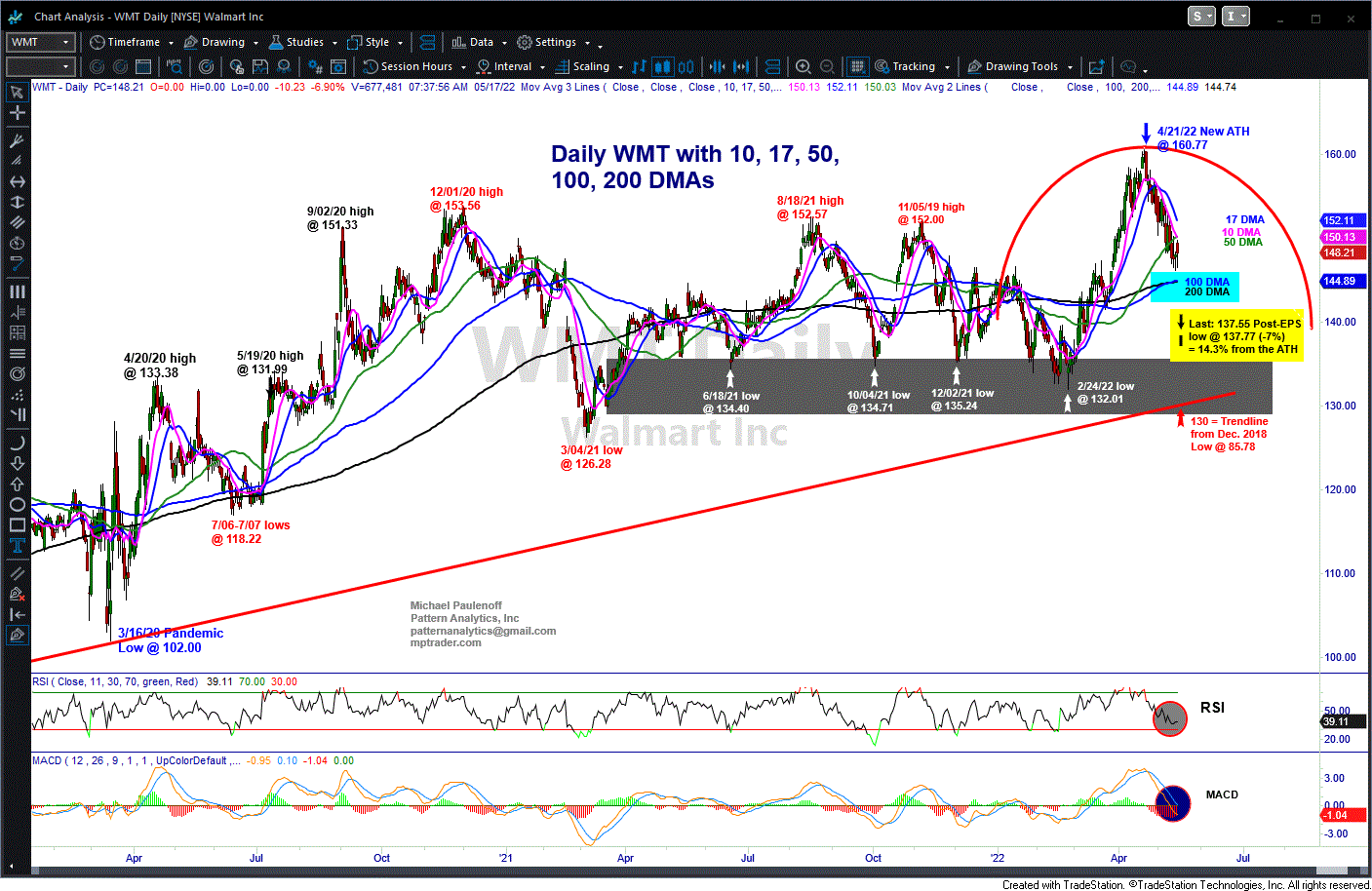 5 17 WMT GIF