Alerting About NVDA's Upside Ahead of +45% Rally
On January 24, we alerted MPTrader members to an opportunistic technical setup in NVDA, writing:
"NVDA Bottom Line:  When I zoom out for a view of all of the price action for the past 8 months, I can make a compelling case that a very powerful base-accumulation period and pattern have developed that is putting intense upward pressure on the 198-200 multi-month resistance-upside breakout zone that if hurdled, will trigger an intermediate-term projection to at least 218-224, and an outlier upside target zone closer to 280. As long as any forthcoming weakness is contained by support lodged from 178 down to 167.30, NVDA deserves the benefit of the doubt on the upside for the next 1 to 3 months... Last is 189.83."
Fast-forward 8 weeks to last week's trading where NVDA hit a high of 275.89, up 155% from its October 2022 major corrective low at 108.13, and up 45% from where it was trading when we initially alerted MPTrader members!  
What's next for NVDA? As much as I would like to tell members that NVDA still has much higher to climb, my current read on the technical and fundamental situation indicates that in the nearer-term timeframe, NVDA is showing signs of technical stress that I usually associate with approaching upside exhaustion ahead of a meaningful pullback. 
In addition, NVDA  recently has been the recipient of a lot of positive press and Wall Street hype about its central chip design and production position uniquely suited to supply the forthcoming explosion in Artificial Intelligence (AI) applications. That said, based on our current setup work, while NVDA is a long-term "hold," we are very cautious near term and look for a substantial bout of profit-taking weakness (20% plus) before another sustained up-leg is likely to emerge. 
Join me and our MPTrader member community today to participate in our ongoing intraday discussions about NVDA, and other AI-focused names such as MSFT, GOOG, and ADBE, as well as discussions about the technical and fundamental setups in individual stocks, ETFs, Macro Indices, Commodities, Precious Metals, and Bitcoin.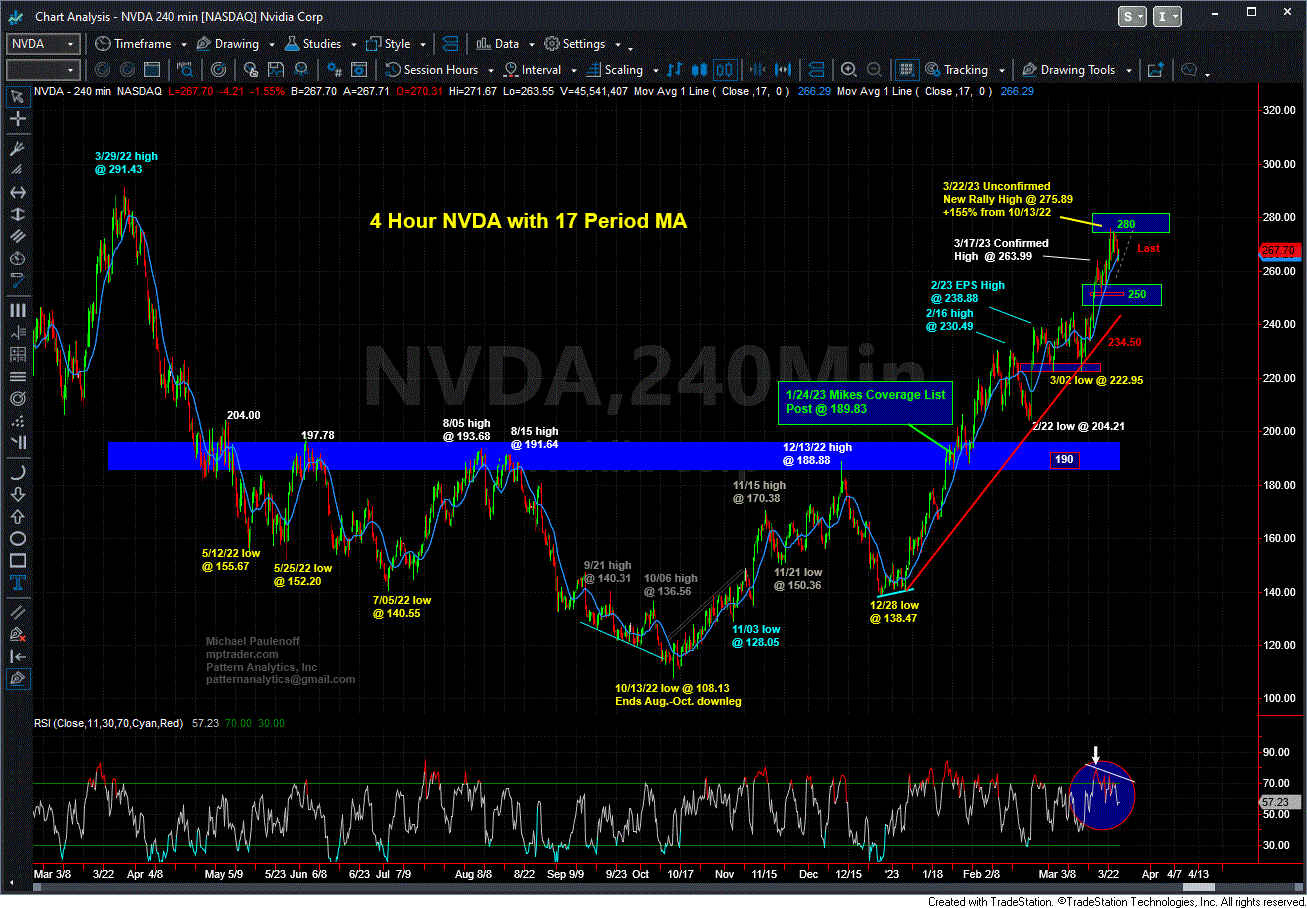 ---
More Top Calls From Mike