Cautioning Members After AAPL's Advance
On April 21, AAPL climbed to a new 8-month recovery high of 168.16, representing a 35% gain from the January 2023 low.  We alerted MPTrader members to the new high in AAPL, but attached a yellow caution flag to the update:
"AAPL continues to intrigue me technically because the stock hit a new multi-month recovery high at 168.16 on Wednesday -- 35% above its Jan 3rd low, but stalled right at its 15-month resistance line that cuts across the price axis in the vicinity of 168.60, and which so far has kept a lid on upside continuation. More intriguing than AAPL's strength being capped by the 15-month resistance line are the two momentum non-confirmations during the month of April (red down arrows on my attached Daily Chart) that suggest AAPL is losing upside buying power even though sellers remain at bay. 
"Regardless of the waning momentum, unless and until AAPL weakness inflicts some damage to the dominant Jan-Apr. uptrend, however, I still have to consider that the bulls remain in directional control... Last is 164.86."
Fast-forward a few sessions to Wednesday of last week (April 26).  AAPL was showing signs of upside exhaustion as the price structure rolled over from above 168.50 to a low at 162.80.  However, on Thursday and Friday (April 27 and 28) -- the final two "mark-up" sessions ahead of the end of April trading -- AAPL pivoted to the upside from its near-term up trendline (162.80) into a sharp advance to a higher multi-month high at 169.85. 
As impressive as the strength appears on the surface, there continues to be cause for concern in our work. Once again we're pointing out to our members that the most recent higher-high at 169.85 has been accompanied by a third consecutive negative momentum divergence (see our chart below) that raises a more intense yellow caution flag for AAPL bulls, warning them to tighten protective stops in the event AAPL's upside thrust late last week fails to follow through strongly-enough to the upside to "rehabilitate" lagging momentum. 
As fate would have it, this coming week AAPL's price trajectory will be impacted by the FOMC policy decision on Wednesday afternoon, Apple Earnings and conference call on Thursday afternoon, and the monthly Jobs Report for March on Friday morning.  
In other words, this coming week is filled with potentially consequential risk/reward "events" that will impact AAPL's price direction.  Our work is warning MPTrader members that AAPL must accelerate to the upside to propel momentum to new highs to confirm price action; otherwise, an acute and dangerous divergent price-momentum condition will emerge in AAPL that will argue for the initiation of a serious correction in AAPL as well as in the major equity indices.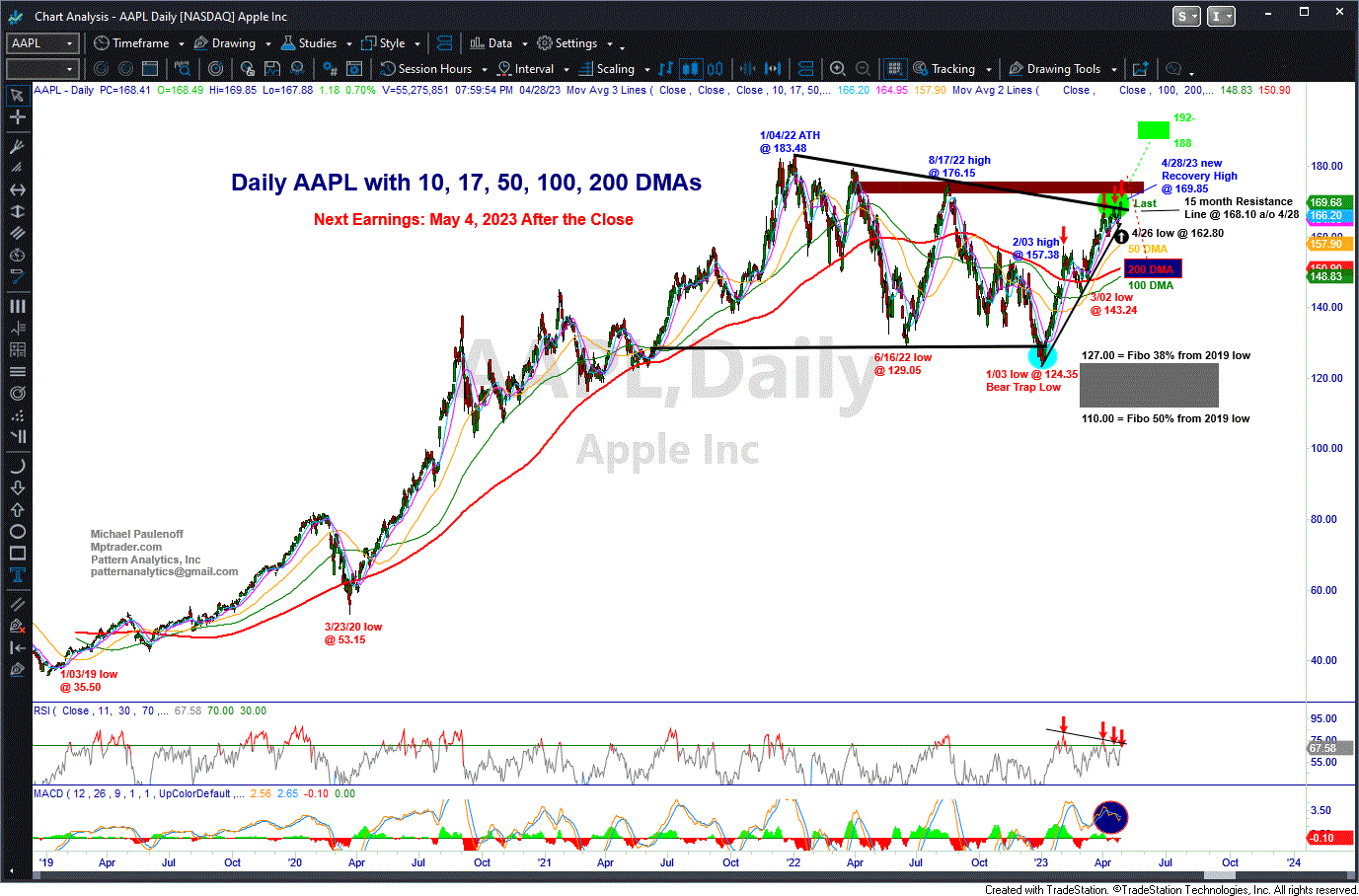 ---
More Top Calls From Mike