Getting A Jump On ChargePoint's Rally
Back on December 30, one of our MPTrader members (FJB) posted a comment that focused on the name ChargePoint Holdings (CHPT), the day after the CEO purchased 1.4 million shares at 8.28 in a show of confidence in his company's future. 
Within an hour of FJB's introduction of CHPT into our discussion forum, Mike Paulenoff posted his chart analysis. Mike relayed to our members that CHPT exhibited a potentially powerful near-and-intermediate term technical setup, and was developing a pattern that argued for higher prices, writing:
"My interpretation of the current setup is that CHPT is poised for-- and already has started-- a tradeable rally within a larger, well-defined, and probably incomplete dominant downtrend off of its Sep 2022 high at 19.92.  The current rally from Tuesday's (12/27/22) low at 8.07 points initially to the 10.40/50 area to challenge the multi-month down trendline, and if taken out and sustained, will project to a confrontation with much more consequential resistance from 11.15 to 12.10. My suspicion is that for CHPT to chew through or rocket above 11.15-12.10 it will need bullish fundamental news in the form of a positive earnings surprise (March 2, 2023) and/or news about oodles of money being allocated by Uncle Sam to companies like CHPT via the Infrastructure Spending Law to create a national EV charging network... Last is 9.32."
During the following 4 weeks, and several updates and member discussions along the way, Mike and MPTrader members analyzed, discussed, and tracked the upside progress of CHPT, which hit a rally peak at 12.78 on January 18 and closed at 12.11 last Friday, a full 30% above Mike's (and FJB's) initial mention of the stock. 
Members' research, their stock picks mentioned in the MPTrader discussion sessions throughout each trading day (and sometimes on weekends!), as well as their queries about Mike's technical work on a particular equity, ETF, and macro index, produce a powerful combination that highlights the opportunities, risks, and rewards of trading and investing in a particular equity, ETF, index, commodity, currency, or Bitcoin so they can make informed decisions for their own respective portfolios. 
What's next for CHPT? Login this week to join Mike and MPTrader members for their follow-up discussions and analysis of CHPT (see Mike's latest chart work below), as well as their expectations and treatment of mega-tech earnings, reaction to whatever the Fed does and says on Wednesday, and the importance of Friday's Employment Report for January.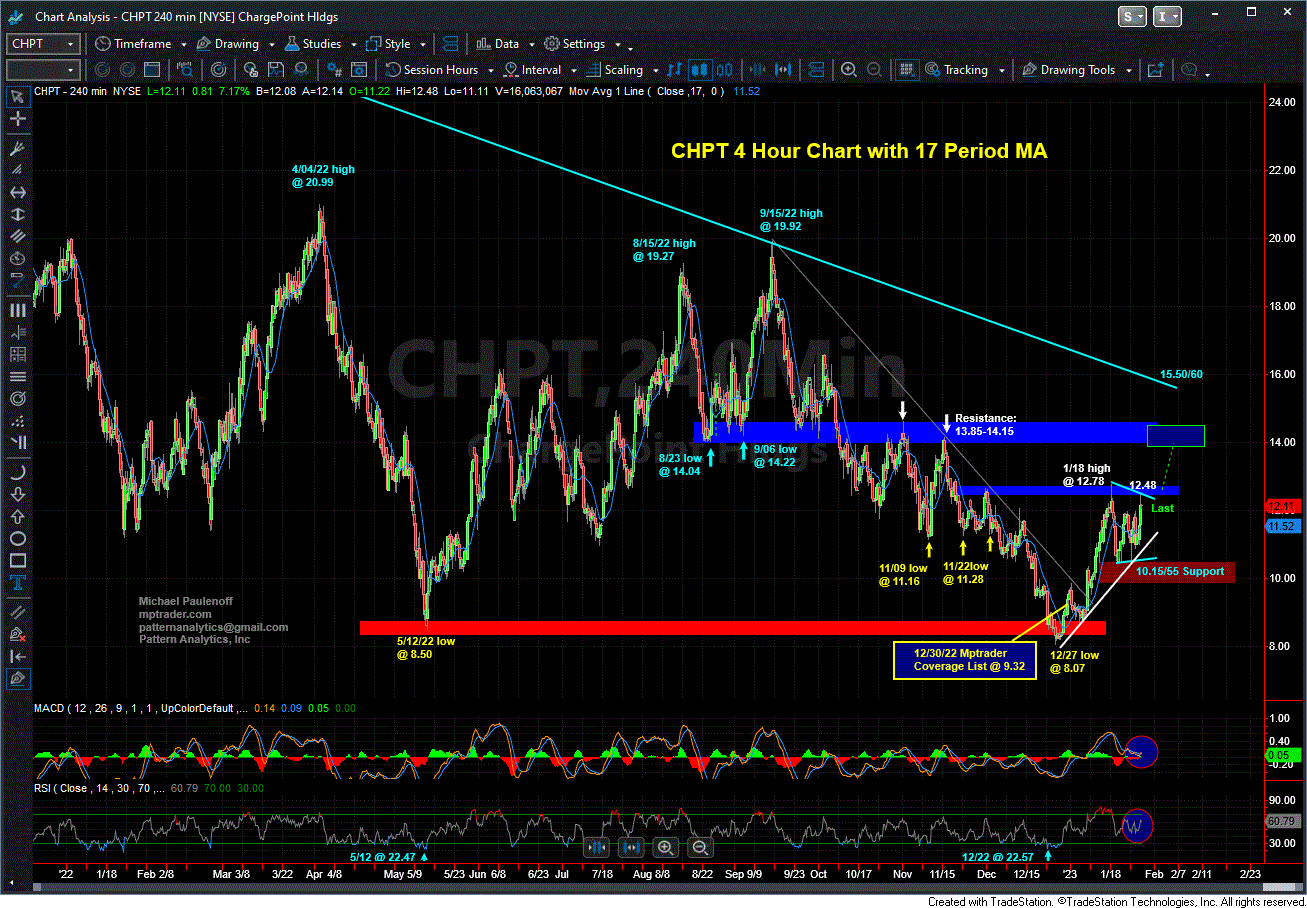 ---
More Top Calls From Mike