Getting The Jump on JPM's Decline ... What's Next For The Stock and For Financials In General?
Back on March 1, 2022, Mike Paulenoff posted a technical "heads-up" about JPM for members of MPTrader.com, writing:

"JPM has broken down in glaring fashion from a 12-month Top Formation that my pattern work addressed four weeks ago in case JPM sustained beneath 139-140. Today's low at 134.15 violated my shallowest target zone of 135.50-137.50, and points next to 128-130, with an outlier target zone in the vicinity of 115. With XLF amounting to 12% of the S&P 500, judging from the ugly setup in JPM (10% of the XLF), I doubt we will be seeing XLF leading or making a major contribution to SPX index strength anytime soon."

JPM, which was trading at 134.83 at the time, has since declined 14.5%. It hit a corrective low this past Thursday at 115.37, right in Mike's "outlier target zone," and a full 33% off of its all-time-high at 172.96 from October 25, 2021.
What does Mike think about JPM going forward? According to Mike, who has been tracking the stock with nearly a dozen technical updates since March1, unless and until JPM can recover to and climb above resistance from 124.40 to 127.50, JPM will remain "challenged" by intense macro headwinds and continue to project a setup that suggests JPM and the big money center banks are foretelling the potential for a severe U.S. economic slowdown.
Join Mike and our MPTrader members for ongoing intraday discussions about JPM as well as many other stocks, ETFs, macro indices, commodities, and Bitcoin that will help you manage risk and identify actionable trading and investing setups.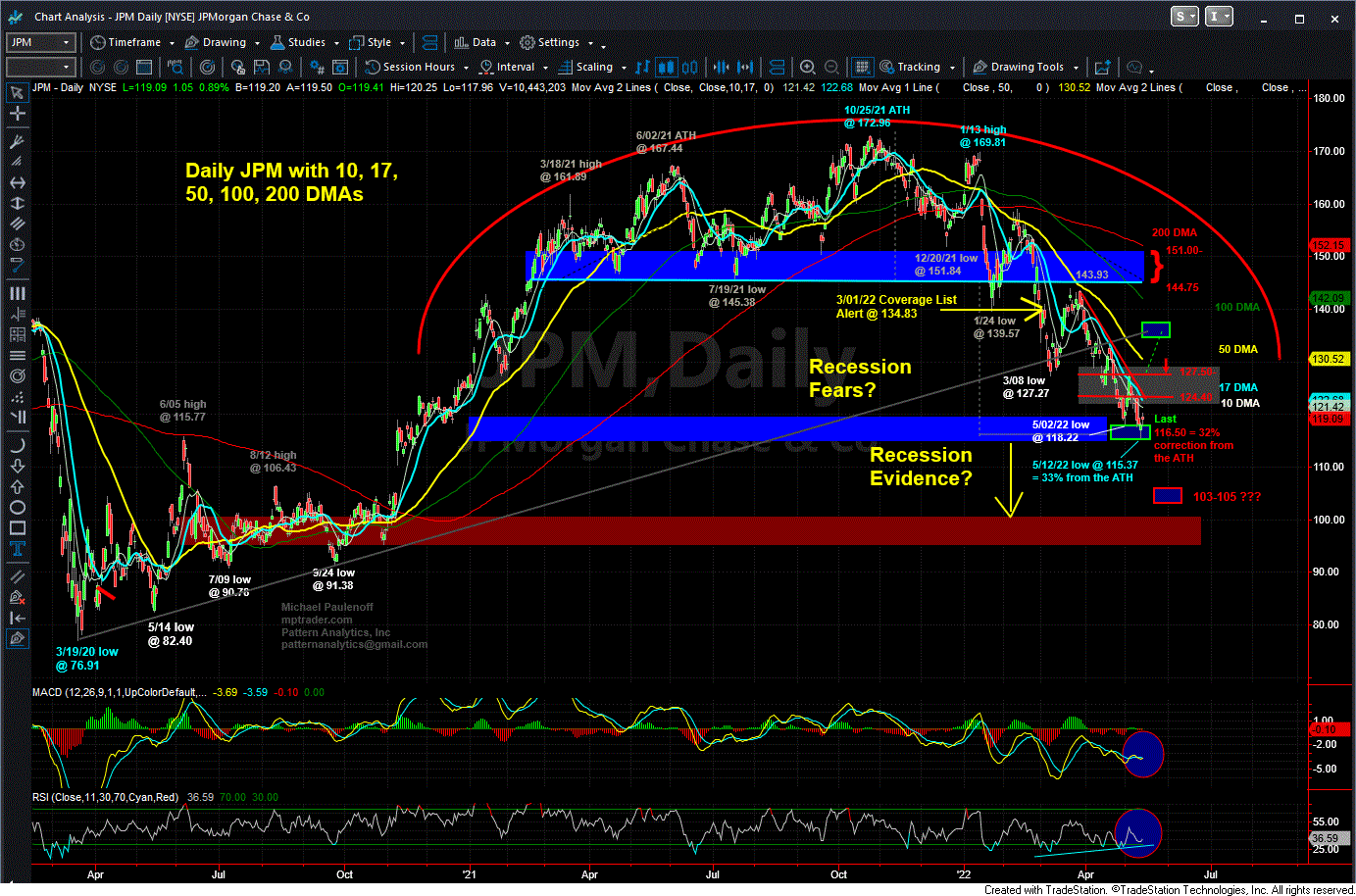 ---
More Top Calls From Mike