NKE Reaches Our Expected Recovery Resistance Zone
This past Tuesday, September 26, two days prior to NKE (Nike) earnings, Mike Paulenoff posted one of his pre-earnings "Heads Up" to our members, writing:
"Certainly, NKE is oversold enough within a relentless downtrend pattern off of its Feb. 2023 recovery high at 131.31, that a positive reaction to quarterly results reflecting anything other than a disaster coupled with dismal guidance, is likely to trigger an initial positive reaction into the 95 to 100 recovery resistance zone. That said, however, my Big Picture pattern setup warns me that NKE has unfinished business on the downside that will retest its October 2022 low, and if violated, will project a lower target zone of 70-72 prior to the stock entering a repair-basing period in preparation for a sustained recovery rally... Last is 90.04..."
Fast-forward to Friday (Sep 29), and the positive investor reaction to better-than-expected results as well as to strong guidance and the prospect of higher profit margins. NKE stock catapulted higher to an intraday high at 99.47, a full 11% above Thursday's close, and right into Mike's key 95 to 100 recovery resistance zone mentioned in his "Heads-Up" commentary.  NKE subsequently cooled off late during Friday's session, closing at 95.62.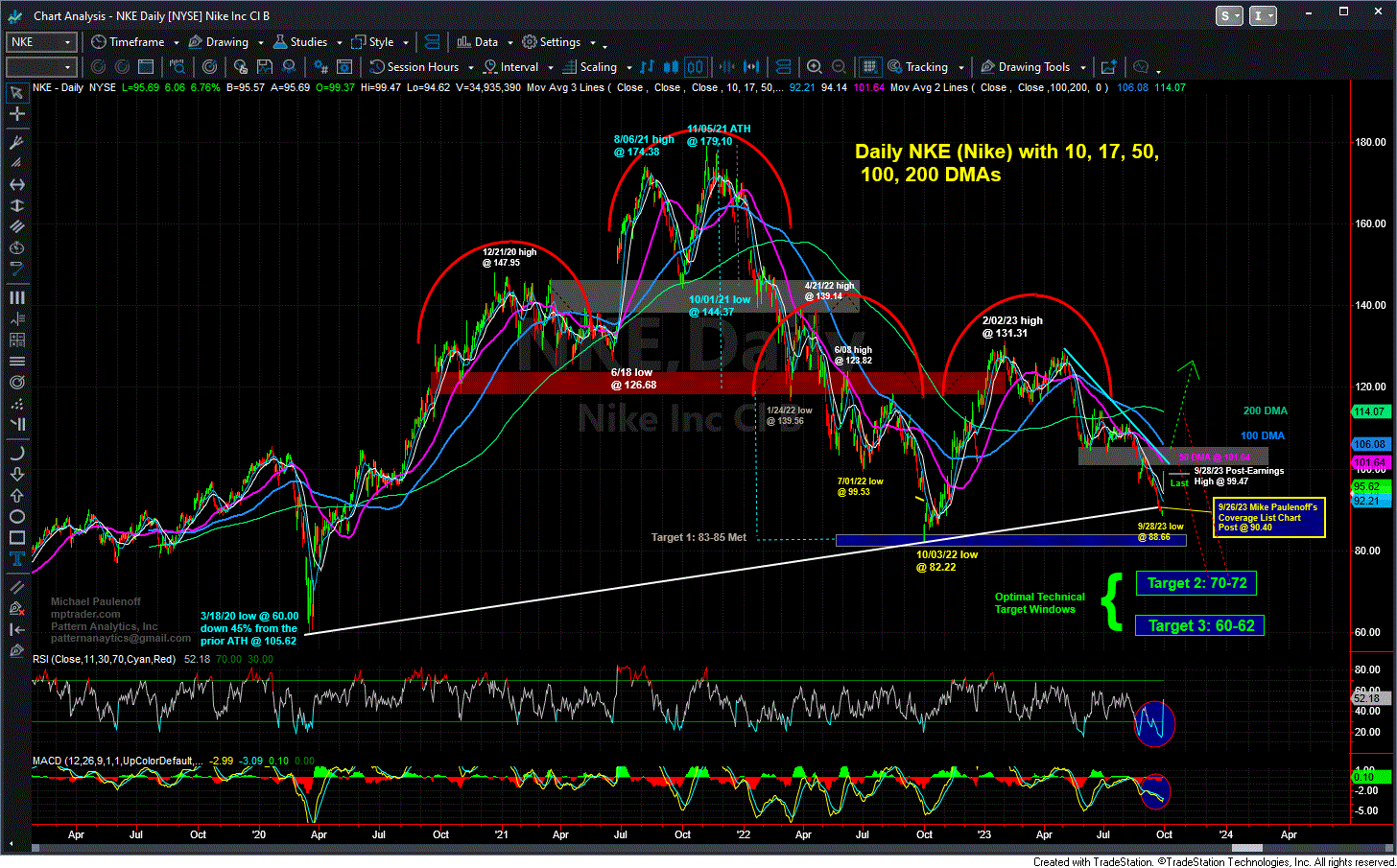 NKE is a bellwether for U.S. retail sales, the health of the American consumer, and the strength of the Chinese retail market as well.  As such, the company and its stock price are a gauge of whether or not the U.S. economy is heading into a recession -- a topic on just about everyone's mind (including Fed Chair Jay Powell) these days.
Going forward, Mike will be watching closely the price path NKE stock takes in the days and weeks after earnings, and relay his technical work to our members for discussion about the technical and fundamental ramifications of either strong upside continuation of the post-earnings NKE rally that challenges and hurdles its sharply-declining 50 DMA, or alternatively, a failure of NKE to sustain its post-earnings strength followed by a resumption of weakness. 
Whichever one of these price paths unfolds will not only inform Mike about his ongoing near and intermediate-term technical outlook but also help our members discuss and integrate "the NKE effect" into their own analysis. 
Login to join Mike and our members for their constant intraday technical and fundamental discussions of NKE as well as many other individual equity names, macro indices, ETFs, Oil, commodities, currencies, and Bitcoin. 
---
More Top Calls From Mike