NVDA Follows Our Technical Price Path
Top Call: NVDA
During  the afternoon trading session of August 23, 2023, prior to the release of NVDA's (Nvidia Corp.) highly anticipated quarterly earnings report, we alerted our MPTrader members to our near-term forecast for NVDA, derived from my technical setup work heading into earnings.  I wrote:
Based on my pattern and momentum setup work, I have three potential near-term price paths for NVDA in reaction to earnings:
Scenario #1 (see my attached 4-Hour Chart) argues for a positive reaction to earnings that propels NVDA to a minimum target of 500 and an outlier target of 535 as long as any forthcoming weakness is contained above 448.00 prior to or after the news... Scenario #2 projects weakness into the 390 downside near-term target window if NVDA violates and sustains beneath 448.00, after which buyers emerge that rip NVDA higher towards the 500-535 upside target zone...Scenario #3 represents the "bearish" price reaction, pressing beneath 448 AND thereafter, breaking 390, which will trigger a press toward 300-320, amounting to a correction of 30%-35% from the August ATH... At the moment, with NVDA trading from 452 to 460, my bias is for Scenario #1 to unfold, which will amount to as much as a 15% to 20% upmove in reaction to earnings... Last is 471.91...
In the hours immediately following NVDA earnings, the stock rocketed to a high of 520, right into our designated target zone of 500 to 535, but it was what we told our members the next morning in my pre-market update about what to expect next from NVDA that really mattered:
NVDA hit a post-earnings blow-out high at 520 last evening, which we see on my attached 4-Hour Chart positioned the stock in the upper boundary zone of my next higher target zone from 500 to 535, and more importantly from a nearest-term perspective, challenging the upper boundary line of the dominant bullish multi-month 2023 price channel. After hitting 520, NVDA has pulled back to the 503-506 area. My near-term pattern work is warning me that the most recent upleg from the 8/14/23 pullback low at 403.11 to last eve's (8/23) high at 520 is a completed advance, which if reasonably accurate, means that NVDA is entering a corrective period. The $64,000 question is the magnitude of a forthcoming correction. My work argues that as long as any forthcoming weakness is contained above 453 (worst case pullback), NVDA subsequently will climb to higher highs above 520. However, a breach of 453 will indicate that NVDA is in the grasp of a potentially much deeper correction that will press to a test of 400, and if violated, will project to 320-340 thereafter. Last is 503.50... 
Fast-forward to Friday's price action (8/25), NVDA traded down to a post-earnings low at 450.62, probing our amended key support plateau from 453 to 448, prior to closing at 458.77.  Our accurate pattern work in anticipation of and in reaction to NVDA earnings was instrumental in helping MPTrader members navigate the intense volatility in NVDA, as well as in other AI-related names and ETFs in the technology space. 
What's next for NVDA, MRVL, and AMD-- to mention just three names in the chip sector that our members are focused on at the moment? Join me and MPTrader members this week for their follow-up, opportunistic intraday discussions of the red-hot AI names as well as many other stocks, ETFs, equity index futures, macro indices, metals, commodities, and Bitcoin. Login ASAP to be privy to my discussions with our members about expectations for the forthcoming consequential economic data on PCE (Personal Consumption Expenditures)-- Jay Powell's "favorite" inflation gauge, and the August Jobs Report (Friday, September 1). Which stocks, ETFs, and sectors should traders and investors focus on to benefit from directional market reactions to this potentially critical economic data?  Join us to find out!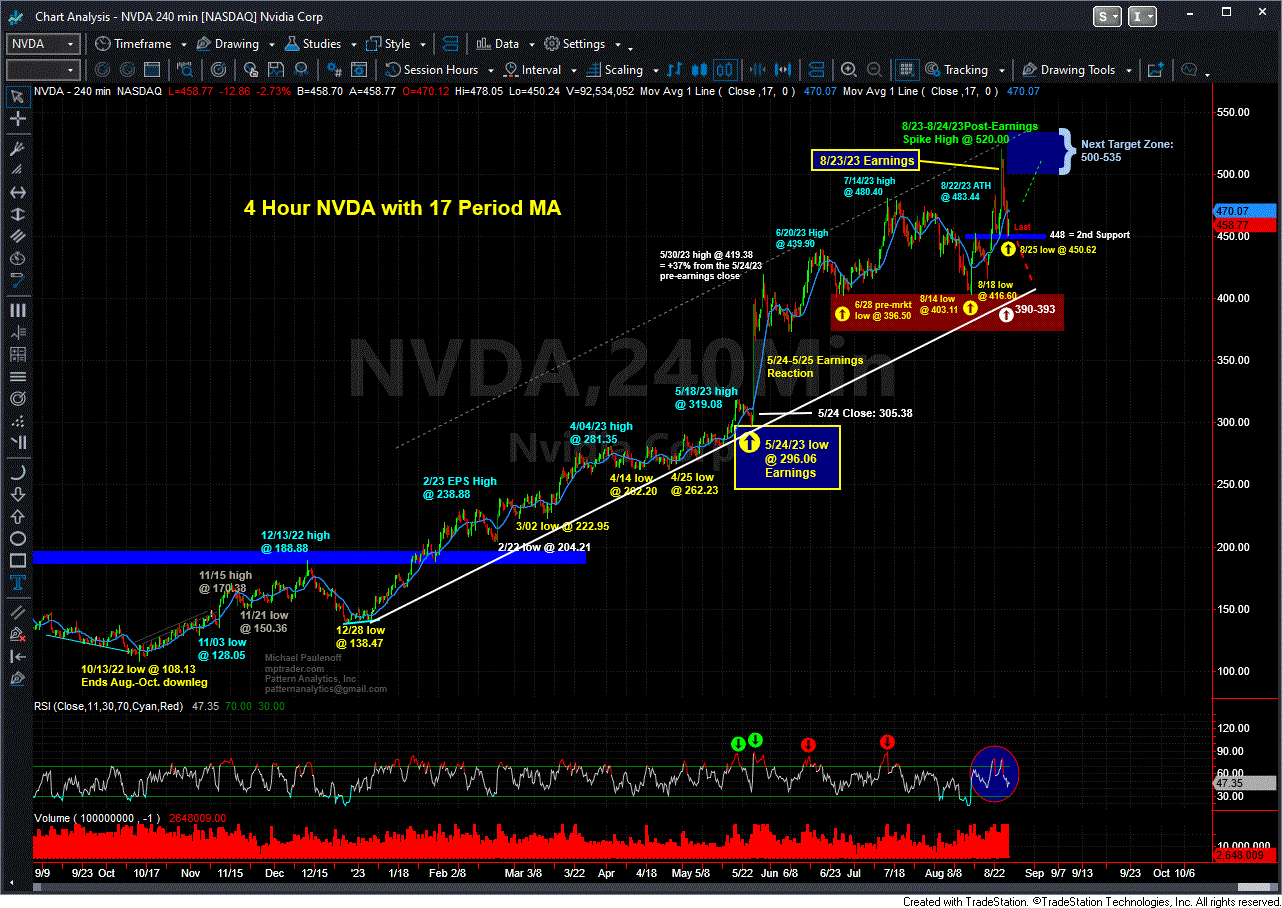 ---
More Top Calls From Mike