100% Gain in 24 Hours
On Monday April 4, Mike noted in the room that the US Oil Fund ETF (USO) should hold key support at 9.25-9.00 given that its larger pattern represents an incomplete medium term recovery rally arguing for another up-leg towards 12.
On Tuesday, he got into the USO Apr. 8th 9.00 Calls at 27 cents, looking to take advantage of a technical bounce in the USO in reaction to Wednesday's EIA Oil Inventory Report.
Sure enough, the USO bottomed right at 8.99 on Tuesday, reaching above 10 intraday on Friday. Although Thursday's EIA Report would subsequently show a neutral/bearish weekly build in oil supplies, Mike's interpretation of the promising technical set up earlier in the week anticipated strong price action into, and a positive reaction after, the release of the data.
Mike exited the calls on Wednesday at 55 cents, for a 100% gain in 24 hours.
The USO trade was one of several strong trades for Mike since the start of the month. He exited the Silver Wheaton (SLW) puts on April 1 for a +200% gain in 1 day, and the SPDR S&P Biotech ETF (XBI) on April 6 for a gain of 10% in 2 weeks, displaying trading accuracy across a number of markets: Oil, Metals and Biotech.
Plus, Mike exited his Visa (V) and Raytheon Company (RTN) trades this week for 2% nominal gains, with only Nike (NKE) incurring a nominal loss after a 3.8% gain from a prior long position from March 14-18.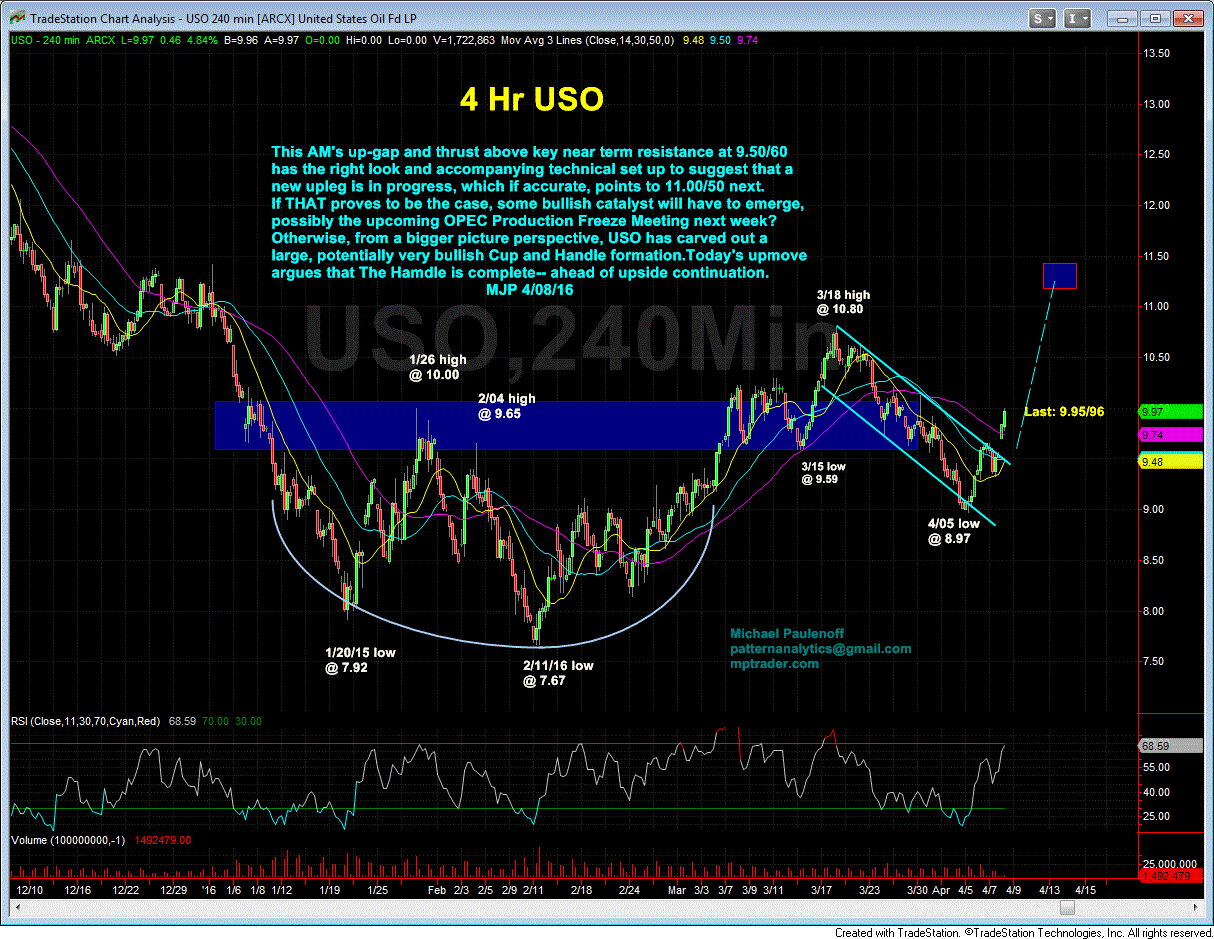 ---
More Top Calls From Mike