+68% In JKS Call As Solars Heat Up
Back on June 24, Mike Paulenoff alerted MPTrader members to a developing bullish technical set-up in solar panel producer Jinko Solar Inc. (JKS):
Mike wrote: "Time to keep an eye on the solar names (JKS, CSIQ, SPWR, FSLR, DQ) because all of them have the right look of either nearing the conclusion of deep multi-month corrections, or starting new uplegs after already completing deep corrections. My sense is that these names ran up big time into the Nov. 2020 election in anticipation of a more environmentally-friendly Biden Administration, but after the election, after the inauguration, were subject to a prolonged sell-the-news unwind during a period of rising fossil fuel prices. As traditional energy prices climb (to $80/bbl) oil, interest in the Solar names will again gain traction. JKS has the right look of a nearly completed DEEP near-80% correction of its powerful March-October 2020 advance. I am looking for a key upside reversal technical signal in the vicinity of 34 down to 32 that initiates a new upleg that projects to 55-60 in the subsequent weeks and months."
Fast-forward to this past week, and we see that JKS, which was trading at 37.83 at the time of Mike's alert, followed his prescriptive technical price path, hitting a multi-month high at 63.64 on July 7, a full 68% above his initial alert.
"Unbelievable!" commented one of our MPTrader members. "Sold half this morning and will wait for a moderate selloff (could be a mistake but I am good with $$$ profit!). As always, many thanks Mike!"
What's next for the energy sector, the green energy sector, and JKS in particular? Is the pullback in JKS off of its July 7 high a "pause that refreshes" a budding bull phase, or a sign of upside exhaustion?
Right now, Mike's work argues in favor of the former, but Mike will monitor and assess the price action closely in the hours and days ahead, and report back to our members what his work is telling him about the future price path of JKS as well as many other names, ETFs, macro indices, commodities, cryptocurrencies, and precious metals and miners.
Join us at MPTrader for Mike's analysis, and for intelligent, actionable conversation about all things related to markets.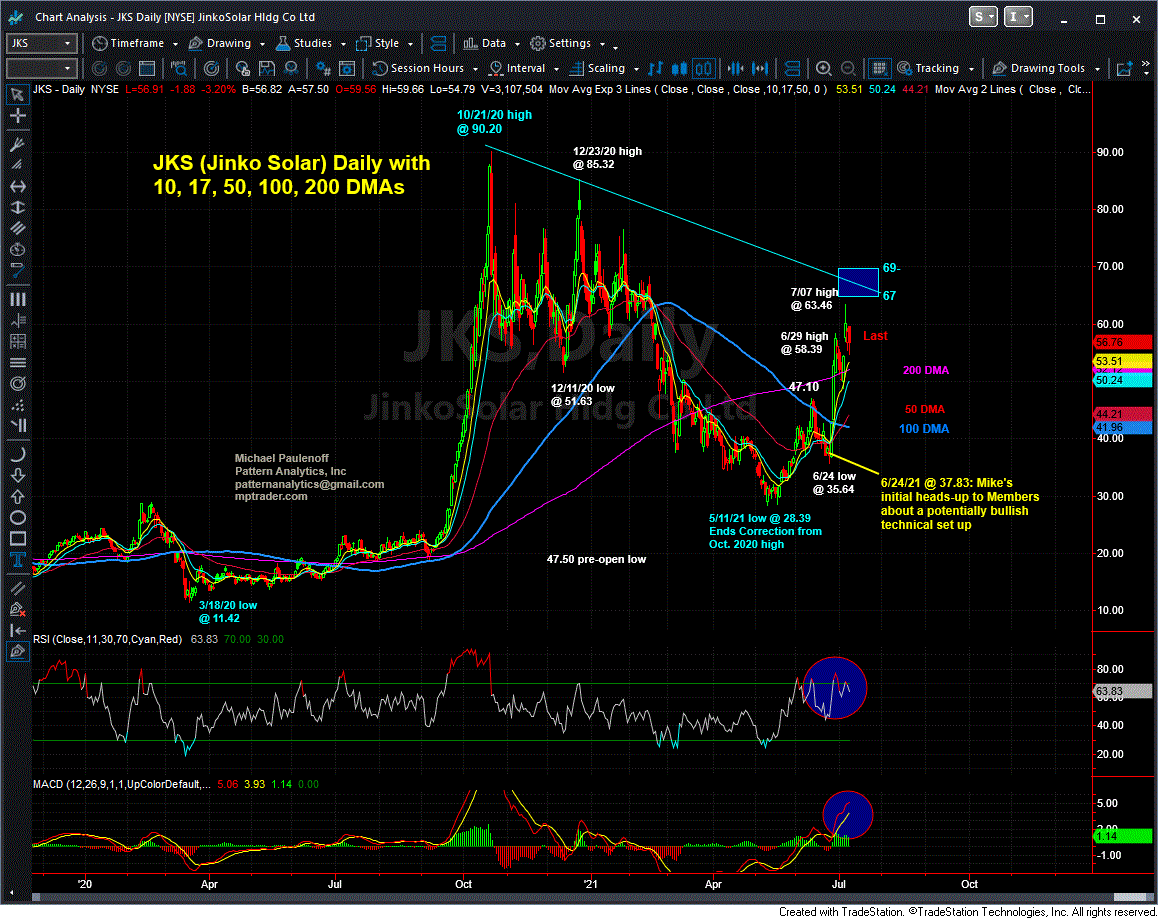 ---
More Top Calls From Mike