AMD Follows Our Bullish Technical Script
On June 23rd, Mike Paulenoff posted a "heads-up" commentary about AMD for MPTrader members:
"AMD Bottom Line: While my near-term pattern work cannot rule out one more new pullback low in the vicinity of 102-105 to complete the correction off of the 133.74 high on 6/13, the 20% decline is very near completion ahead of another upleg that should propel AMD to my next optimal target zone derived from the upside breakout from the huge multi-month base-accumulation period that projects next to 148-152... Last is 110.26..."
Mike continued to guide members through multiple AMD updates, and on July 10th wrote:
"In the next book I write about technical analysis, I will use my attached 4-Hour Chart as an example of a textbook Inverse Head & Shoulders formation... that remains incomplete on the upside... as long as any forthcoming weakness is contained above the 6/27/23 pullback low at 105.55.
"To trigger upside traction, AMD needs to climb and sustain above 117.65/70. At the moment, although my nearest-term work is bullish above 105.55, as long as AMD is trading below 117.65/70 I cannot rule out a retest of the June low-zone prior to my expectation of the initiation of a new, powerful upleg... Last is 113.01..."
Then last Friday, July 14th, Mike again alerted MPTraders to the price action in AMD:
"AMD is following our bullish technical script as it accelerates to the upside after completing a meaningful pullback to its multi-month upside breakout zone (see my attached Chart)... Last is 119.82..." 
AMD hit an intraday high at 122.12, a full 10.8% above Mike's June 23rd post to MPTrader members, and 15.7% above the major corrective low of 105.55 established on June 27th.  After hitting the 122.12 high -- just beneath Mike's second key near-term resistance zone as shown on the chart -- AMD gave up most of its intraday gains (5%) late in Friday's session.
Is the up-move over?  What's next for AMD? 
Join Mike and MPTrader members for Mike's ongoing granular analysis and discussion of AMD, as well as many other individual stocks, ETFs, Macro Indices, Foreign Exchange, Commodities, and Bitcoin as investors and traders enter a new earnings period ahead of a late-July FOMC meeting.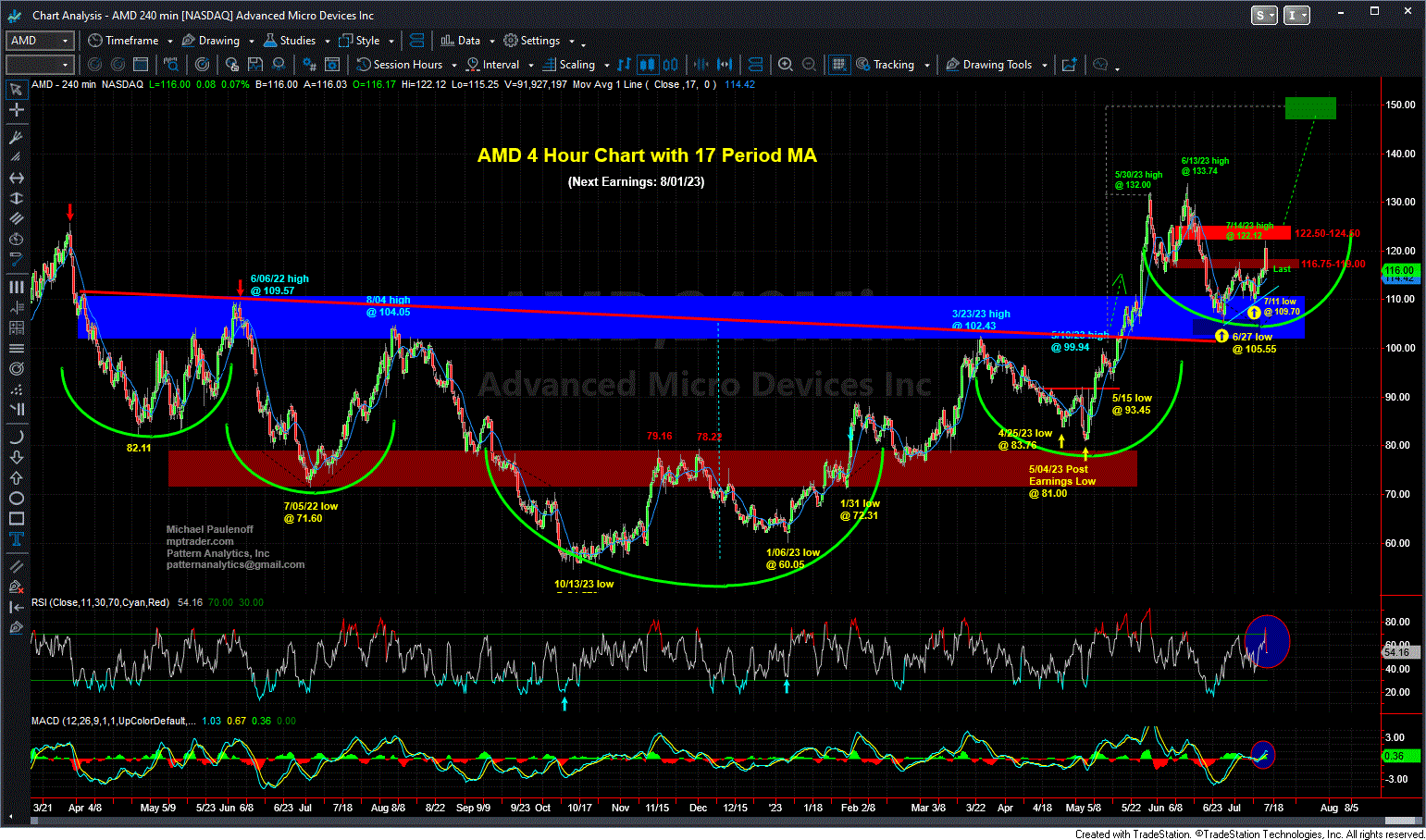 ---
More Top Calls From Mike