AMZN: Conditions Intensifying For Upside U-Turn
Last Monday morning, May 2, as the equity market careened to the downside ahead of Wednesday's FOMC meeting and the prospect of the biggest rate hike in decades (50 bps), Mike Paulenoff alerted MPTrader members to a potentially significant developing technical setup in AMZN, which had hit a new 13-month low.
Mike wrote: "AMZN pressed to a new corrective low at 2367.50 this AM, a full 37% beneath its ATH. AMZN has bounced to 2440-2450, however, it needs to climb and sustain above 2530 to trigger initial upside reversal signals."
AMZN was at 2445.69 at the time, and as the week progressed, although AMZN did participate in the sharp advance after Fed Chairman Powell's press conference on Wednesday afternoon, the rally in AMZN failed to hurdle and sustain above Mike's "line-in-the-sand" buy signal level at 2540.
The stock instead hit a high of 2520 off of its prior Monday low at 2367.50, prior to rolling over into yet another downleg Thursday and Friday that pressed to a new corrective and multi-month low at 2261.63.
Late in Friday's session, Mike again alerted MPTrader members to the developing technical setup in AMZN, writing:
"My pattern work can make a compelling case that the most recent downleg within the longer-term, post-July 2021 correction, from the 3/29/22 recovery rally high at 3416.63 to today's low at 2263.66 has the 'right look' of completion, and as such, my work is "on alert" for a powerful upside reversal in AMZN at just about any hour now. That said, however, AMZN needs to climb and close above 2420 for starters, and then follow through above key nearest resistance at 2530 to confirm a significant upside reversal that will project the 2700 area initially, and then into the 2900-3000 target window."
AMZN closed at 2295.46 Friday, considerably beneath Mike's lower "line-the-sand" level required to trigger an upside reversal signal at 2420, but conditions for just such a directional 180-degree U-Turn are intensifying.
Join Mike and MPTrader members this week for their ongoing intraday discussions and analyses about developing actionable trading opportunities in AMZN, as well as in many other individual stocks, ETFs, macro indices, commodities, and cryptocurrencies that are exhibiting intense volatility now.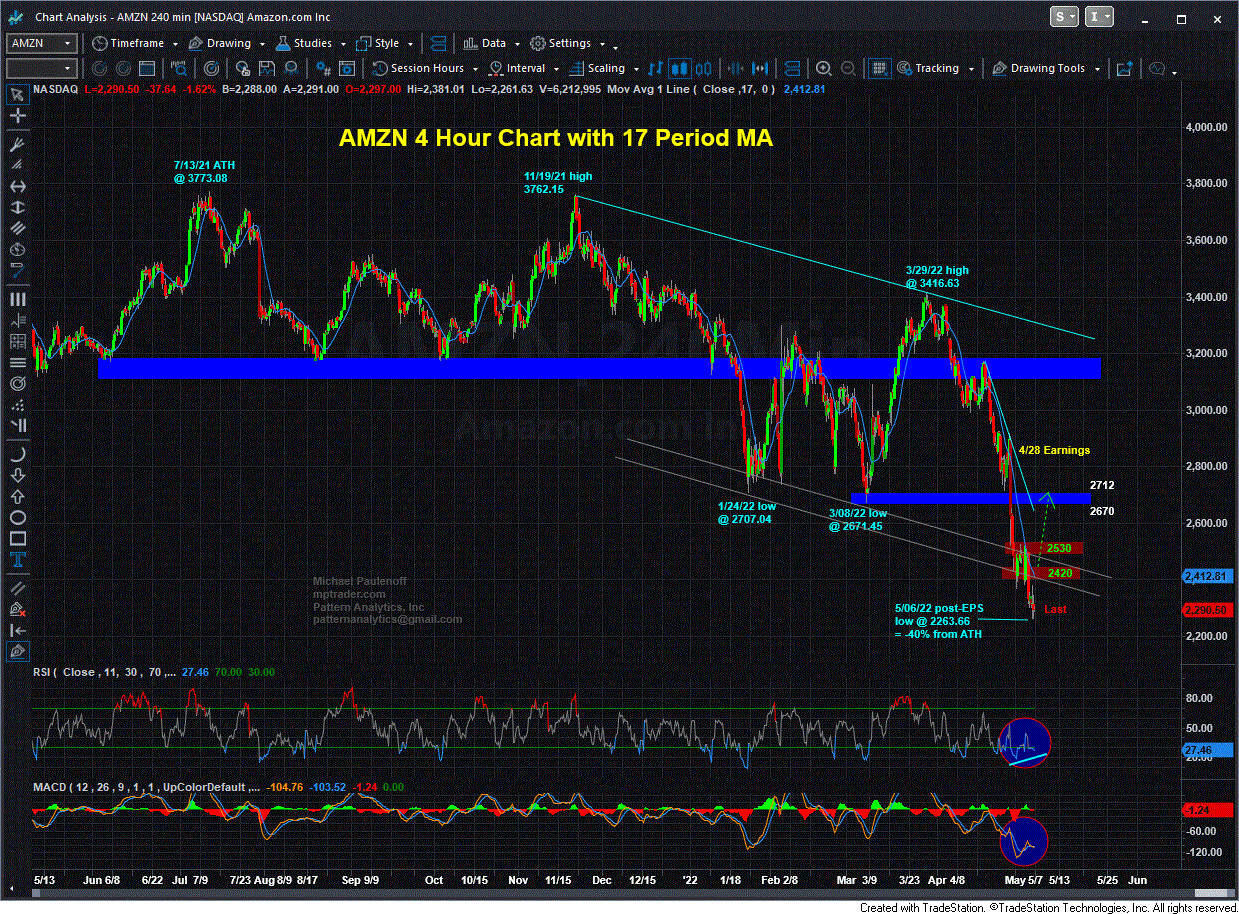 ---
More Top Calls From Mike