AMZN Up 9.7% In Week After Setup Alert
On Friday June 17, Mike Paulenoff posted an alert to MPTrader members about an emerging setup in AMZN:
"AMZN is one name that pops out at me that should benefit from an initial and sustained correction in traditional energy and transportation costs. AMZN needs to climb above and sustain 110 for my work to generate a more confident technical signal, otherwise, I cannot rule out another loop down that tests and breaks key May-June support at 101.26 to 101.42 that will point to my next-lower 95-96 target zone, from where I will be looking for a powerful technical upside reversal. For the time being, AMZN is on my radar as a candidate that will benefit from lower gasoline prices while also exhibiting relative strength in a slow-growth economic environment."
AMZN was trading at 106.29 at that time, and in the hours and days after Mike's heads-up, the stock never looked back, proceeding to climb above 110.00 directly.
On Thursday June 23, with the stock at 111.41, Mike followed up by noting:
"I continue to keep an eye on the May-June bottoming attempt in and around 101.25-102.25 for additional confirmation signals.... that point to a challenge of AMZN's dominant resistance line, which cuts across the price axis in the vicinity of 117.80 into the end of this week. As long as any forthcoming weakness is contained above 107.50 my nearest term pattern and momentum work argue in favor of a push above nearest key resistance at 112.25 in route to 116.00/30, and then to challenge the April-June down trendline at 117.80."
By Friday's close, AMZN hit an intra-week high at 116.71, closing at 116.55, a full 9.7% above Mike's initial heads-up at 106.29.
AMZN is now positioned to challenge its April-June down trendline, which cuts across the price axis in the vicinity of 117.60 during Monday's AM session, and if taken out and sustained, will trigger higher price projections with the budding May-June bottom formation.
Will AMZN be able to damage its intermediate-term down trendline next week? How will Mike and MPTrader members navigate the volatility?
Join Mike and mptrader members for their constant intraday analysis, discussions, and commentary about the technical and fundamental prospects for AMZN, as well as many other individual equity names, ETFs, macro indices, commodities, and Bitcoin.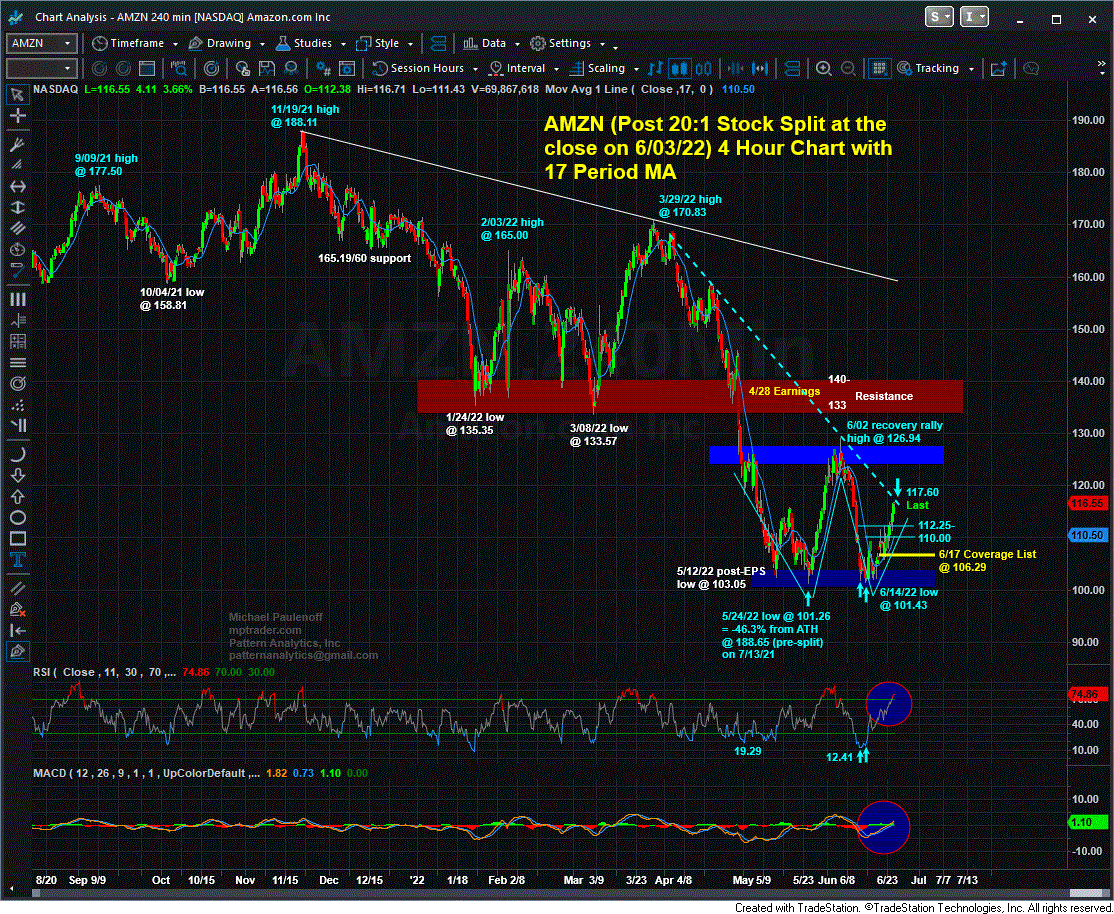 ---
More Top Calls From Mike