Alerting Members To TSLA's Precarious Technical Position
During the final hour of trading on Friday, TSLA broke its prior corrective low at 206.22 from Thursday, and then proceeded to press still-lower, breaking a much more consequential low at 205.81 from May 25 -- the low from which it had rallied 50% into the broader-market August recovery highs.
Heading into Friday's closing bell, Mike Paulenoff posted a chart alert to MPTrader members about TSLA's precarious technical position, noting:
"TSLA reports earnings on 10/19 after the close... Today's failure to follow through from yesterday's upmove from 206.22 to 226.26 followed by a sharp downside reversal that pressed through BOTH yesterday's low at 206.22 AND the May low at 205.81 is VERY UGLY ACTION and triggered NEW DOWNSIDE PROJECTIONS to 185-188, and if violated, then to 170-175 (see my attached chart) prior to my expectation of the emergence of a sustainable recovery rally effort... The reaction to earnings likely will be a significant directional catalyst for TSLA."
In Friday's aftermarket trading, TSLA traded down to 204.16, last seen back in June 2021, which left TSLA "dangling" beneath a newly-formed 5-month plateau of prior lows that has now morphed into very challenging resistance from 206 to 212.
What's next for TSLA? The resistance level will likely will remain a serious barrier to any sustainable rally effort ahead of Wednesday's post-market earnings report and conference call.
In addition, purely from his pattern and momentum perspective, Mike is now looking for a very significant pivot low in TSLA from 200 down to a potential capitulation spike low into the 170-175 target zone either ahead of or in reaction to Wednesday's event and opportunity risk period.
Join Mike and Mptrader members' intraday discussion group and chart analysis of TSLA, as well as many other individual stocks, ETFs, macro indices, commodities, and Crypto as the markets enter the target-rich Q3 earnings season.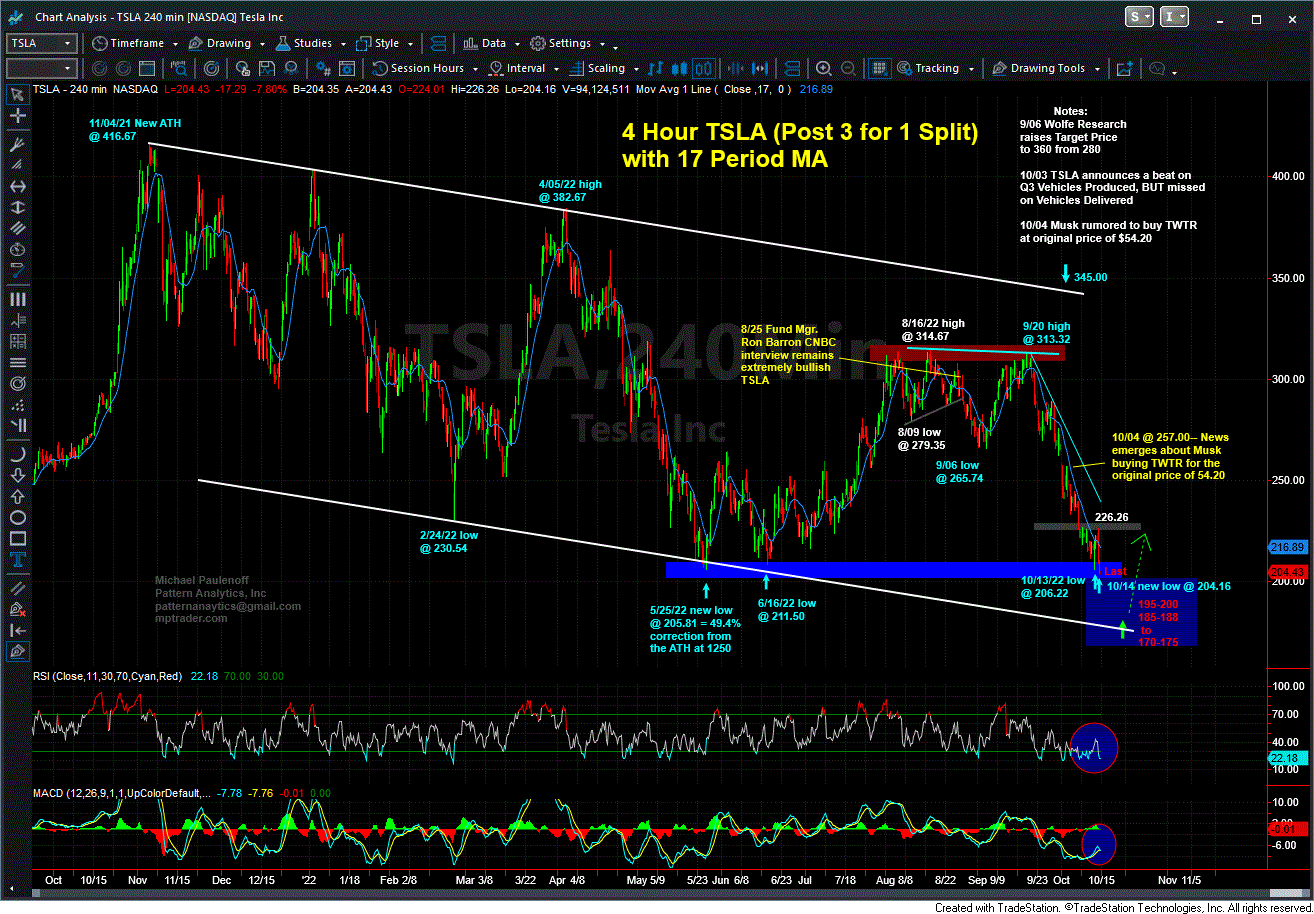 ---
More Top Calls From Mike