Alerting Members To VXRT Ahead of 42% Gain
This past Monday, after Vaxart, Inc. (VXRT) popped above key technical resistance, Mike Paulenoff posted a timely update alerting MPTrader members to a potentially significant upside breakout:
"VXRT has again climbed into heavy, but very consequential resistance from 8.30 to 9.45," Mike wrote. "If VXRT can chew through the resistance zone, it will be poised for upside continuation that projects 14-15 in a 'normal' market. We all know that once these Covid-related names gain traction, they are anything but normal. VXRT is in Phase 1 Trials testing its oral (pill form) Covid vaccine drug."
VXRT was trading at 8.44 at the time, and two hours later the stock was at 10.56, taking out all resistance since mid-August -- and still on no news.
Mike wrote: "In the absence of company or drug product news, I am thinking that just maybe VXRT's 35% short interest is what is attracting buyers to the name, which seems to be the new game in town... I am just guessing that perhaps that is one reason it is flying, but I am also hearing that the ARK Innovation Fund bought VXRT at 8.10 this AM-- you know, the folks who bought TSLA, and ROKU, etc, which certainly has some coattails."
Mike continued to closely monitor and post chart updates on VXRT for MPTrader members throughout the week, with the stock reaching as high as 13.50 on Friday before closing the week at 11.98, up 42% above its price at Mike's alert on Monday.
What next for VXRT in this upcoming week when the company is expected to release data from its Phase 1 Covid Vaccine Trial, and from earnings?
Join Mike and our MPTrader members as they closely monitor the trading and pattern development of VXRT, as well as many other individual stocks, sector ETFs, macro indices, and precious metals.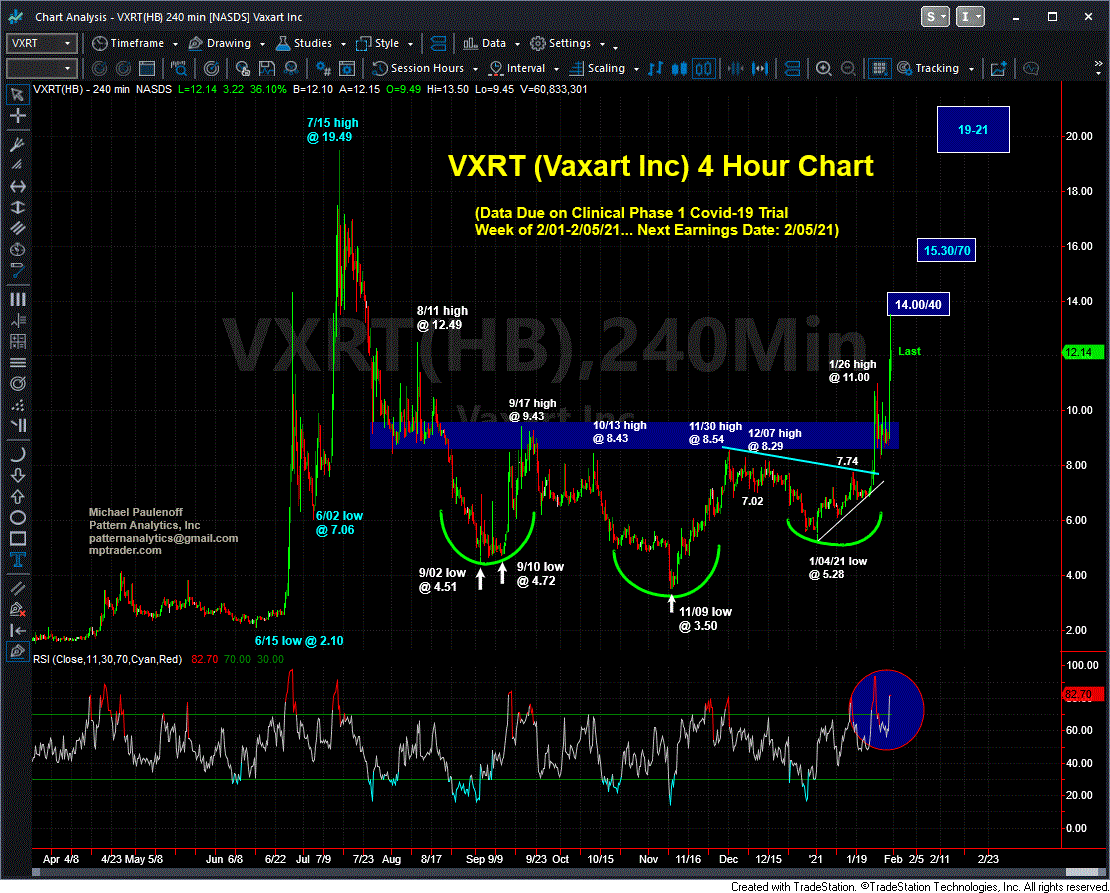 ---
More Top Calls From Mike