Anticipating BA's Upside Continuation
In the aftermath of Boeing (BA)'s powerful bull run from its October 2022 low at 120.51 to a February 2023 high at 221.33, Mike Paulenoff continually reiterated to MPTrader members that from his intermediate-term technical perspective, BA exhibited an incomplete big-picture bullish pattern that likely had considerably more upside ahead. 
In fact, at the end of March 2023, with the stock circling 212, Mike posted the following for our members:
"What my intermediate-term work is screaming about BA is that anyone with a one-year time horizon should own it with a stop beneath the trailing 200 DMA, now at 172.54, accumulating on any dip ahead of upside continuation and acceleration out of a massive base-accumulation period and pattern that projects much higher in the months ahead.  From a nearer-term perspective, as long as any forthcoming weakness is contained above the most recent pullback low at 192.41, BA is poised for upside continuation to challenge the February rally high-zone at 216-221, and if taken out, will point to 228-232."
There was no doubt, however, that patience and an intermediate-term time horizon would be a requirement for anyone to hold BA while it gyrated in a high-level range well into 2023. 
As a case in point, on April 14, 2023, Mike updated his timely analysis immediately after BA announced negative news, reassuring holders of Boeing that weakness was not a reason to abandon the long side of the stock.
"BA (Boeing) is down 5% this morning because of a negative news story indicating delays in the delivery of its "new" 737 Max Jet. Technically, however, BA has NOT violated any significant support levels... My bigger picture work argues that BA still has unfinished biz on the upside before completing the upmove from the June 2022 low at 114.14 to the Feb. 2023 high at 221.33. Only a break below the March pullback lows at 192.41-193.92 will indicate that BA is in the grasp of a much more powerful corrective process. Barring a break of the March support zone, current weakness should hold in the 197.60 to 194.00 area, from where BA should turn up for another run at the Feb-Mar high-zone of 218 to 221, and if taken out, to 224-232 thereafter... Last is 202.95..."
Fast-forward to last week (after multiple periodic updates for our members while BA traversed its high-level bullish range during the first six months of this year).  On Wednesday morning (July 26) BA beat The Street's earnings expectations, catapulting the stock from 212 to 233 (+10%), satisfying Mike's multi-month upside target zone, and then some. BA's post-earnings high was 240.33 on Friday (July 28), a full 13% from Mike's end-of-March post (212.30 per share), and 18% above Mike's mid-April update when BA was experiencing a bout of news-related weakness.
Mike continually reminds our members and prospective members that "the technical setups matter," and "inform and help manage our price expectations." 
What's next for BA? Is it "safe" to hold even after last week's vertical up-move?  Answer: yes, but risk management will be key!
Login this week to Mike and our members to discuss prospects for BA as well as for many other individual equities during the height of earnings season, Artificial Intelligence-related opportunities and risks, sector ETFs, macro indices, commodities, and Bitcoin.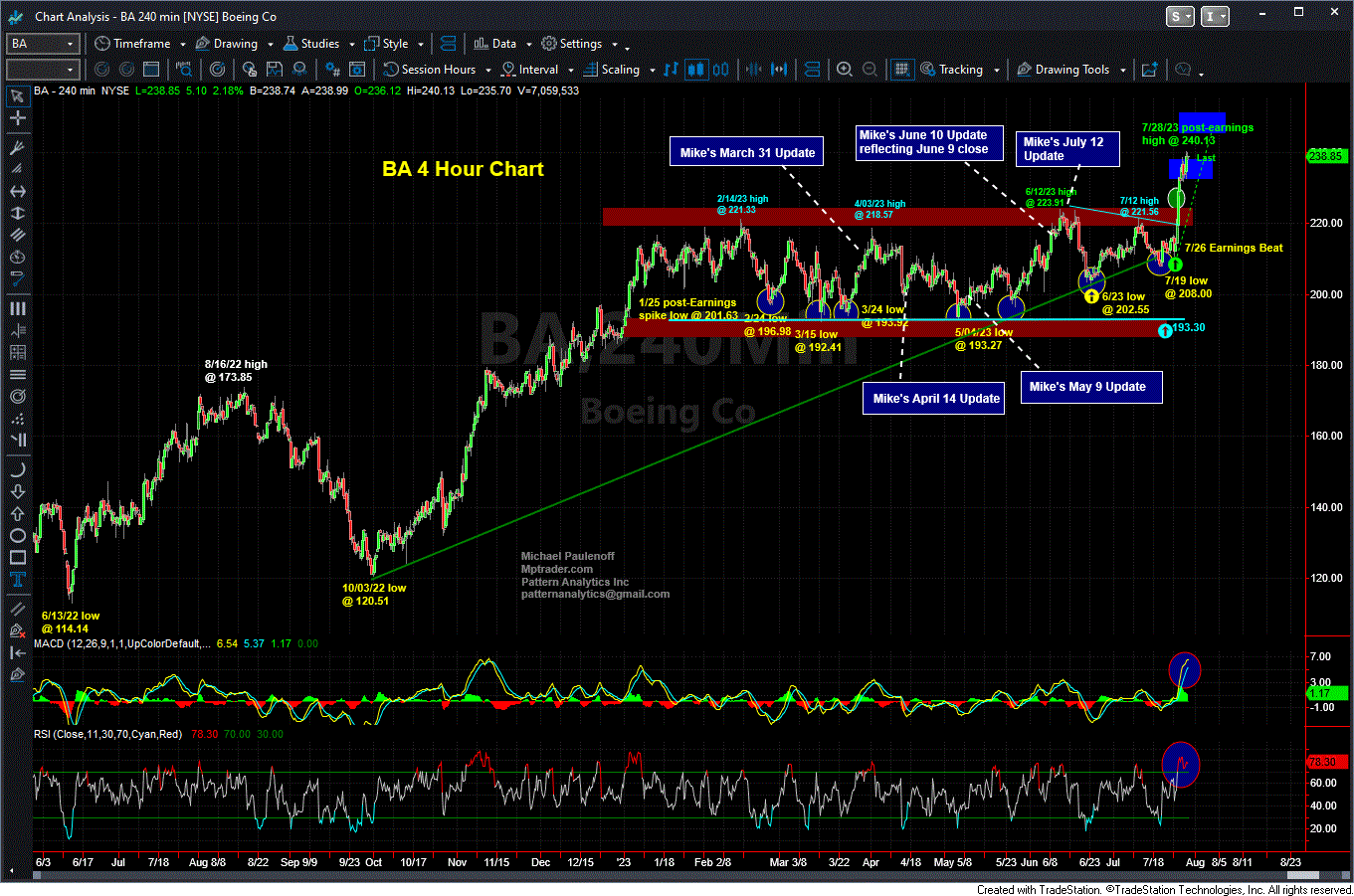 ---
More Top Calls From Mike