Anticipating IWM's Turns - Market Analysis for Jan 16th, 2021
Last Wednesday afternoon (Jan 13), with the IWM at 210.76, Mike Paulenoff told MPTrader members:
"The Russell 2000 Small Cap ETF is just about 0.5% off of its all time high. As long as any weakness is contained above 204.30, my near-term pattern set up from the 1/04 pullback low at 190.94 is poised for still higher ATHs above 211.73."
The IWM reached a high of 215 the very next day.
Meanwhile, Mike had also cautioned: "Juxtaposed against the above-mentioned constructive near-term pattern set up is a glaring negative Momentum Divergence (11/09 and 1/07), that provides us with an anecdotal warning signal that strength is on borrowed time, nearing exhaustion. Take the signal for what it's worth-- a warning, until the music stops in IWM."
In fact, on Friday, with IWM at 211.27, he wrote: "All eyes on 209.20 nearest support in IWM, which, if violated and sustained, will trigger an initial sell signal."
IWM pressed to a low at 208.26, triggering that preliminary sell signal.
What's next for IWM? Friday's move is certainly a warning signal that IWM is vulnerable to a meaningful correction after climbing 48% from its 9/24 pivot low, far outpacing the 22% gain for QQQ, and the 19% gain in SPY during the same time period. The Small Cap Index has a habit of leading into BOTH directions, which is precisely why Mike is closely tracking its set up for MPTrader members.
Join Mike in our MPTrader trading room for his technical updates and member conversation about IWM, as well as many stocks, ETFs, Indices, and commodities.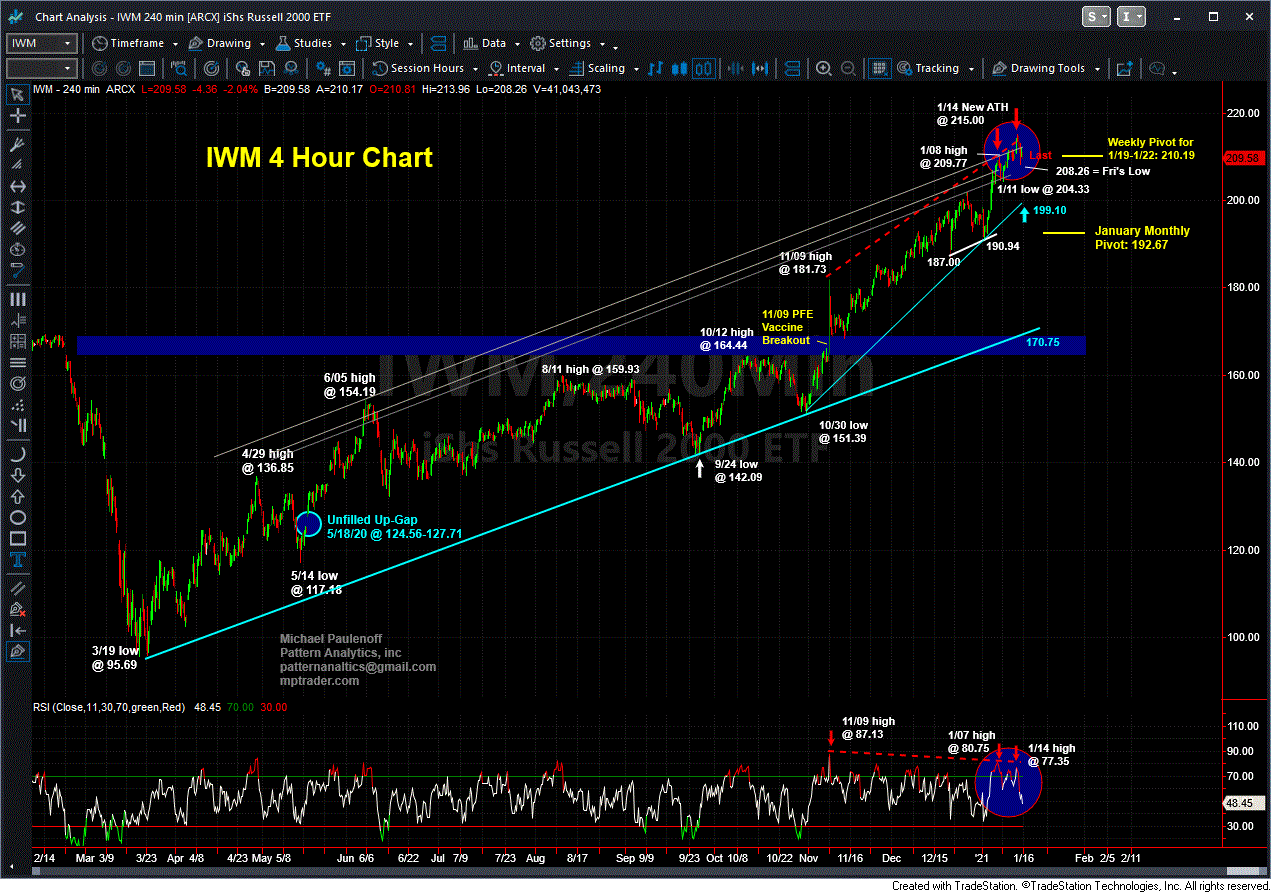 ---
More Top Calls From Mike